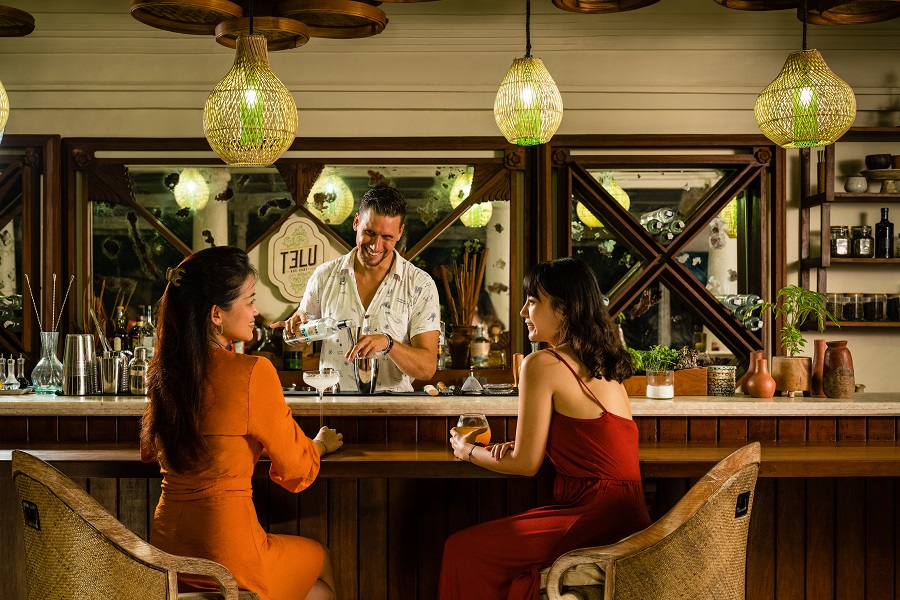 A chic, rustic cocktail bar deeply rooted in the Balinese philosophy of Tri Hita Karana, the newly-launched TELU Bar at the iconic Four Seasons Resort Bali at Jimbaran Bay sets a new standard to Bali's cocktail culture and bar scene in the Jimbaran area.
Launched on 9 June 2023, the new TELU Bar is an extension of the five-star resort's dedication to sustainability and community engagement. TELU celebrates modern mixology embedded in a profound connection to Bali's heritage, environment and people. Through a marriage of traditional products and techniques with innovative artistry, TELU presents a refined and stimulating experience enveloped with conscious care for the island and its bountiful resources.
The Concept Behind TELU
Conceived during the pandemic, when members of the Four Seasons team constructed the bar using upcycled materials, TELU's mindful ethos is now incorporated into the offerings at the bar, boasting vibrant and sustainable menus, charitable initiatives, supporting local artisans, and more.
Derived from the Balinese word for 'three', TELU refers to Tri Hita Karana. This Balinese philosophy teaches the three causes of well-being and prosperity, encouraging harmony amongst people, harmony with the soul, and harmony with the environment. This theme is also extended to three local community initiatives that the bar supports.
Found a short stroll away from the resort's lobby, TELU is nestled within a secluded aromatic herb garden at the heart of the all-villa resort. Spearheaded by Bar Manager, Jan Jurecka, TELU houses an ingenious drinks menu that showcases not only a zero-waste approach but highlights the fragrant flavours of Bali. A majority of the ingredients used in the menu are homegrown or sourced from the archipelago, such as honey from the resort's own Trigona beehives, which is a part of Indonesia's bee conservation and community enterprise programme.
The Unique Menu Offerings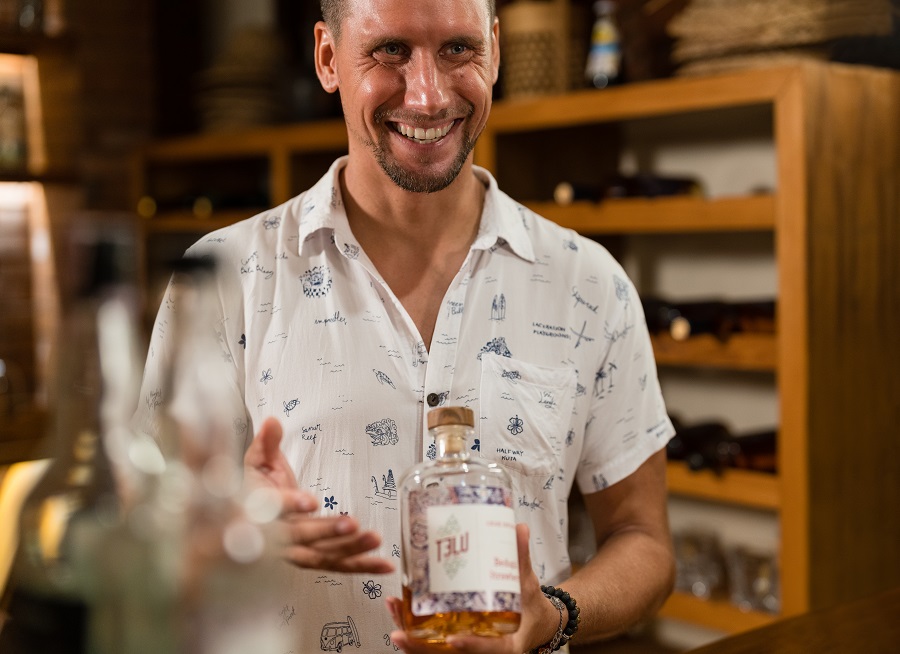 The philosophy is also integrated into the menu, which is classified into three sections, wherein proceeds support inspiring Balinese organisations. Three drinks on the menu pay tribute to the harmony with nature's rhythms to support Sungai Watch, a pioneering organisation that tackles river pollution; three drinks honour harmony with people to support the island's young generation to escape poverty through education with Bali Children's Project; and the last three drinks represent harmony with the soul, dedicated to the coral reef restoration project of the local community group, Ocean Gardener.
The drink menu highlights Indonesian ingredients at its core including Bali's local libation arak, a traditional spirit made from the fermented sap of coconut trees. From the Harmony with Nature menu, the silky smooth Down to Earth features gin, spirulina and matcha, passion fruit, guava, honey nectar and coconut milk whey; a standout from the Harmony with People menu is Unusual Suspects, TELU's interpretation of an Espresso Martini concocted with ecoSPIRITS Vodka, Cascara, coffee grinds, honey nectar and coconut nibs; while Coral Guardian is a must-try from the Harmony with Soul menu, made using an artful blend of Palwana Arak, spiced Nusa Cana Rum, pandan, peanut, lime, and dragon fruit jam.
You can also indulge in the Seasonal Bespoke Cocktails from the menu, where limited-edition creations take your taste buds on a tantalising journey. Proceeds from this menu also support mangrove forests, you drink – they plant! For teetotallers, the menu features three mocktail options, however, they're not your typical sweet and sugary mocktails. The mocktail options at TELU present an innovative spin on generic mocktails, using cutting-edge technology to zero-proof the alcoholic elements to create mocktails that give the same experience as drinking a cocktail. These include Murni, made using zero-proof tequila, lime, Trigona honey and smoked salt; and Let Love Flow, crafted using zero-proof gin, butterfly pea flower, lime, Kintamani orange, London essence grapefruit and rosemary tonic.
TELU also serves up an array of scrumptious bites to delightfully complement the drinks menu. Highlighting the unique flavours of Bali, several snacks on the menu include Bali Tacos, Chicken Crisps, and Jimbaran Clam Dip.
The Space and Interiors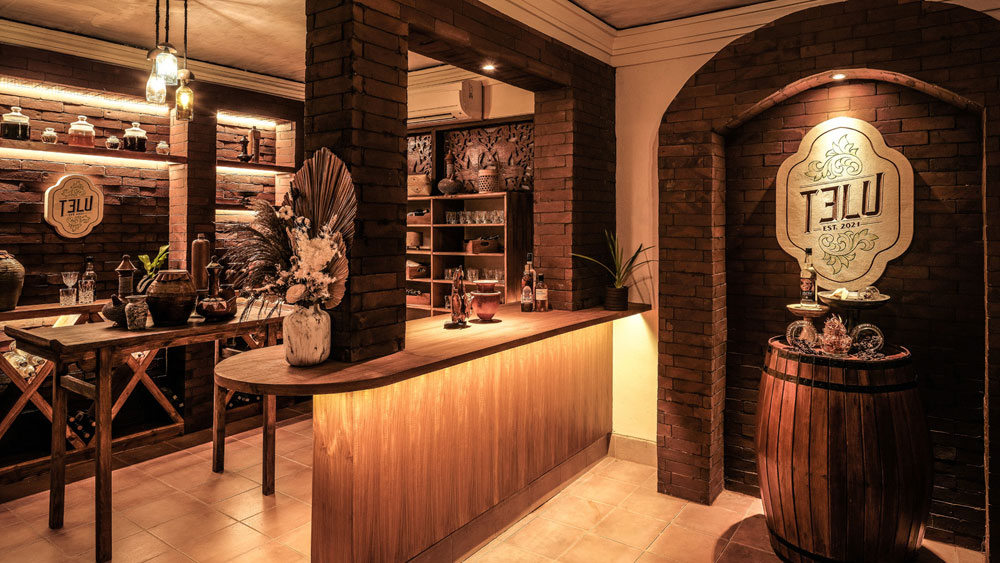 Seamlessly integrated in the magnificent natural location, a majority of TELU's stylish interiors are upcycled from the resort such as the bar counter, display and bar lamps, while the bar stools are handcrafted by local artisans. Embellished with rustic décor, local artwork, and soft lighting result in TELU's warm, feel-good vibes and intimate setting. Guests can sit at the bar counter, alongside six tables, at the garden table, or tuck in the atmospheric arak cellar.
Jan's vision for TELU is to address waste issues, this is done through working with suppliers such as ecoSPIRITS, an innovative closed-loop distribution system that greatly reduces packaging waste in the premium spirits supply chain; using fermentation, distillation and composting to tackle organic waste; through preservations methods such as lacto-fermenting, dehydrating and pickling to prolong the shelf-life of homegrown ingredients.
TELU also collaborates with like-minded individuals, such as CJ Recycle, which provides the custom-made recycled glassware used in the bar, and Plastik Kembali, which provides coasters as well as artworks made from recycled plastic.
TELU also offers cocktail classes and workshops by appointment, as well as monthly events showcasing local distillers, producers and guest bartenders. TELU is open from Thursday to Sunday, from 5pm to 12am, for both in-house and outside guests.
For more information or reservations, contact them via FS Chat or head to their official Instagram @TeluBarBali
TELU Bar
at Four Seasons Resort Bali at Jimbaran Bay
Jl. Bukit Permai, Jimbaran
+62 361 708 333
fourseasons.com/jimbaranbay