Flame-cooked dry-aged meats, sizzling seafood, slow-cooked chickens and juicy pork belly: when there's smoke, there's fire at W Bali – Seminyak.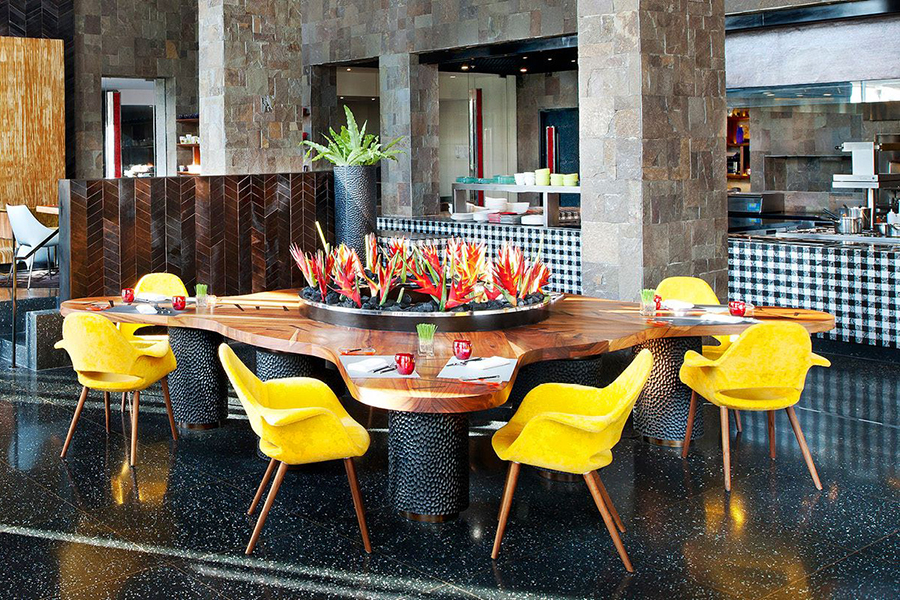 The vibrant resort's FIRE Restaurant has reverted back to its original roots by serving flamingly indulgent flavours with a revamped concept under the helm of their new Director of Culinary, Norberto Palacios.
Renowned for its dry-aged, flame-cooked culinary offerings, where fire plays a central role in its gastronomic offerings, this restaurant draws inspiration from Bali's iconic traditional Kecak dance, incorporating a playful interpretation of the island's tradition and mysticism through interactive experiences.
A feast for the senses, FIRE showcases a dramatic open kitchen where guests can witness first-hand the expert culinary team working their magic. Exuding a moody, theatrical ambience, the vibrant restaurant is illuminated by bold white, black, red and yellow accents inspired by Balinese elements.
The marble that adorns the show kitchen showcases checkered pattern marbles, while the focal point of the venue is its magnificent Kecak-inspired fire-ball chandelier, crafted from burnt timber strips that emanate from the ceiling. Beautifully constructed draperies are displayed throughout the venue, hemmed in the traditional Balinese double ikat weaving style.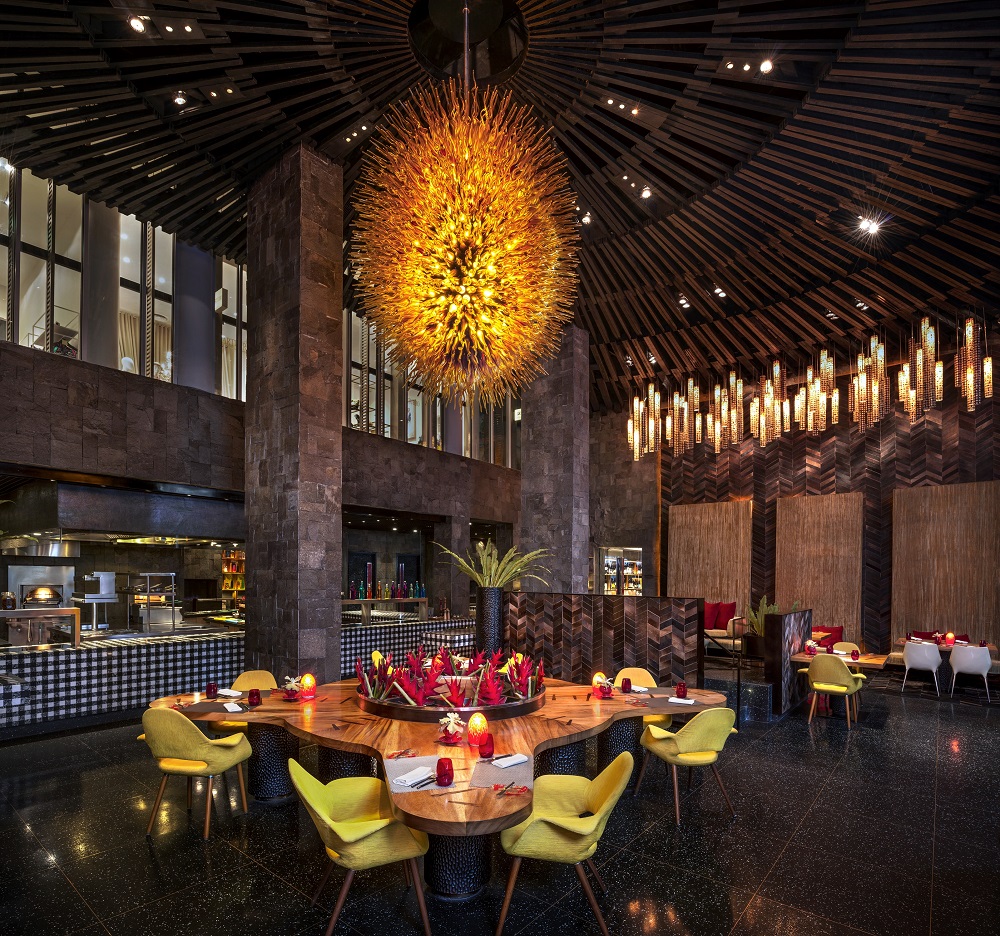 Under the leadership of Argentinian-born Culinary Director, Norberto Palacios, with support from Balinese chef, I Made Sember, FIRE prominently highlights the inspiration behind the concept by taking guests on an interactive journey to learn the history of the Kecak dance.
"The revamp of FIRE's new look and feel is not only a refreshment on the aesthetics but also a transformation in the approaches of our team who are more conscious of the ingredients used in the kitchen. We desire to deliver an elevated dining experience with the finest cuisine for our guests to experience the thrill of the grill," said Norberto Palacios.
Guests will be invited to tour the back kitchen, where a fascinating abstract mural depicts the Hindu god Hanoman, a prominent figure in the story of Ramayana, on which the Kecak dance is based. A series of framed images are lined up on a wall, retelling the history of the dance, before guests are treated to a welcome drink inspired by the holy water used for blessings in Balinese ceremonies.
FIRE boasts a unique type of dine-in experience each day, from breakfast, lunch and dinner. The breakfast buffet provides everything one would expect, from eggs, fresh sashimi and congee to freshly baked goods. When it comes to lunch and dinner, the laidback grill hotspot offers up a menu of fire-cooked prime meats, fresh seafood and flexitarian options.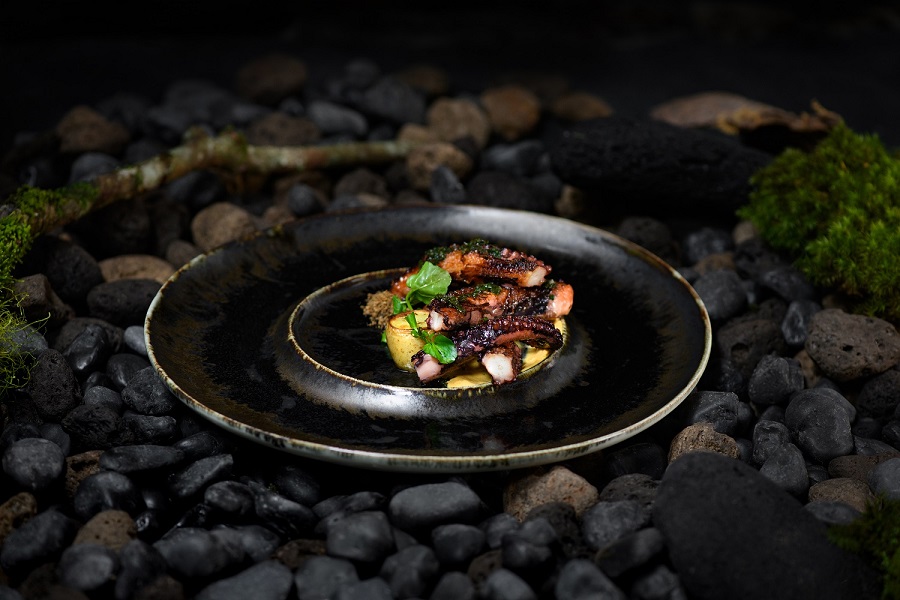 Start your meal with a succulent and fresh Oysters 2 Ways featuring seaweed and green salsa, and Oyster crème with pickled cucumber; and Tartare Snacks, a palate-teasing Tuna Tartare and Beef Tartare. Warm up your appetite with the likes of Seared Sea Scallops or try out the Charred Local Octopus. For something soupy, the Beef Bone Marrow Consommé with mixed vegetables, lime and herbs is a delight.
When it comes to mains, FIRE's elevated dry-aged selection of meats is to die for. Enlighten your taste buds with the complex flavours of their selection of juicy and tender Striploins, Tenderloins and Lamb Rack French Cut. The star of FIRE though is their 1.5 kg, signature 21 days dry-aged Black Angus Tomahawk, the perfect dish to share for the ultimate indulgence!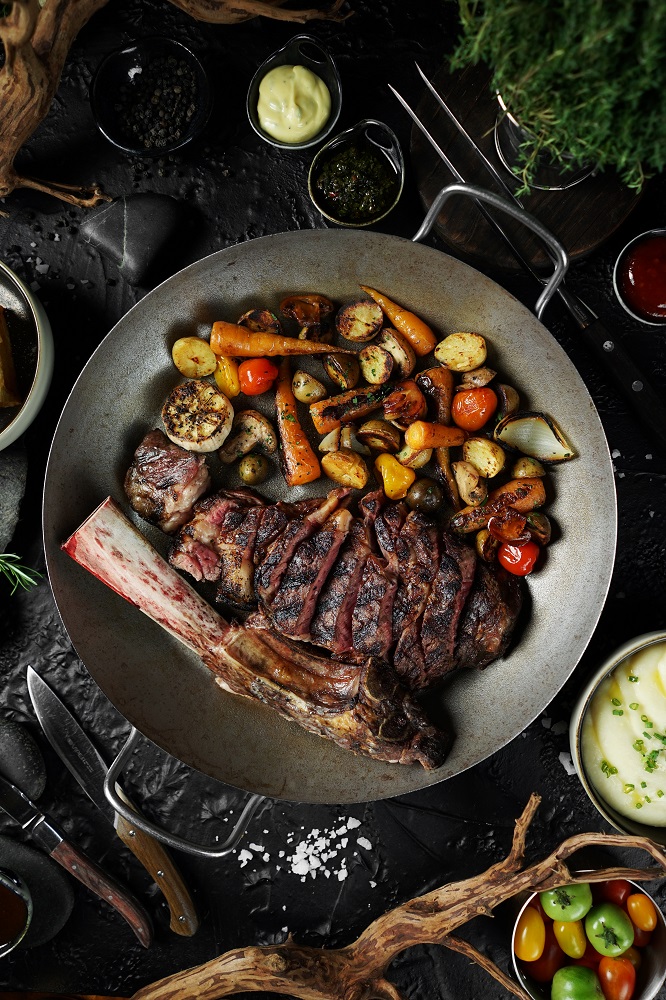 Their slow-cooked dishes are also a highlight on the menu, with the likes of Half or Whole Organic Chicken and Pork Belly, while their seafood offerings include Catch of the Day, Grilled King Prawns, Yellowfin Tuna and Tasmanian Salmon. All of the main dishes are served with a sauce to your liking which includes cracked black peppercorn, mushroom sauce, cabernet jus, béarnaise, chimichurri and house-made barbecue sauce. The menu also offers a variety of mouth-watering side dishes, though we suggest you try out the creamed spinach, Harrisa scented carrots, truffle potato purée and char-grilled broccoli. End your sumptuous flamed meal on a sweet note with the scrumptious desserts including Lemongrass Crème Brûlée, Chocolate Bon Bon and Char Cooked Passion Fruit.
Complement your delightful meal with FIRE's impressive collection of fine wines, and reconstructed classics, as well as innovative signature cocktails that incorporate the fiery theme such as the Fire Ritual, a bourbon-based cocktail concocted with caramelised honey and orange peel; Liquid of Fire, a spicy cocktail with a fruity and fresh taste made using Bedugul berry infused vodka; and Hanoman Obong, a tequila-based libation using a blend of local soursop shrub.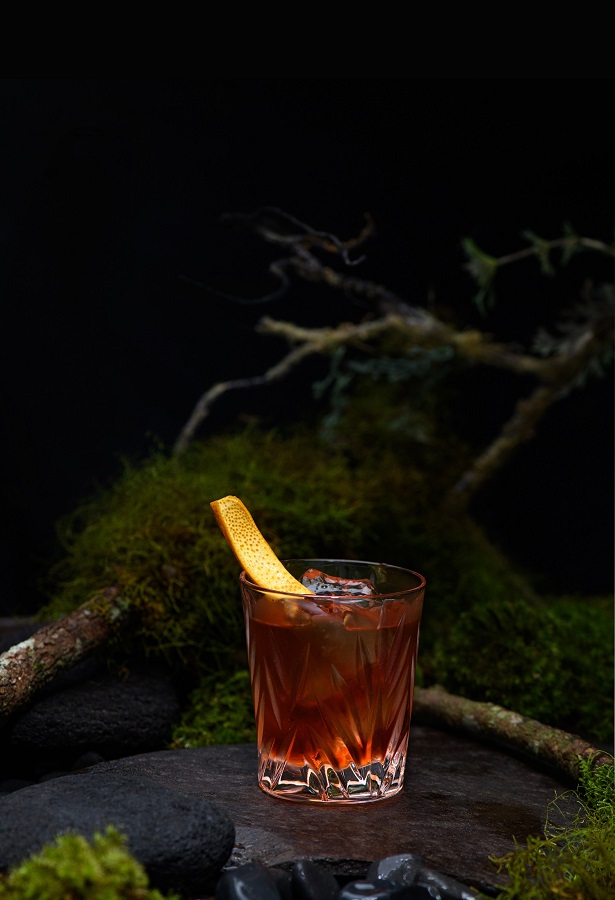 FIRE is open daily from 6.30am to 12am (last order at 10.30pm). For more information or reservations, please call +62 361 3000 106 or email bf.wbali@whotels.com
FIRE at W – Bali Seminyak
Jl. Petitenget, Seminyak, Kerobokan
+62 361 3000 106
bf.wbali@whotels.com
firerestaurantbali.com