PART 1: THE UNTOLD STORIES BEHIND A UNIQUE VISUAL JOURNEY

I had been looking forward to traveling to Java and explore the world's most populous island from West to East ever since I first arrived in Indonesia.
To me, Indonesia wouldn't be one of the world's most hospitable countries without its amazing people. So, this photo expedition was away to dive in the very depth of humankind, question myself about the meaning of happiness, make meaningful human encounters, listen to people's stories in order to be inspired and inspire in return.
what was in my bag the eve of my long photographic expedition in Java
 
I took the road from the capital, Jakarta, very early, enjoying the fresh wind breeze while chasing the morning sun and heading to the west. One of my most memorable spots in the beginning of this intense journey was my visit in Badui villages. Such an exotic experience contrasting with the Big Durian's turmoil, as those traditional villages can be found four hours away only from the capital city.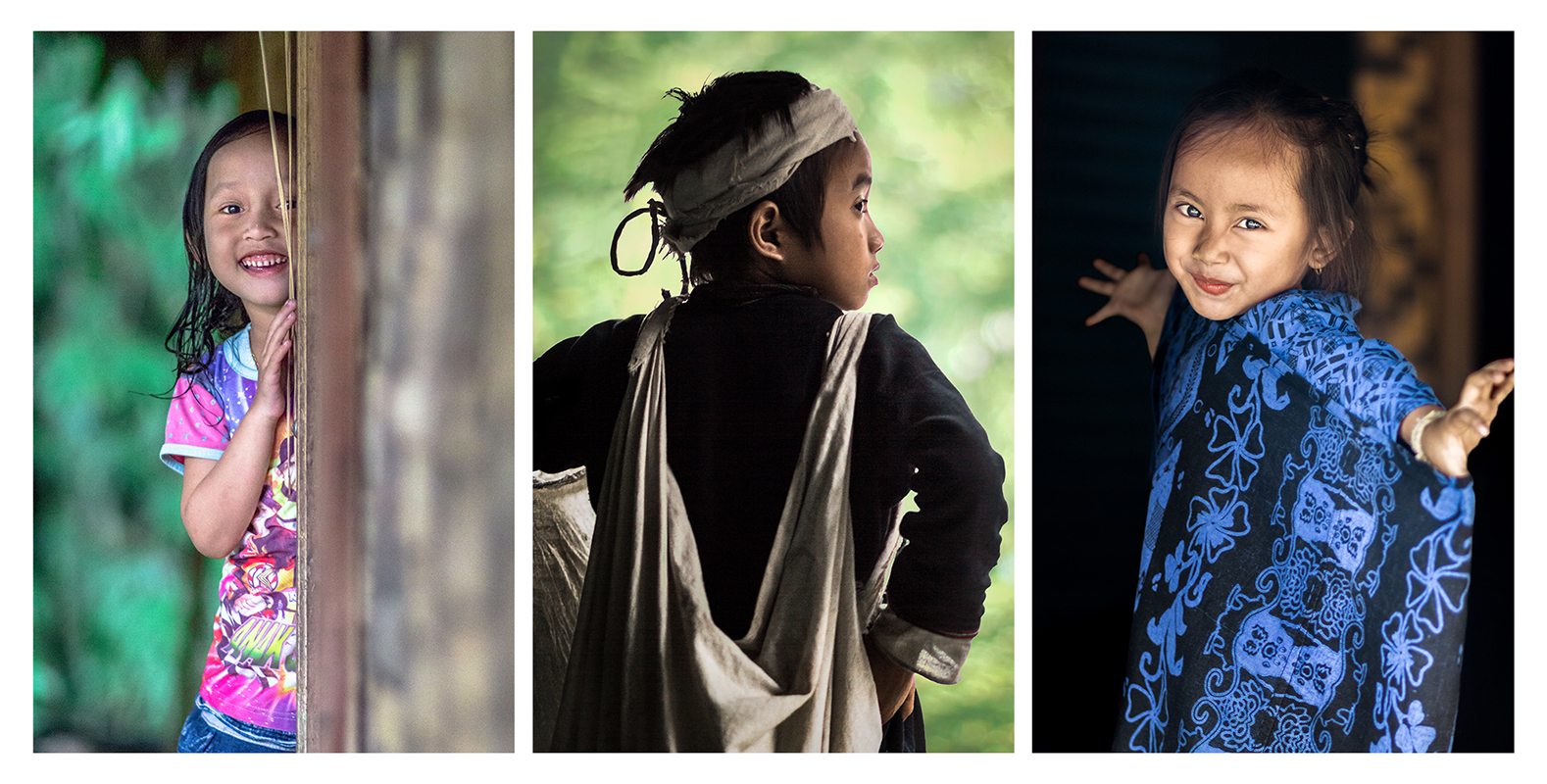 From left to right: A young girl playing hide and seek in front of her traditional house; portrait of a boy from Baduy Dalam; A girl proudly wearing her traditional dress while aesthetically dancing
 
Despite the children who are absolutely gorgeous, lovely, and open, anyone meeting with the Badui tribe will be amazed by how well this community kept its strong cultural identity and ancestral tradition passed over centuries. Kids, like the elderly, just wear black and blue sewn clothing. In there, one would be immediately struck by the minimalism of the atmosphere, fostering a rare opportunity to ponder and meditate, away from the noise, and distractions of our fast-paced, materialistic world
Time feels like suspended, timeless. Children are just happy with what they have. No fancy houses, no electricity, no phones, not even sandals. Just a few clothes, and their most beautiful smile, of course. Playing hide and seek, exchanging smiles, making eye contacts, dancing joyfully, or helping their parents is everything they need to make their day meaningful.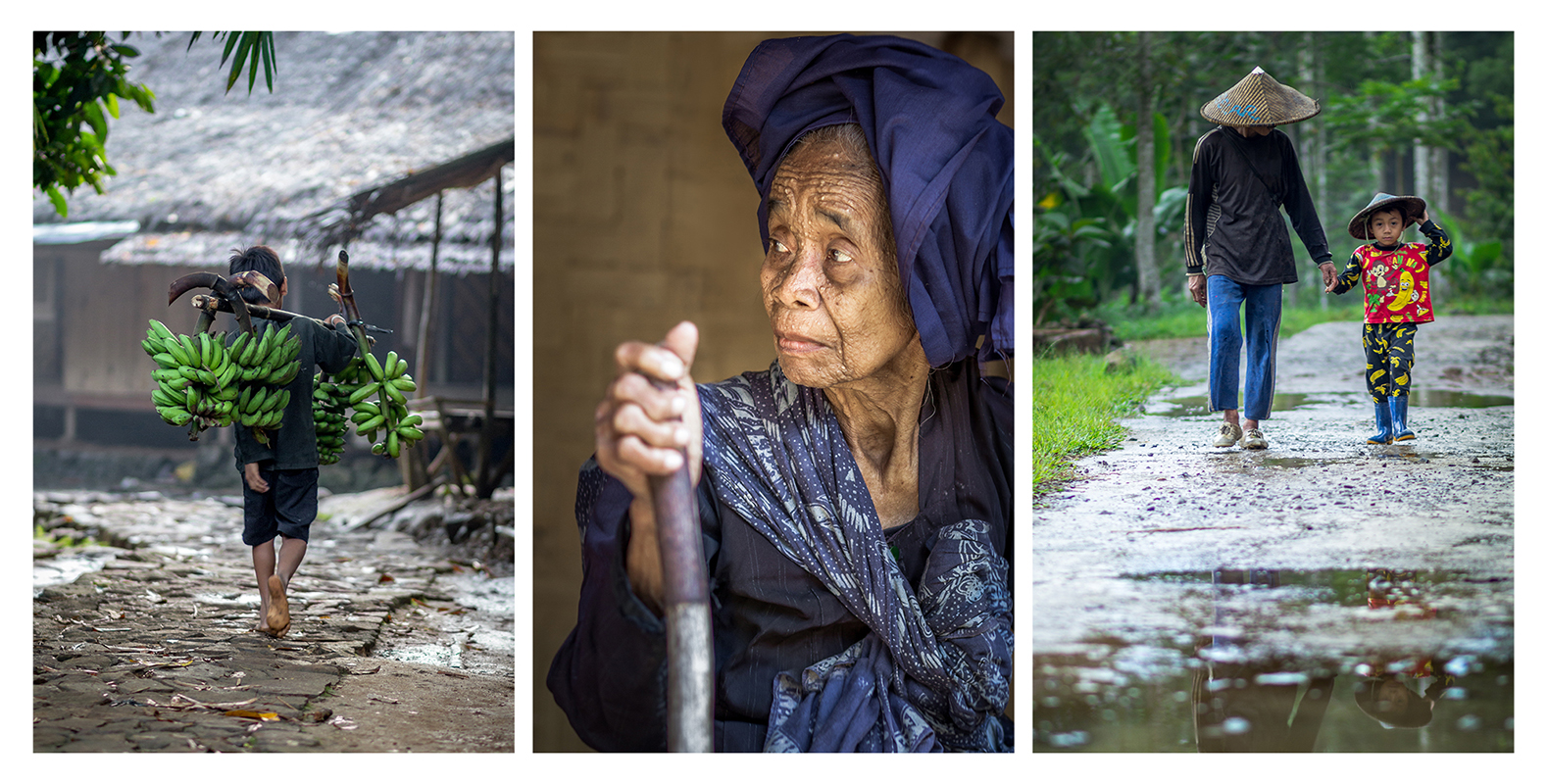 From left to right: A 10-year-old-boy from Baduy Luar; Ninih Idik; the eldest person in Badui villages; believed to have a longevity of at least 110 years old; A boy accompanying his dad to work
 
It is when you least expect it, or when you get lost that you have the chance to attend true and authentic sceneries of nature and life, in its most authentic and exquisite beauty.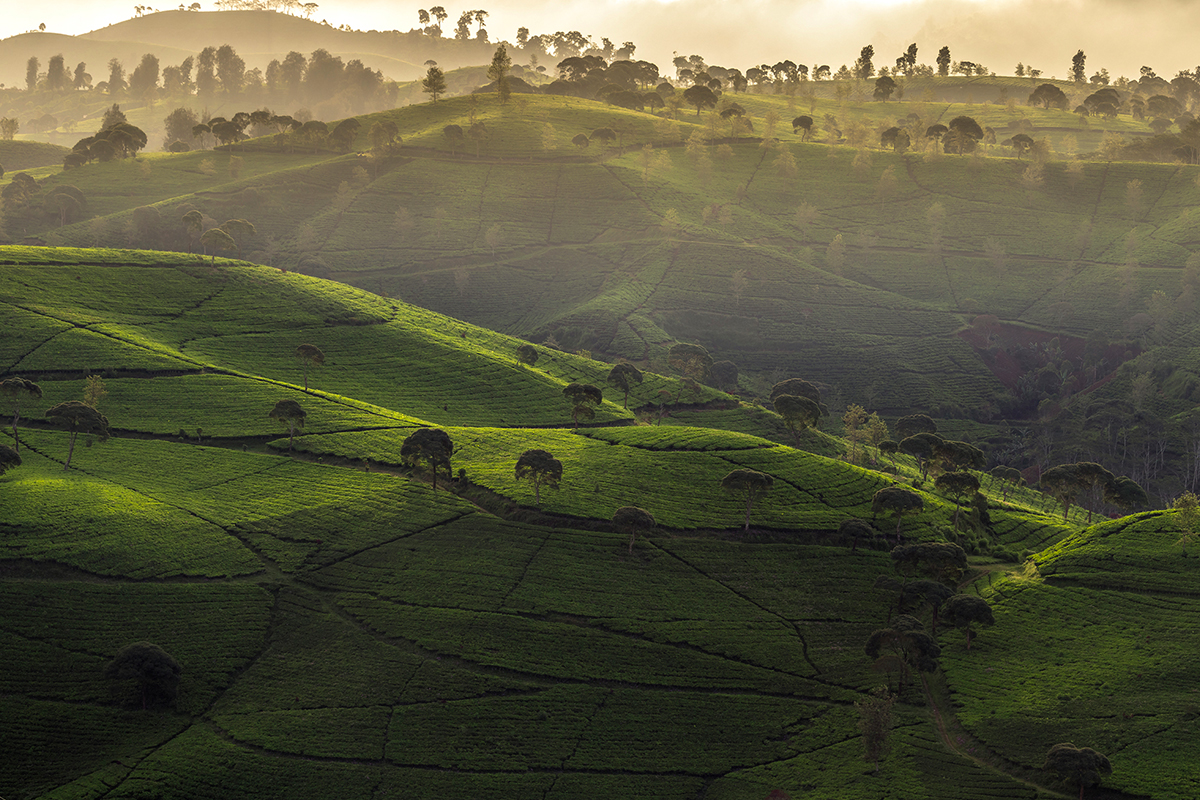 The stunning tea terrace of Pangalengan area slowling enlightened by an impressive morning sunshine
 
Roaming with my motorcycle throughout the regions of Banten and West Java made me discover an Indonesia (never?) or rarely explored before.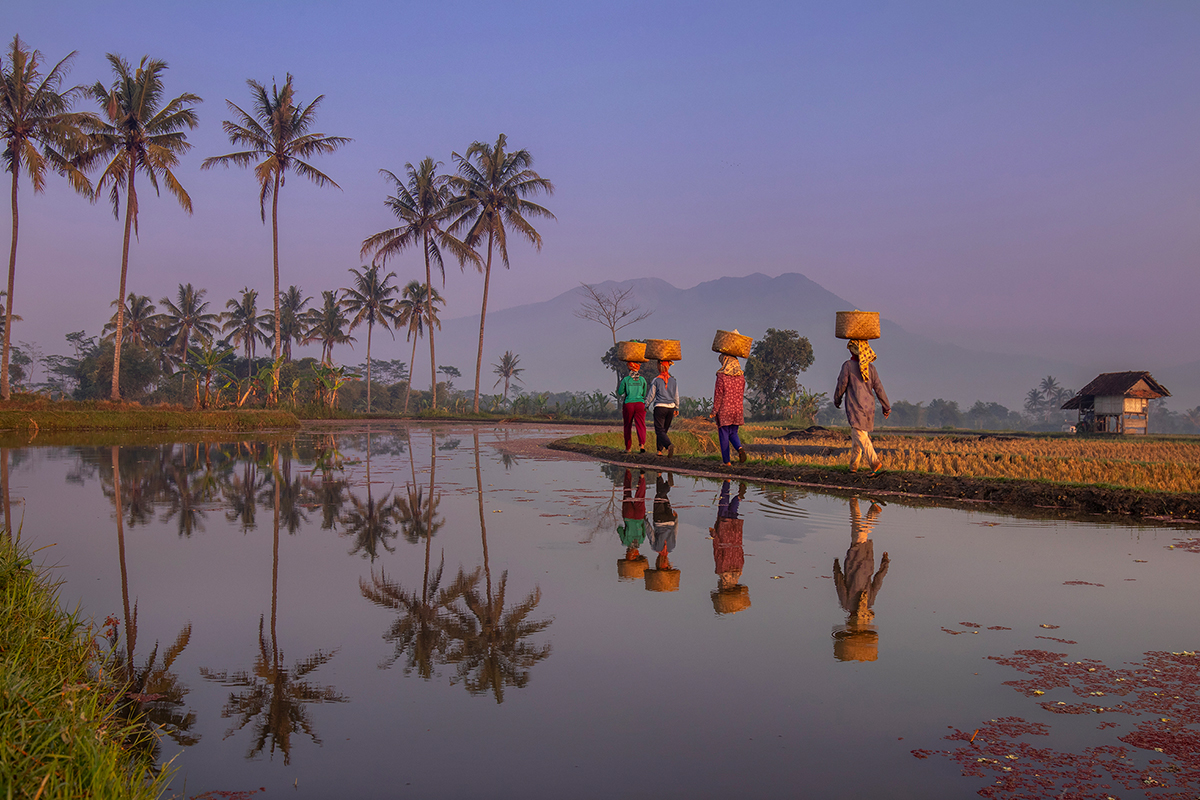 Exclusive hidden spot in Garut Region. Four sisters are starting a warm labor day in the rice fields.
 
Heading southwards from Garut, it will take me three hours to join the Java"s sea through a beautiful twisty road. I find a temporary home among the fisherman, just in front of the sea. My early-snack dinner will be rice with fish, tofu, and tempeh.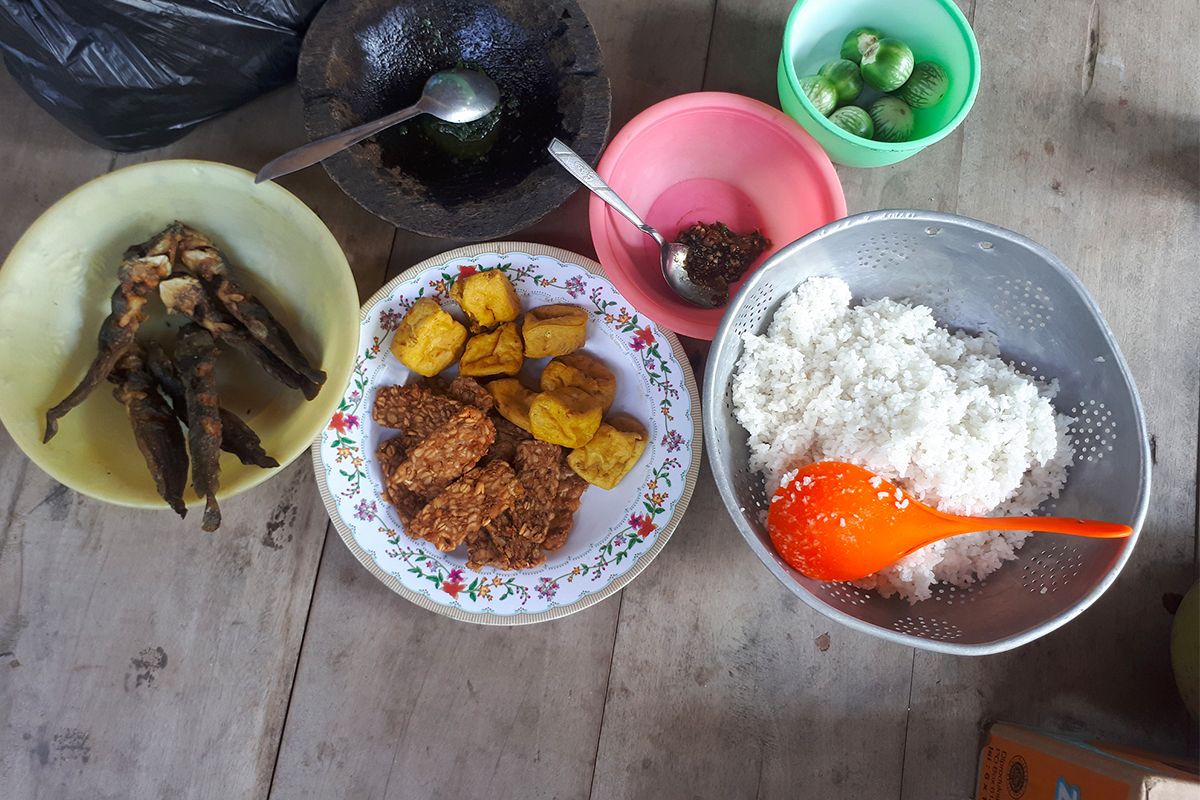 A very typical Indonesian dish like I used to have almost every day when I was traveling.
 
The relaxing sound of endless waves teasing the warm sand just make me feel happy, especially after my long tiring day. I look straight ahead, as the yellow star is progressively setting down and falling below the horizon, changing in colors, contrast, saturation. Changing the whole mood in a span of a few minutes, as if a new world had just been born.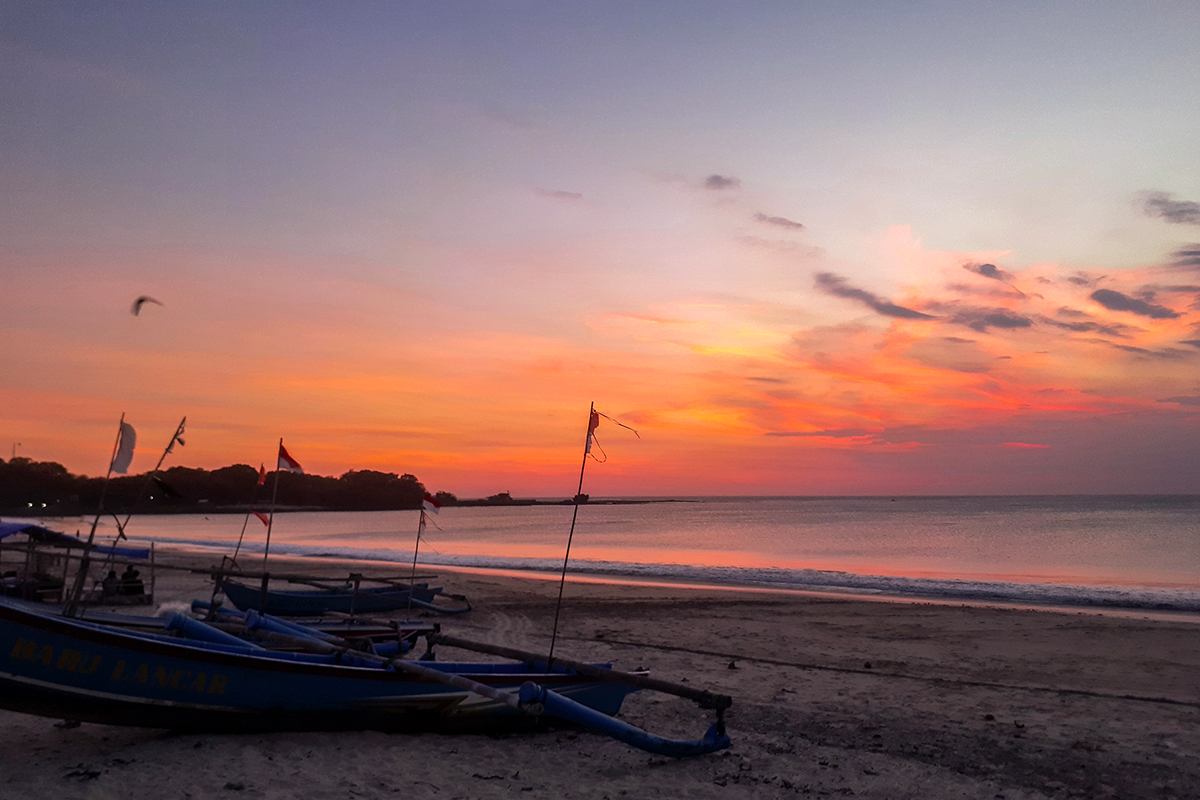 Somewhere on the beautiful coast of Pameungpeuk.
 
Located further inland, Kampung Naga was a traditional village that I couldn't miss. I will be meeting back Hani, this wonderful little one-year-old-girl met a year earlier, at the same place. This time, I won't be taking pictures of her. I will just mingle with her family and take the opportunity to offer her printed photograph.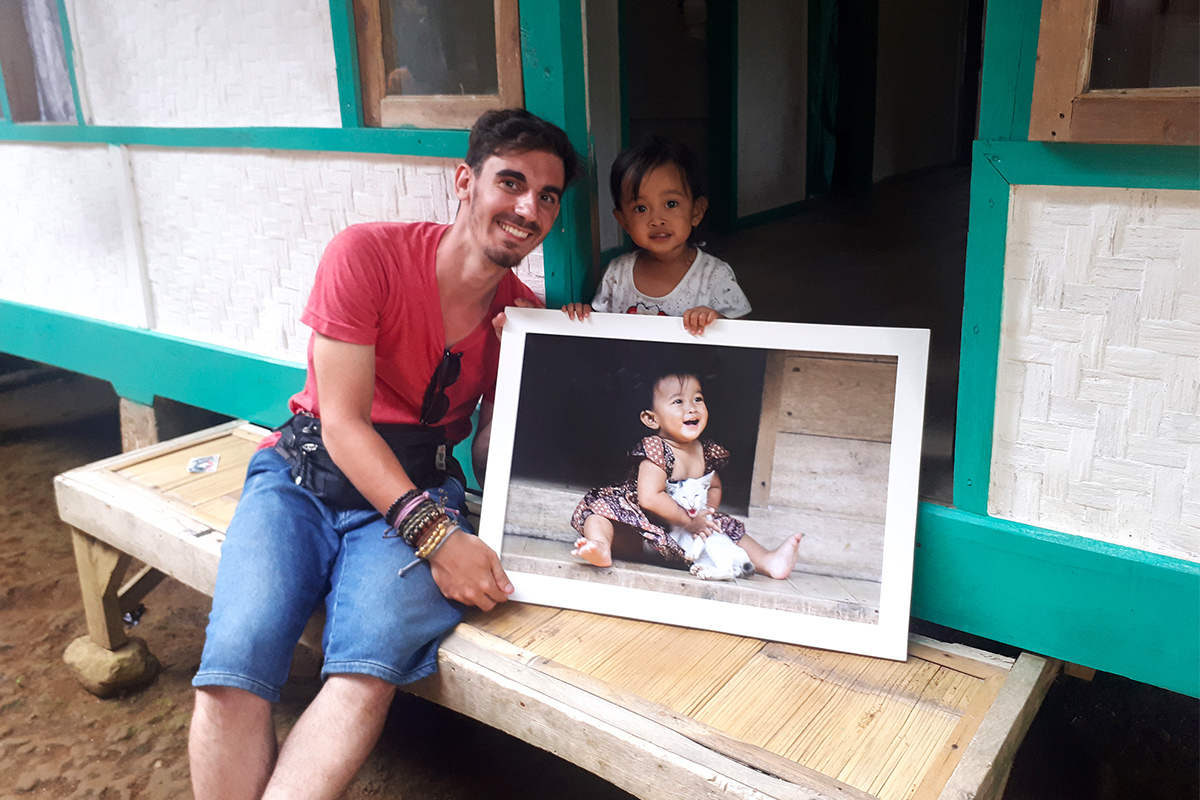 Hani, apparently surprised and delighted to receive her beautiful frame.
 
Before pursuing my journey, I will be spending some extra hours with the locals from the surroundings. Among them, some very, very old ladies, still wearing the famous kebaya-typical Indonesian blouse-dress.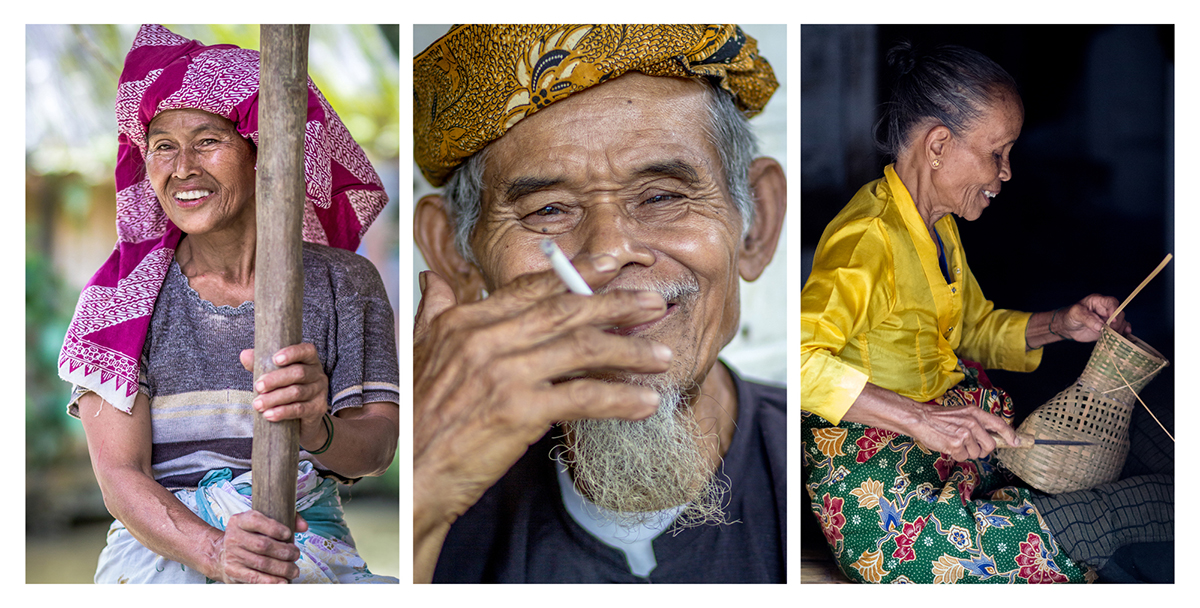 The locals from Kampung Naga. The women are quite old, between 70 to 80 years old and still work. The hierarchy and the different roles in Indonesia are highly respected.
 
Before approaching Tegal, I make a detour via another traditional village, which unexpectedly welcomes me with a striking beauty of paddy layers. One would immediately make allusion to the famous terraces of Bali, but in here, we are in Central Java, a the very heart of the island.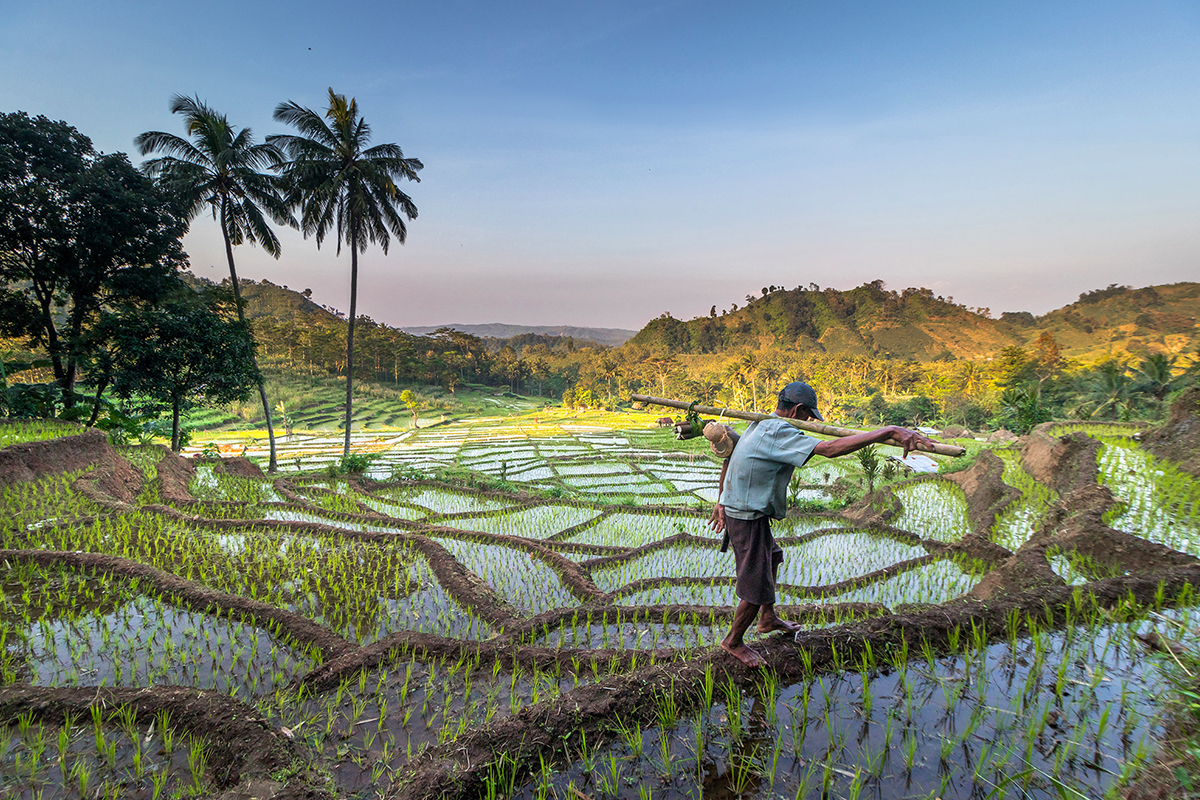 Infinite layers of rice fields right at the entrance of the traditional village in Brebes.
 
Warmly welcomed by the locals, I will be settling there for three days. Indonesians have the wonderful ability to make you feel at home wherever you go. After more ten minutes spent in the village, it is as if we had always been knowing each other. I am caught in a whirlwind of smiles, laughter, touches, all at the same time.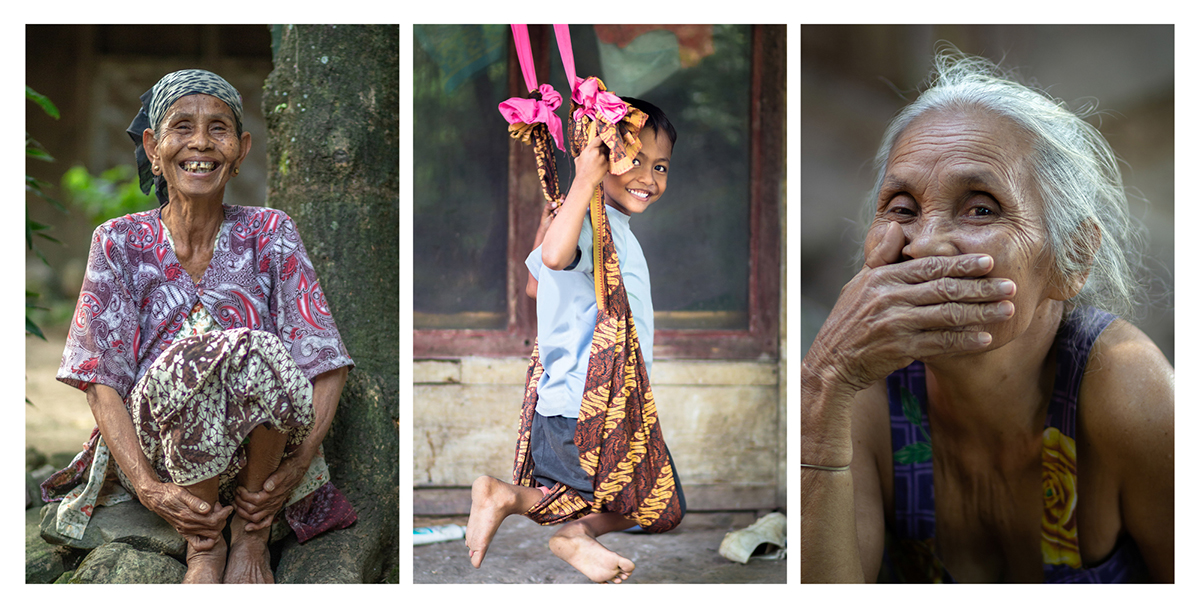 The area fills with more and more people, each one as curious about me as the other. They want to know me, and invite me in their home. The energy and the solidarity in the kampung is palpable.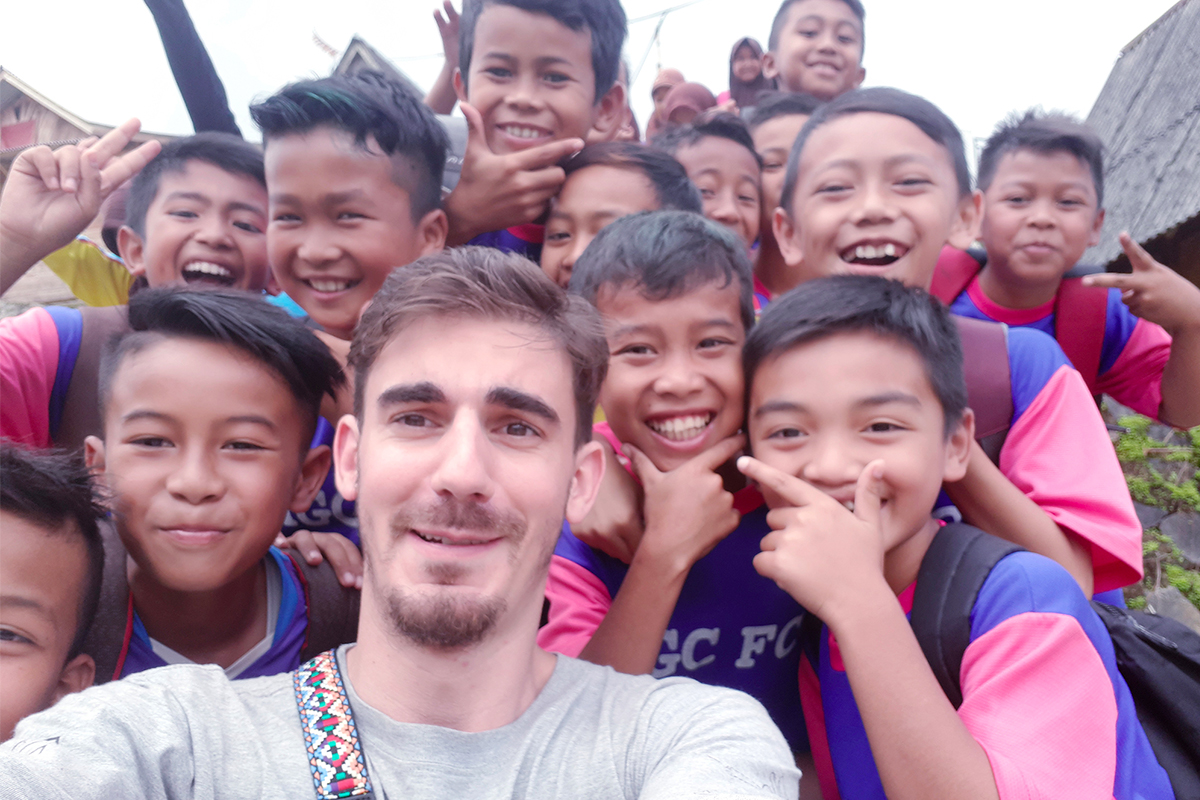 One of the numerous "selfies" taken during my exploration.
Being around the kids is totally contagious
 
Continuing my long road, I will be crossing with my motorcycle countless of small Javanese villages, each as beautiful as others, but each having its own energy, its own vibe with singular encounters and breathtaking lifestyles.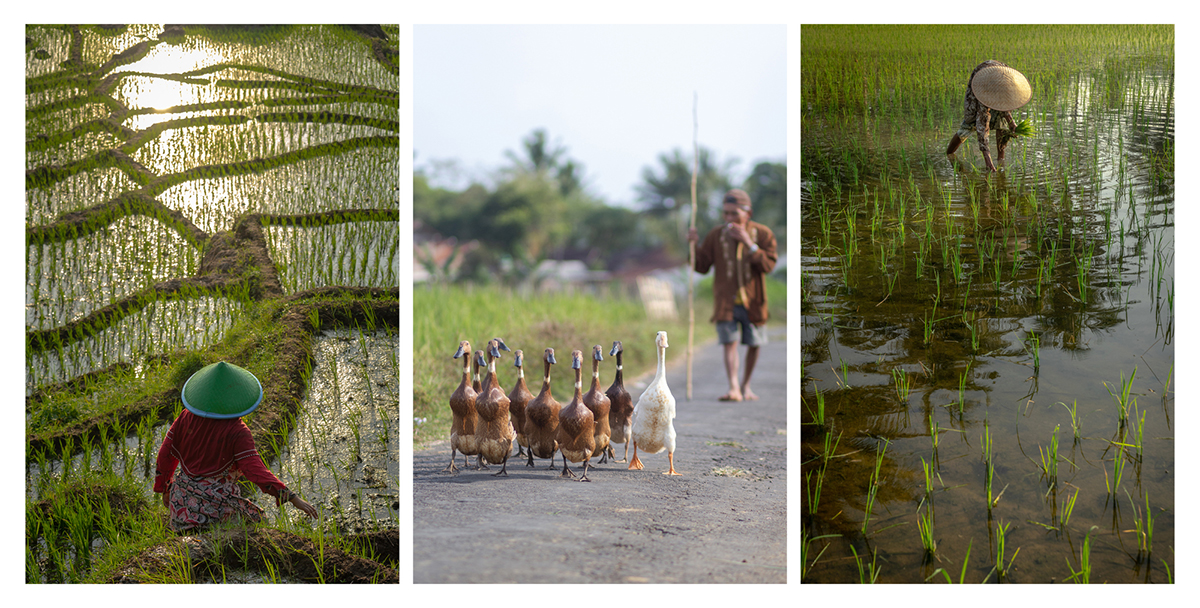 What stuns you the most in Java is the vivid greens, from different intensity and different shades, present as soon as we escape in the nature. The series above displays traditional farmers, each doing their daily task.
 
It is in Purbalingga area where I am meeting with one of my friends that will make me our his village. There, I will make a chance encounter with one of the oldest ladies ever met so far. She is a widow, had outpaced the longevity of all of her ex-husbands, and never had children. She is 115 years.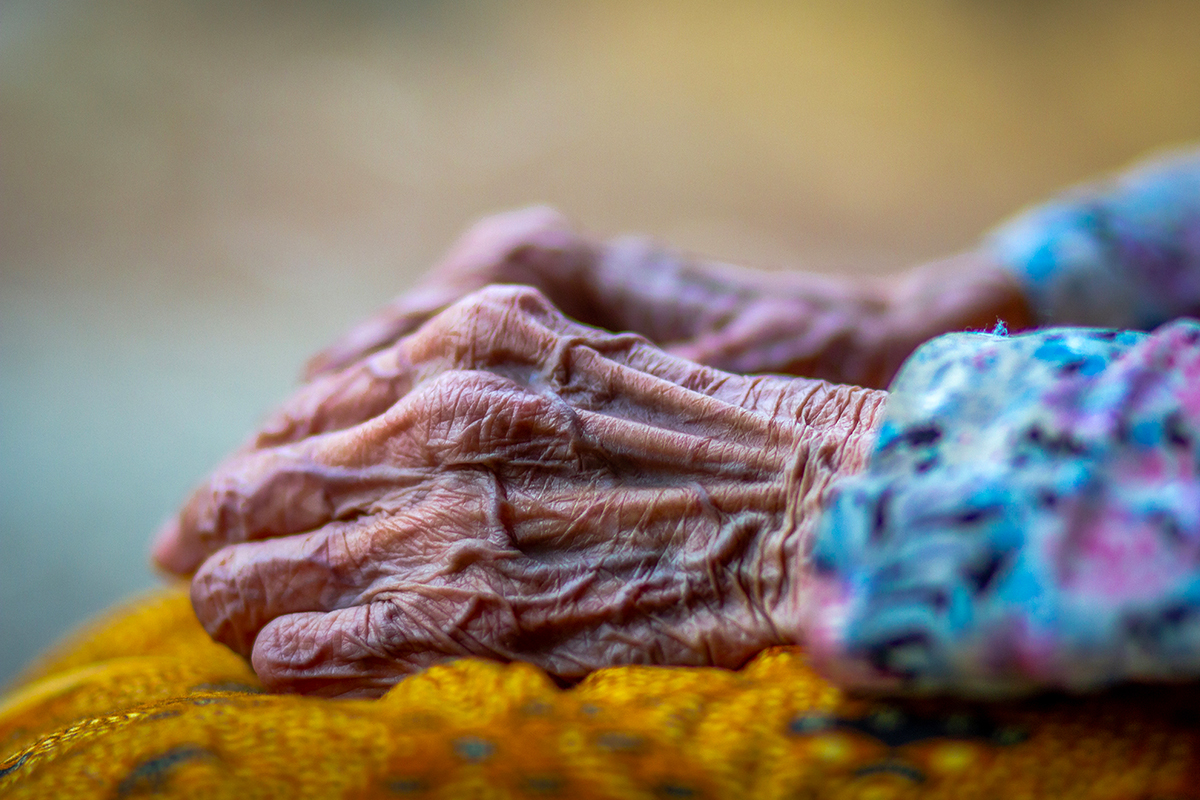 So much can be seen through wrinkled hands and it is sometimes more interesting to photograph than the face itself.
 
I will also be meeting with this man. I still remember of how positive he was! He is collecting the coconut juice and nectar that he places in his plastic jars for selling it at the market later on. He has been doing this almost every single day for 30 years.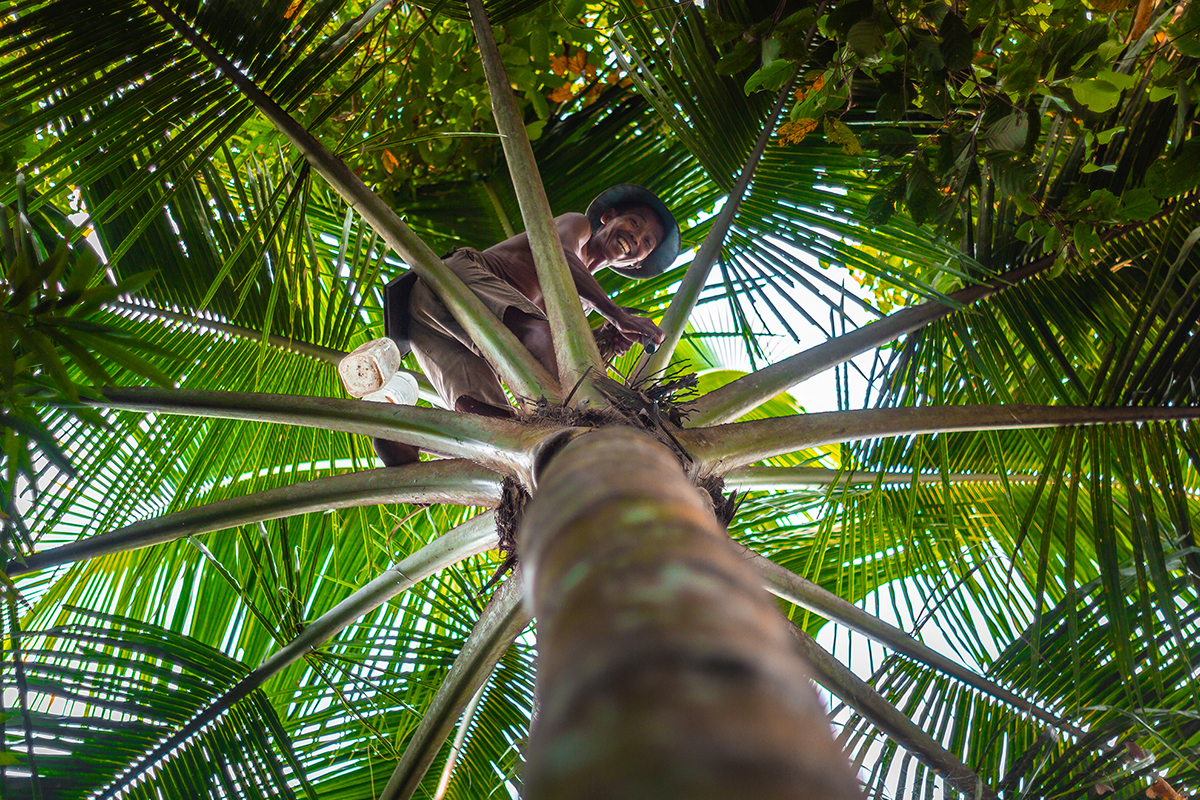 As a kid, this man would follow his father. It is him who taught the now 50-year-old man on how to climb trees.
 
I am struck with an inevitable truth here: this man makes me realize he is happy with his job. It certainly is not the highest paying job but he tells me that he prefers freedom over too much money, or live in a fast-paced stressful city. As a kid, he would love to follow his dad in the nature and learn from him. That's probably what he meant by freedom, I thought.
Next is Yogyakarta. It has got to be one of my all-time favorite cities I ever explored. Dubbed as the cultural capital of Indonesia, the surroundings of this town is full of charm, and character. The people, again. Incredibly open, and willing to give a hand, willing to do anything for you so you can feel home, be part of them. This is the true spirit of the Javanese culture.
In the surroundings, I am meeting with two brothers, putting for me on the occasion the famous blangkon-Javanese traditional headscarf. And, apparently, one is having a cunning pleasure to proudly honor his origins without any complex, while his elder brother, on the other hand, is not fully convinced on how he looks like in front of my lens.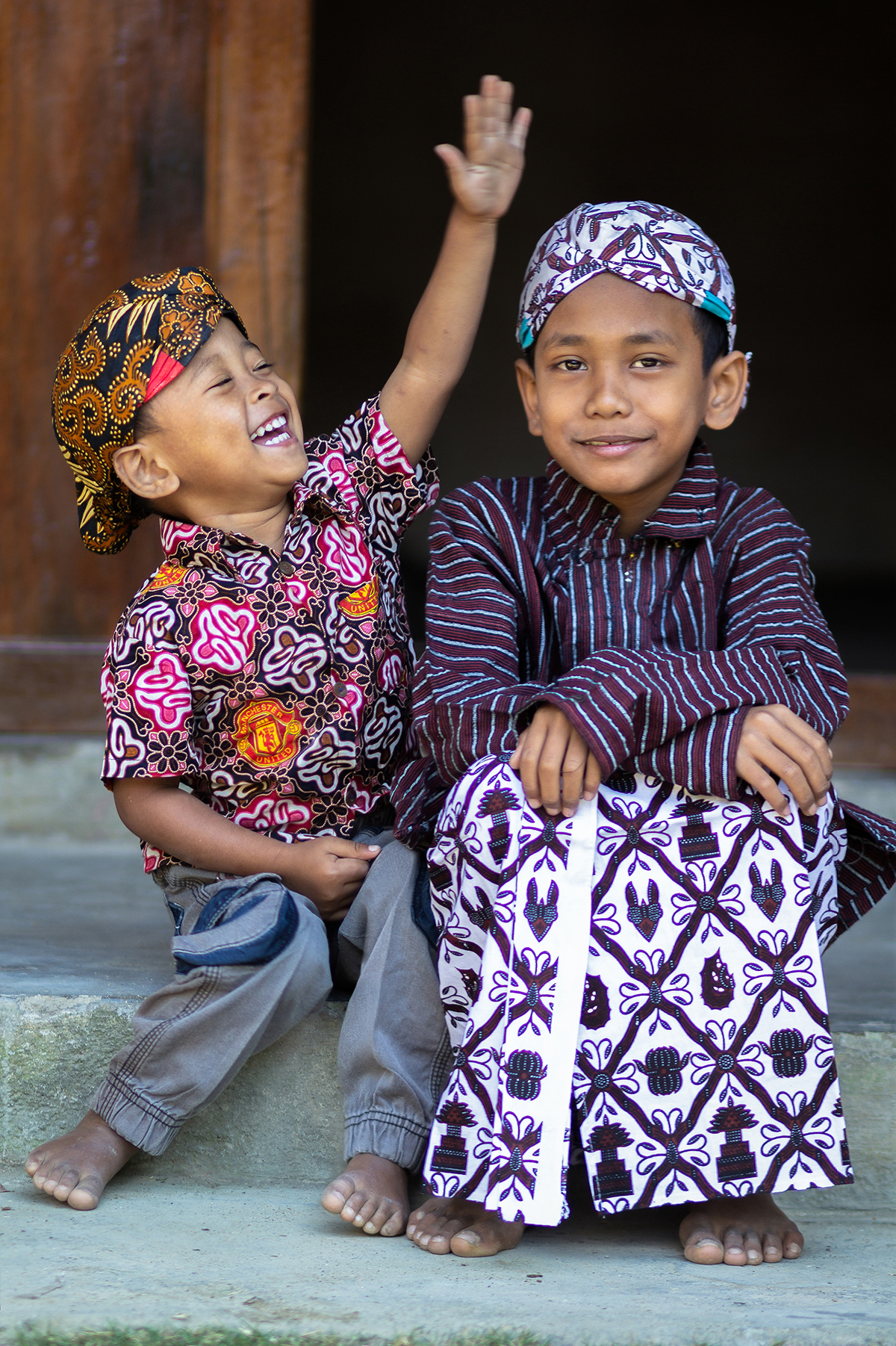 The two Javanese brothers, both true artists in front of the camera.
 
I am tracing my way to the famous Bromo. Facing the grandeur of the nature in the cold night, I realized of how small I actually am. I also realize I am facing a beauty that's been existed for millenaries. Nothing could be added, removed, or changed. It is just perfect the way it was.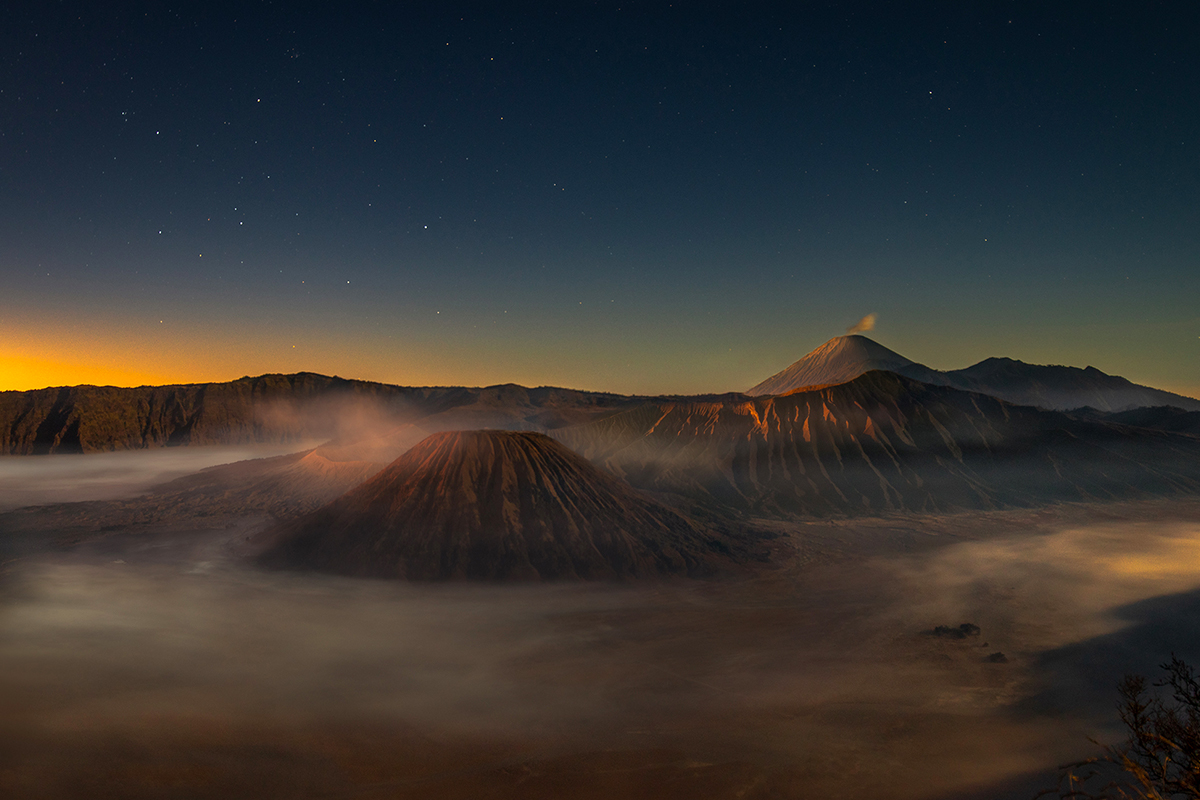 Famous for its sunrise, the name Bromo comes from Brahma-the Hindu creator god.
 
In the cold highlands of Bromo and its surroundings, I will be meeting with the original ethnic group: Suku Tengger. The women there love to wrap their top with light scarves. And to add a more exotic touch to this already stunning combination, they all smoke, apparently to keep them "warm" from the inside.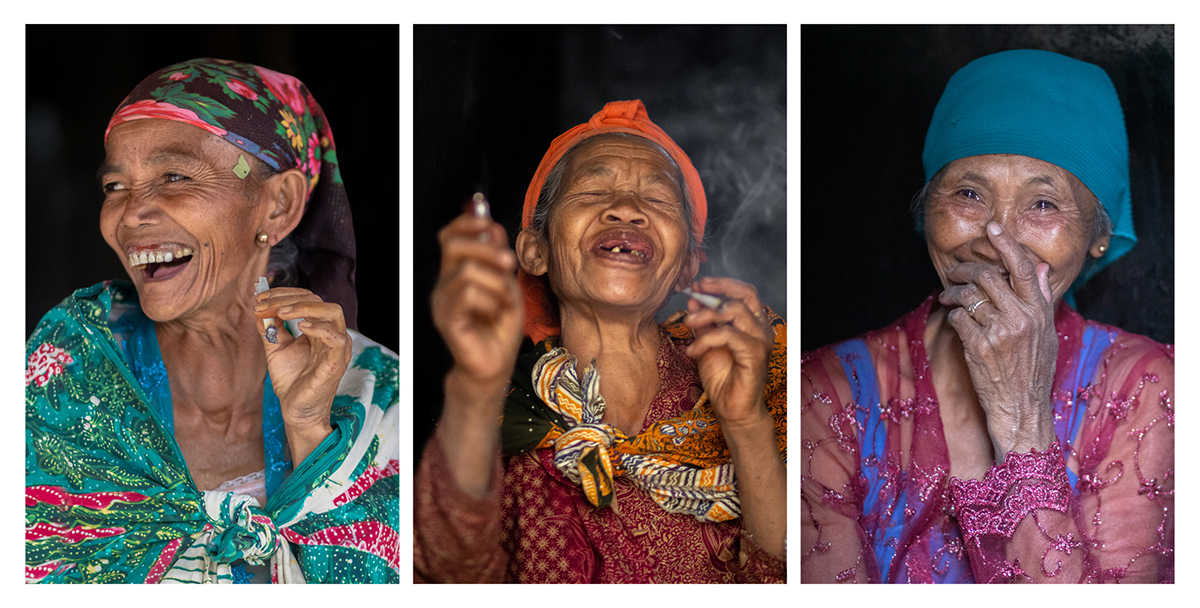 Different colors, different smiles, different mood… Those women are well over 70 years old.
PART 2: ABOUT BEYOND JAVA AND ITS PHILOSOPHY
When we explore the island the way I did, the thing we learned quickest is the capability of letting go off everything, the scale of time slowly stops existing. The way I was surrounded by the locals, welcomed in villages, can't come close to any adjectives I know to describe the amazing hospitality of this country. I learned that gratefulness is simply hidden in the merest situation. I learned that there is always something that can be turned from ordinary to extraordinary when we are willing to see it.
In the end, I learned that the real values of our humanity, and its true authenticity, were found among the people living in the most remote corners of our globe. Those living with disconcerting simplicity, those having the least from the outside, but the most from the inside. I had been looking for such answers my whole life and I think this first photographic expedition gave me the opportunity to find some answers.
With my photo book series, BEYOND, and my socio-ethnological project, Imperfect Frame, I envision to document the archipelago for the next ten years in the most complete way while putting the spotlight to the ethnies and their rich culture.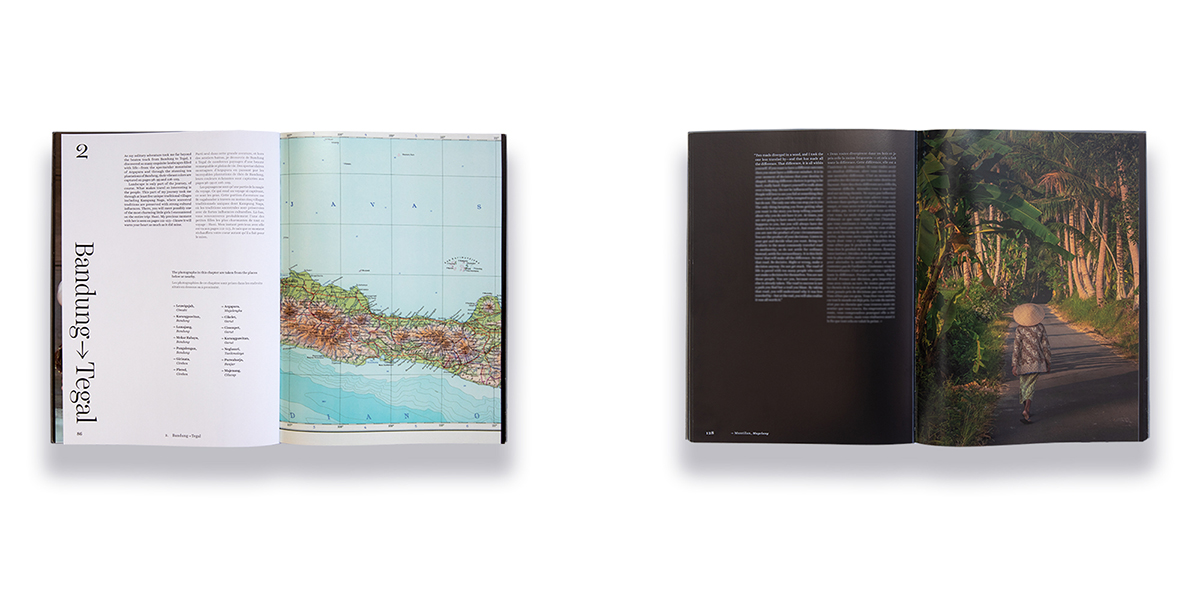 Going "beyond" the beaten track has always been my way of discovering things in their purest form, understanding a country's values, not only through its beautiful destinations but also through its culture and people; feeling the realness, and authenticity from the inside.
My first book, Beyond Java, pays a special tribute to my adopted country. It is an invitation to travel or rediscover the archipelago's uniqueness while teaching others to see things from their own eyes so that they can reinvent the way they travel.
Eating up more than 10,000 km on my motorcycle for six months, and taking over 40,000 frames, this photo book is the most comprehensive book ever done about Indonesia and its people, aesthetically blending modernity and traditions, travel stories and life quotes, cultures and amazing vistas.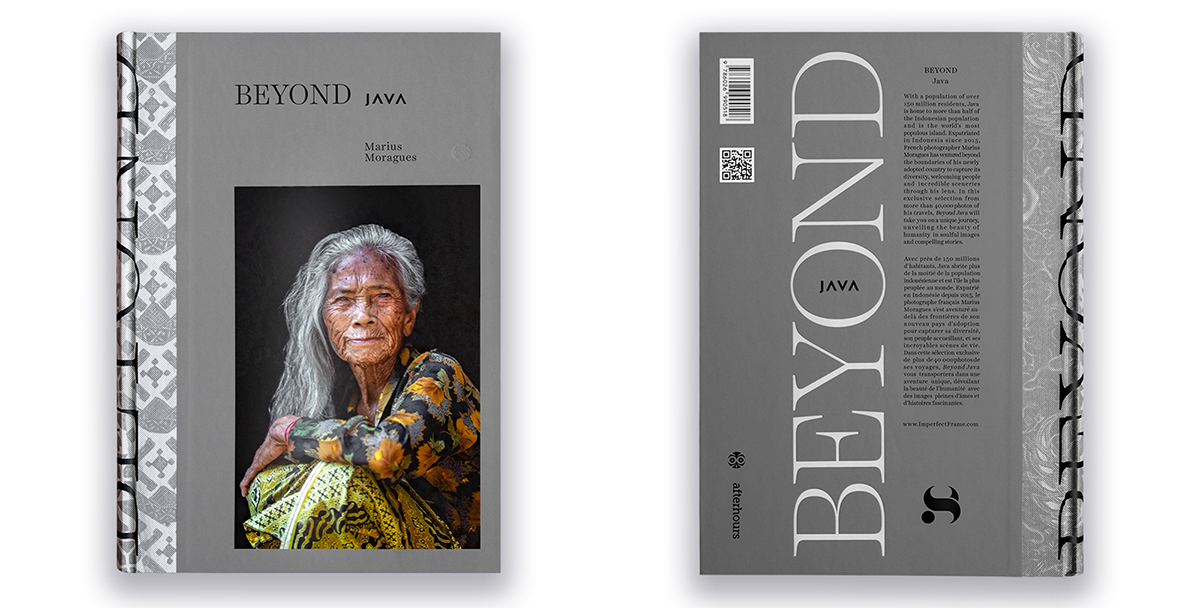 You can follow my work on the following online platforms.
Facebook: Imperfect Frame
Instagram: @imperfectframe
Website: www.ImperfectFrame.com
Written by Marius Moragues
All images by Marius Moragues