Beginning with a mission to conserve the critically-endangered Bali starling, over the years the Begawan Foundation has itself grown alongside the population of Bali's endemic bird. Their operations centred in Melinggih Kelod, Payangan, have become breeding grounds, not only for starlings, but for youth education and regenerative farming programs, all of which work in synergy to create positive, holistic change for the surrounding community.
Back from the Brink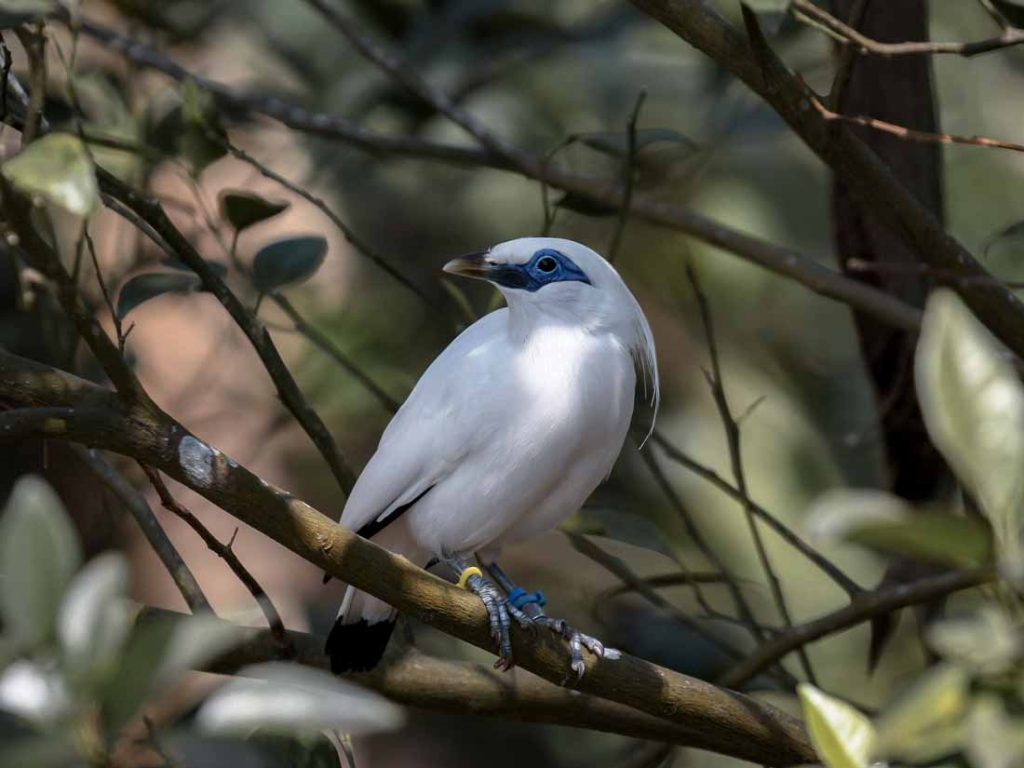 With striking white feathers, black-tipped wings and tail, a brilliant blue hue around its eyes and a gently rising crest upon its head, the beauty of the Bali starling has been its very curse. To have this elegant bird, known locally as jalak Bali, the island's mascot, caged and hanging in one's compound is a source of pride — traditional customs define that Balinese men should have a house, a dagger, a horse, a wife and a bird in a cage. This, alongside local markets and breeders, contributed to the species' near demise. In 1991, it was estimated that only 15 birds remained in the wild and in 1994 the Bali starling was officially listed as critically-endangered.
Seeing an immediate need to protect these iconic birds, two founders started the non-profit Begawan Foundation back in 1999. Its first initiative, the Bali Starling Conservation Program, saw the 'return' of two breeding pairs of Bali starlings from the UK, kicking off a breeding and conservation program for the species. By 2005, four birds became 97. The following year the program relocated to Nusa Penida where a new phase began: release into the wild. From 2006 to 2021, around 180 birds have been sighted on Nusa Penida and Nusa Lembongan.
In 2010, the foundation returned to mainland Bali, to the village of Sibang, south of Ubud. Releasing dozens of starlings into the area, with notable visits from renowned primatologist, Dr. Jane Goodall, to the Secretary-General of the UN, Ban Ki Moon. In 2018, the breeding centre relocated again, back to its namesake area, banjar Begawan, where it is found today. Now, the centre releases around 20 birds a year to the local area, facilitated by a full-time conservation team, bird keepers and in-house vet.
Preparing the Fledglings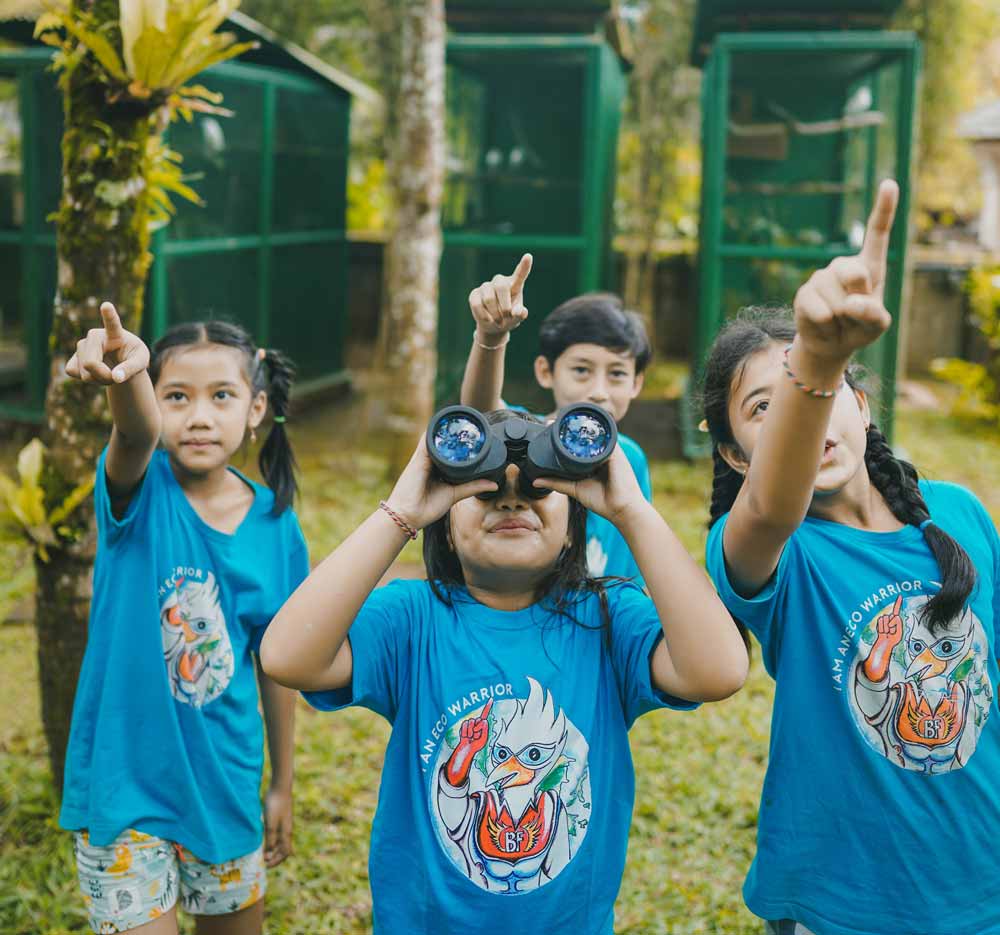 Begawan's release programs required wide-spread community engagement to protect the birds from local poaching, without which their efforts would be in vain. Through dialogue with the many banjars (neighbourhood groups) in the village, new regulations were embedded into the local traditional law, known as awig-awig, condemning the capture of any Bali starlings.
Community engagement actually started much earlier, back in 2000, with a morning kindergarten program teaching English, crafts, health, gardening and household skills to young local children. This was centred on a pedagogical approach the founders developed with Jurgen Zimmer, an Emeritus Professor of Educational Science. The curriculum was made with Bali's specific context, needs and opportunities in mind, making it truly appropriate for the local children attending.
This evolved into a 10-week after-school program in 2014, where school students learned about conservation, environmental awareness and the endangered Bali starling. After all, this would be the generation that would safeguard the species' wellbeing in the future! By 2018, the program had been taught to 2,500 students.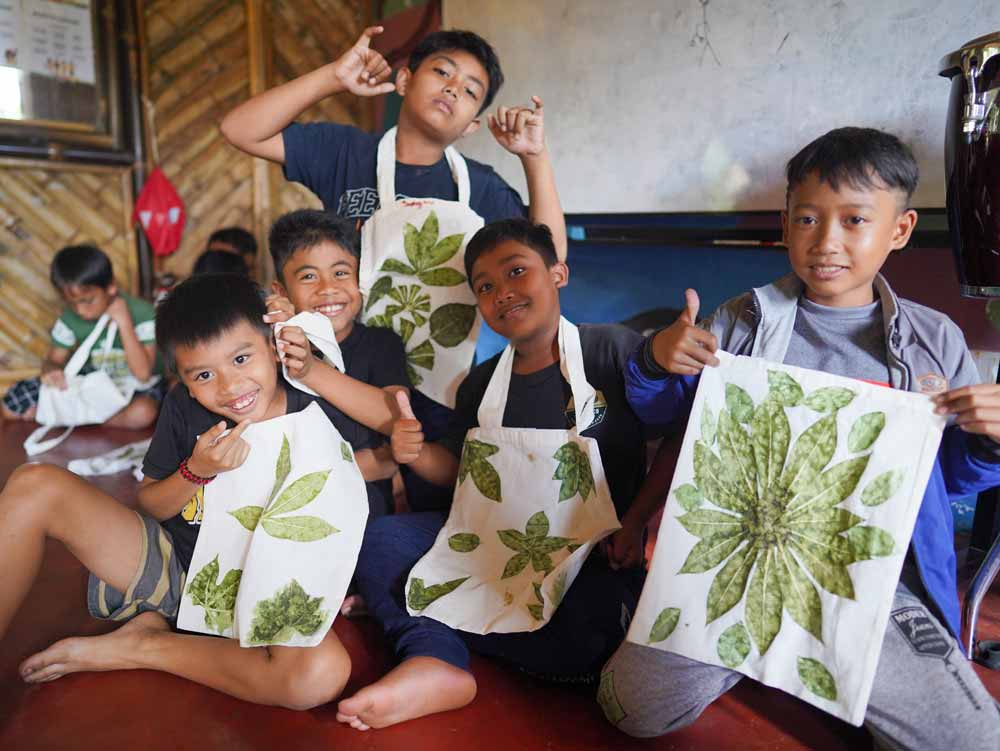 After 2018, Begawan refocused their efforts into their surrounding area, building a dedicated Learning Centre which runs half-day after-school programs for children 6-14 years of age. Building on the foundational 'Learning by Doing' core philosophy from 20 years prior, the activities are experiential, fun and active— there are no rows of seats and tables here, but instead an open room and surrounding garden-farm for real practical learning.
There are four main components in the program, including: Thematic Class, which provides students with opportunities to deepen and expand their knowledge on specific themes such as growing in Bali, cooking sciences, commercial maths, etc.; Practical Entrepreneurial Class, focusing on instilling entrepreneurial mindsets and skills that connect students to alternative employment opportunities, from coding to cricket raising! The third is Proficiency Class, which emphasises the development of students' intellectual abilities to complement their formal education; and finally Extracurricular Class, which gives Begawan's students opportunities to explore and develop different areas of interest, be it cooking, or gardening or dance, or karate.
Running a six-month cycle, the objective of the Learning Centre is to provide a holistic, Bali-centric education that really addresses rural community needs, helping these smart young children to reach their potential and break the cycle of poverty — and care more for their environment.
Planting Old Seeds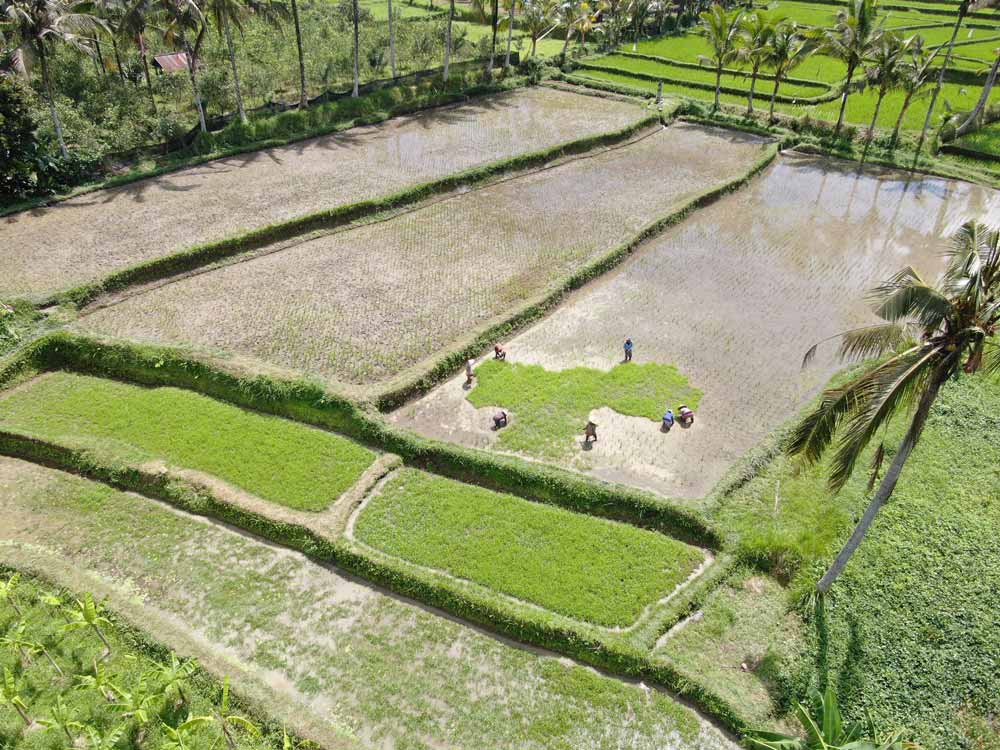 The Bali starling isn't the only thing that Begawan Foundation is hoping to revive. A book by Stephen Lansing on the island's intricate subak water-sharing system, 'Perfect Order: A Thousand Years in Bali', inspired Begawan to bring back age-old farming practices, and also reintroduce a heritage rice crop to the fields of the Kembang Kuning subak, just minutes from the breeding centre.
Begawan kickstarted the project in January 2022 with one farmer and 43 are of land (one are is 100 square metres). More than 22 tons of compost were used to revive the soil health, and with the help of permaculture expert Chakra Widia, the farmer was trained in regenerative farming principles. Funnily enough, these were skills and knowledge of previous generations, discontinued and forgotten. 
Now they harvest a whole grain rice grown before the Green Revolution — a period in the 80's where GMO 'hybrid' crops were introduced into agriculture, including Indonesia's rice crops — known as 'Mansur Heritage Rice'. A year later, four farmers have joined the ranks, with 1,5 hectares of farmland producing mansur. With all-natural methods being used, the area around the farms is seeing positive change, visible through biological indicators. Crabs now scuttle in the banks, ducks can safely wade through the mulch, egrets return to peck. The farmers, too, have noticed how supple the soil has become.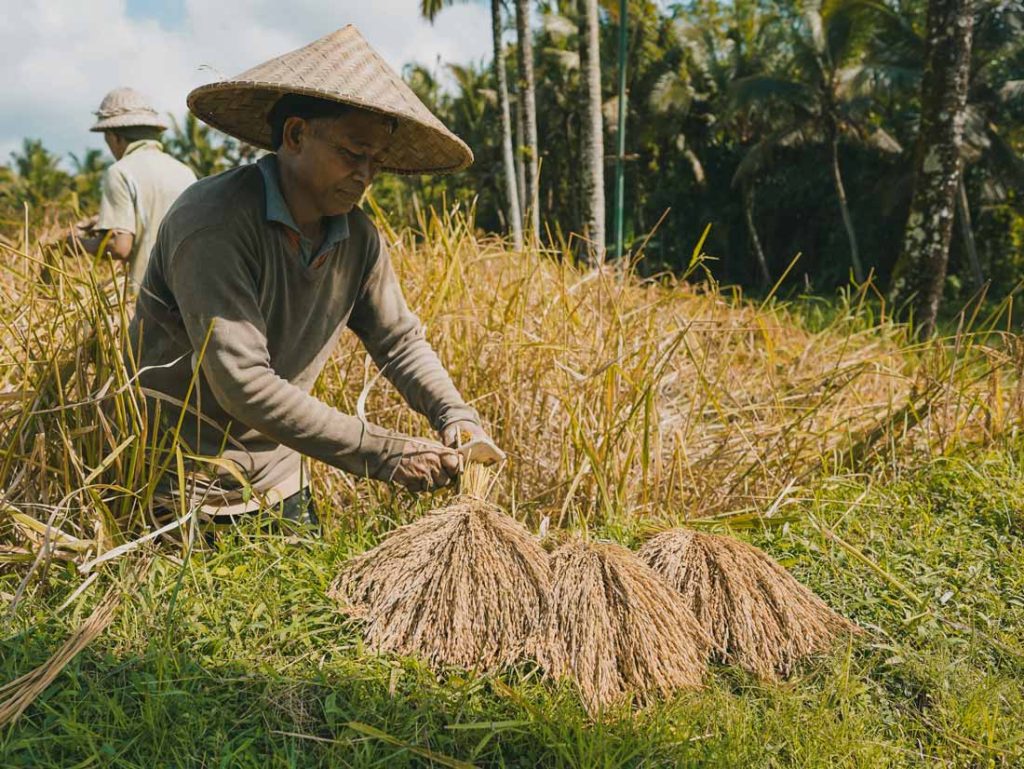 Though the work is more labour intensive, Begawan incentivised the farmers by providing a safety net for their harvest, plus an additional 50% revenue share of the rice's sales. They now make 2-3 times more than they used to. But this is no 'handout', it is a the start of a positive partnership through which the farmers and Begwawan can work and benefit hand-in-hand, simultaneously ensuring a sustainable future for Bali's agriculture and environment.
The Begawan Foundation Ecosystem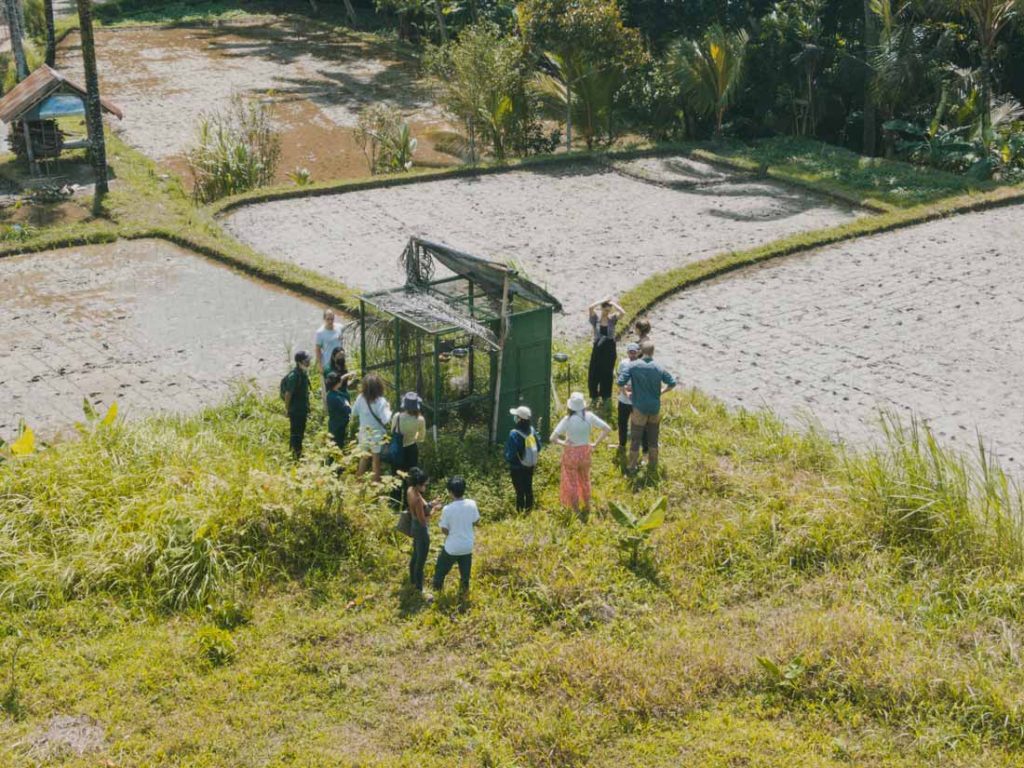 All minutes away from each other, the breeding centre, learning centre and farms work in synergy. One supportive ecosystem, run by a team of 20 Indonesian professionals.
The all-natural farm area provides a safer habitat in which to release the Bali starlings, now seen swooping and nesting around the paddy fields. The children also visit the farm, where they themselves learn about regenerative agriculture but can see firsthand that farming can be commercially viable with the right systems in place. This is key to incentivising a new generation of farmers, a problem that looms in Bali's not too distant future.
The production of their Mansur Heritage Rice now provides a business model to help the organisation become self sustaining. Already, individuals and hospitality businesses have begun sourcing their rice, not only because of its more organic production, but because the rice supports wildlife conservation, local education and sustainable farming. This certainly ticks all of the boxes for businesses with SDG commitments.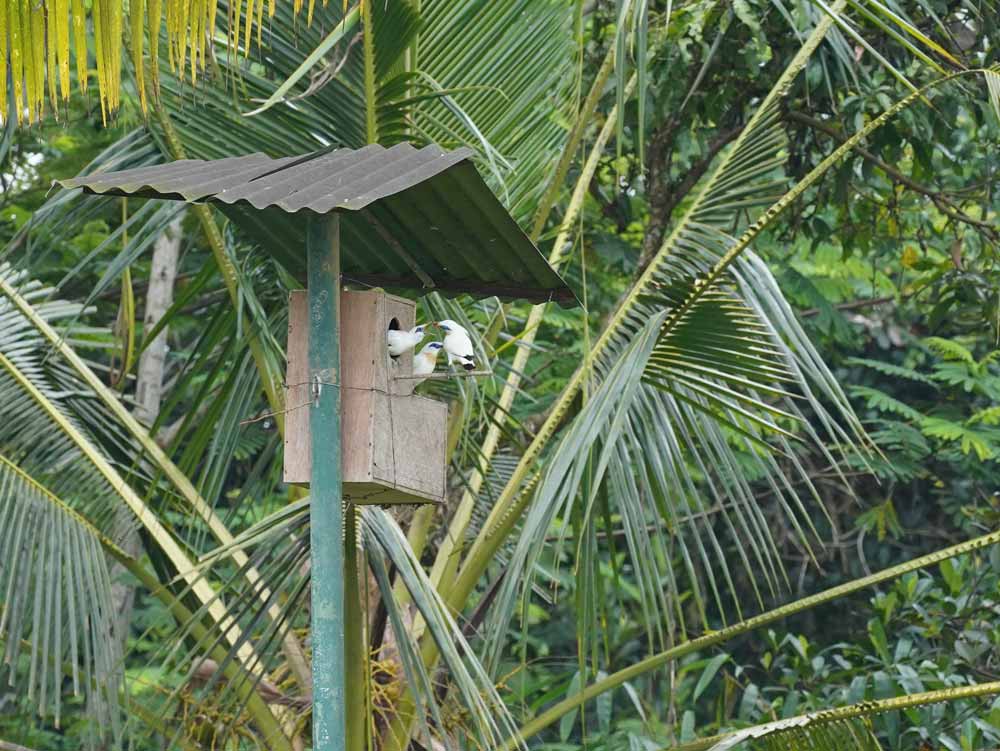 Begawan is developing a hub in the farm area to offer visitor experiences that link closely with the projects. A new net-zero building bordering the rice fields and purpose-built permaculture gardens will become a visitor's centre, restaurant, farm and cooking school, a hub which highlights the nature and produce of the area. This is set to open later in 2023.
But, visitors are already welcome. With farm experiences, bird walks and visits to the breeding and learning centres, guests can see firsthand the work Begawan Foundation are doing and support directly. And it's also the best way to spot one of the beautiful Bali starlings once again flying free in the wild.
Find out more at www.begawan.life