Serene sunny morning awaits for our arrival at the HAS Hanandjoeddin Airport in Tanjung Pandan, Belitung island. Our lovely local friends invited us to come over and spend the weekend exploring some of Belitung's famous destinations. The airport was quite busy and bustling with tourist groups ready for a vacation. We depart with 3 adults and 2 children, a local guide and driver was provided as a kind compliment from our friends, to pick us up and served us for the entire stay.
Belitung is also known as Billiton. Beside the mezmerising pristine beaches, it is also famous for tin and peppers. Belitong, like most locals pronounce it, is a relatively small island with tourist attractions being sparsely scattered in the map, about 1-2 hours drive from city center. It is best to make advance booking for suitable accomodation and trusted transportation with fixed price, since public transport are not the best way to get around.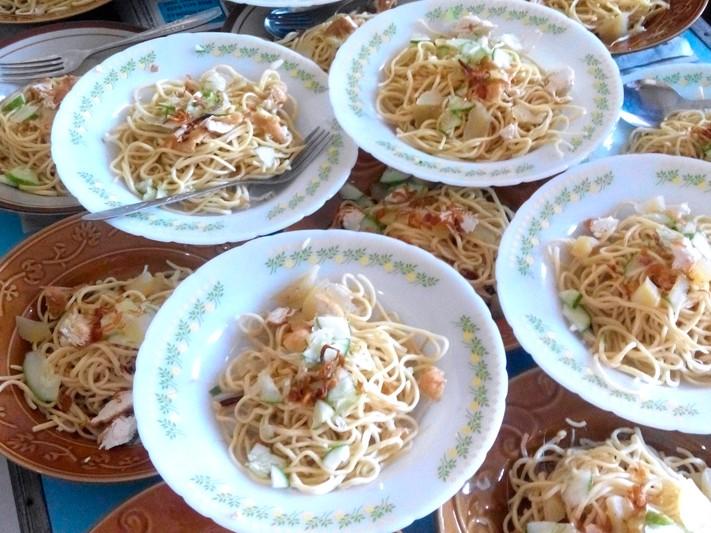 Our first stop was to have breakfast at city center. Warung Mak Jana serves the special delicacies of Soto Lontong and Gado gado Lontong Belitong. This small restaurant is packed with visitors on a Saturday morning. Surprisingly, we even got a chance to shake hands with the Governor of Belitung who also happens to be having a good breakfast here.
Then we visit a unique place called Kaolin Lake. It reminds me of the cotton castle or Pamukkale in Turkey. With white stones and turqoise water, it is a nice settings for landscape picture.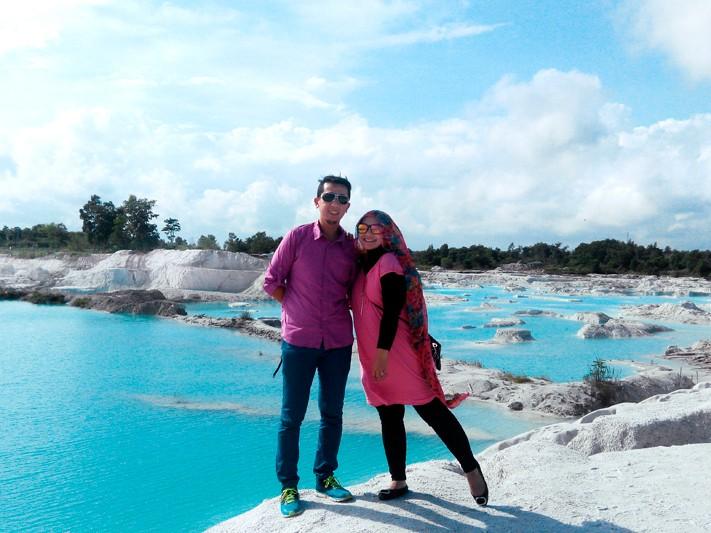 On to the next journey, we head towards the Laskar Pelangi's Museum Kata. An artsy museum with memorabilia created by Andrea Hirata, around the success of his best selling novels and box office movies, portraying the stories of his younger self and adventures. The museum has vivid colours and murals, with mozaic tile floors, reading space and a coffee shop at the back. We then went to check out the Laskar Pelangi or Rainbow Troops' school nearby the museum and take some pictures.
We then drove to visit the monument of 1001 coffee shop, in the city of Manggar East Belitung. Most of these coffee shops provide semi-outdoor lounge, with long chairs and tables inviting visitors to chill and sip some warm drinks. We ordered the most special black coffee available and singkong goreng or fried cassava as snacks. It was marvellous, perfect for a light rain mood we had that day.
About an hour drive from Manggar, we went to find lunch and excited to try the fresh local seafood, harvest life from the adjacent sea. It is a simple dish of grilled fish and squids but tastes scrumptiously mouth-watering. Mixed with excellent scenic waterfront, dining experience in this humble beach hut was inevitably special.
Carry on with our itinerary, we rented a boat to Lengkuas island. The boatman asked Rp 500.000 for a boat with the capacity of 10 people. But that day, we had the boat all to ourselves. Because the wind was strong, everyone wore safety vest before getting on board the motorboat. The children were happy and excited to ride and feel the wave moved the boat up and down along the way.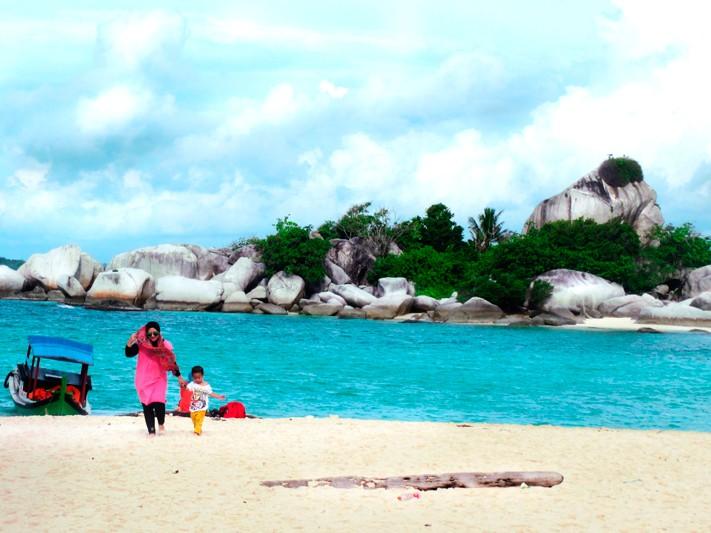 Lengkuas island is the home of a lighthouse more than 100 years old of age. It has such a pretty soft white sand beach with clear turqoise water. Light grey granite rocks thrust scatteredly in a variety of sizes and shapes, made the island even more special. A few photography clubs arrived at the same time, and obviously stating the place was indeed a photogenic hunting spot.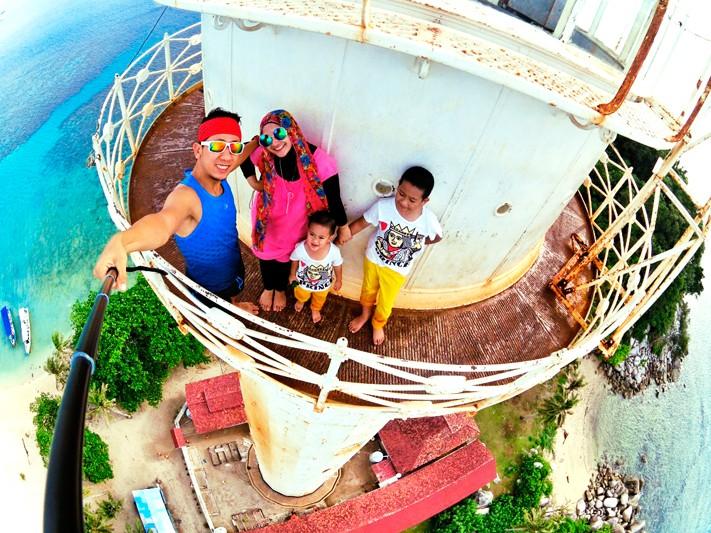 We managed to climb the 18 story high, 65 meter tall and 313 stair steps lighthouse, with the support of our boatman who kindly offered his help to carry up my 3 year old baby. And boy, the effort of going through those slippery iron stairs were worth every bit. Once we got to the top and stepped out to the viewing deck, the panorama was plain breathtaking. Sadly we could not stay up for long because people were lining up to take their turn to enjoy the magnificent wonders of the island from above this historical structure. After we got back on the ground level, we can visit the museum built near the lighthouse. Some food stalls are also available here, selling instant foods and beverages.
On our way back from Lengkuas Island, we stopped by at Pulau Batu Belayar. Translated as Sailing Stone Island, this small spot is lovely and secluded. It is where couples usually go for pre-wedding shots. It has large granite stone in the formation of a boat and sail, that will definitely gives a majestic background for memorable holiday pictures.
Around the sunset time, we already felt quite tired so we headed straight to hotel. We choose the Villa Lor Inn at Tanjung Tinggi because it is a step away from a quiet beach that we can enjoy all day. It rained all through the night, so we just hung out at our cottage with dinner delivered to our room.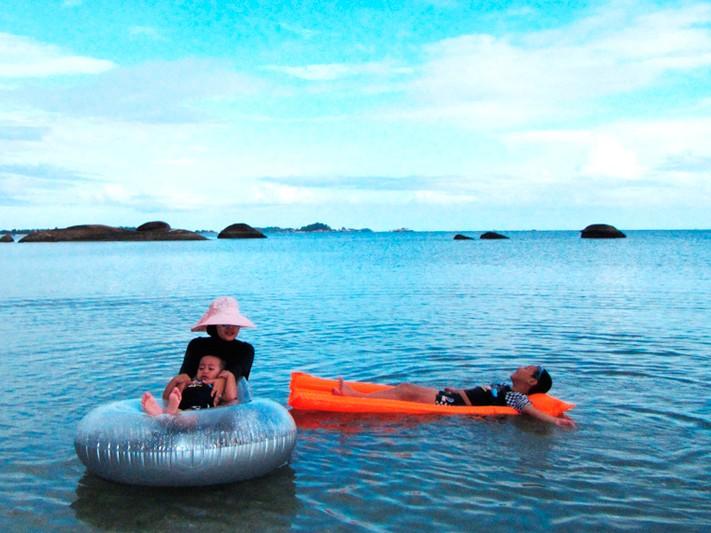 Sunday morning was a bit cloudy and cool, a nice temperature to enjoy the tranquil beach and a dose of good vitamin sea in front of our cottage. The sand is smooth, clean and well maintained. The water is not too deep, so children can experience some dipping in the salty water.
The seabed has small coral reefs about 10 metres off sand, so we stay clear of that particular area. The wind and current were become rapidly strong and even flew away one of our inflatables to the open sea.
After checked out from hotel, we visited the souvenir shop for some shoppings. Peppers, some tin souvenirs and local designed t-shirts were our choices for the day. Back to the airport, it was busier than when we arrived. It is a sure sign of Belitung's charms that has finally emerge on the tourism map as one of the most scenic island getaway, only one hour from the capital city of Jakarta.
Written by Naning Chaidir