Even through a pandemic, it hasn't stopped the island's eager and creative food and beverage industry from continuing to innovate and grow. Brand new venues – be it a late-night speakeasy, the latest fine-dining destination or comfy new café – are still popping up across Bali and herewith we bring you some of the most notable new kids in town. So, if you're looking for the best new restaurants in Bali in 2022, or the most intriguing new bar, don't look any further.
Browse by Month:
JANUARY 2022 – FEBRUARY 2022 – MARCH 2022 – APRIL 2022 – MAY 2022 – JUNE 2022
We'll be updating this article every month, so make sure to subscribe to our newsletter to stay in the loop!
---
JUNE UPDATE
New restaurants in Bali that opened in June 2022.
Cantina Rooftop
New restaurant and bar in Ubud.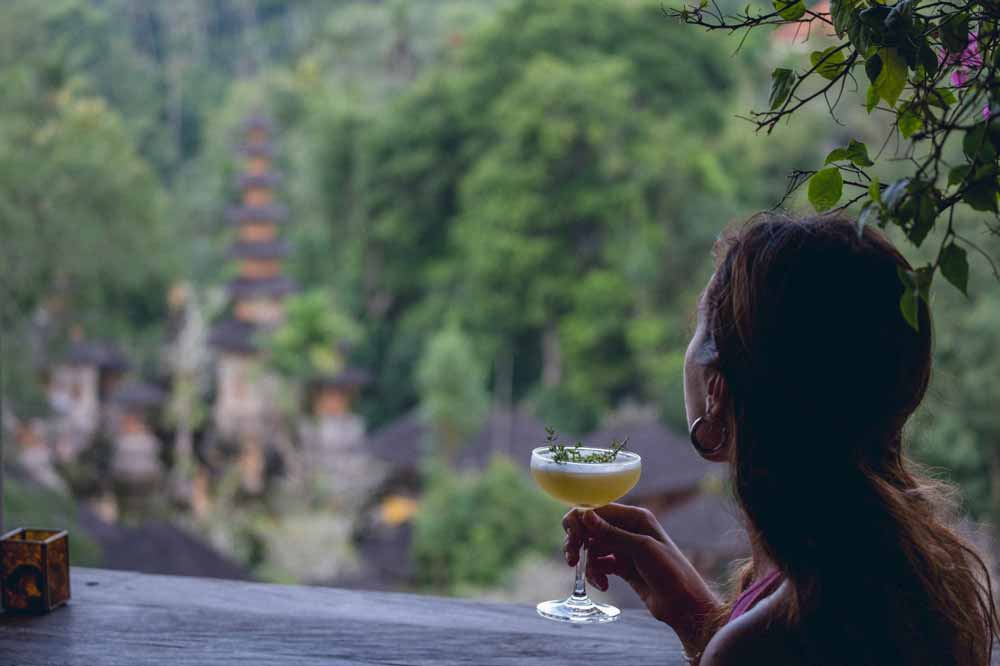 Enjoying one of the best views of Ubud's iconic temple, Pura Gunung Lebah, Cantina Rooftop presents an inviting and homey destination to soak up the Ubud atmosphere whilst savouring a rustic, produce-focused bistro menu driven by two Chilean chefs.
The all-day rooftop eatery and bar is the newest venture by PICA South American Kitchen — founded by Chef Cristian Encina and Monica Fernandez — whose authentic and honest offerings of the regional cuisine brought the restaurant a well-deserved popularity. For this new project, Encina is joined by fellow Chilean Chef Jorge Valderrama  in the kitchen, and despite their shared country of origin the menu at Rooftop Cantina is a celebration of global flavours. Both chefs have worked in kitchens around the world, and even in the same restaurants at different times, and the dishes are a reflection of their eclectic, intercontinental experiences. The result is a sophisticated, chef-driven bistro menu, best enjoyed family-style as sharing plates. Each dish uses few ingredients as the chefs, cooking a lot over open fire and with traditional techniques, aim to really  bring out the flavours and textures of the produce.
This spectacular valley perch upon which Cantina Rooftop is found has quite the history. It is built on the top floor of Ubud's first bar, Beggar's Bush, a legendary venue that opened in the late 70's and was frequented by travellers, adventurers and even celebrities like Mick Jagger and David Bowie. The original Beggar's Bush bar is now inhabited by Boliche, Cantina's late-night bar, where artisanal cocktails are served in a stylish, soundproof venue where underground music reverberates into the wee hours. But Cantina's own bar speaks for itself, where Head Chef Valderrama and mixologist Arai Resmanu highlight local ingredients in their craft cocktails but also bring attention to Bali's now impressive repertoire of craft beers, spirits and even wines.
The venue is cosy and laidback: a long communal table sits in front of the open kitchen and bar, whilst lounging areas line the restaurant's edge, the open-air concept granting unbeatable views to the Wos River below. Open 12pm – 11pm, everyday
Cantina Rooftop, All-Day Eatery, Ubud
+6292132486512 | @cantinarooftop.bali  | Jl Raya Campuhan, Ubud
---
Luma
New restaurant in Canggu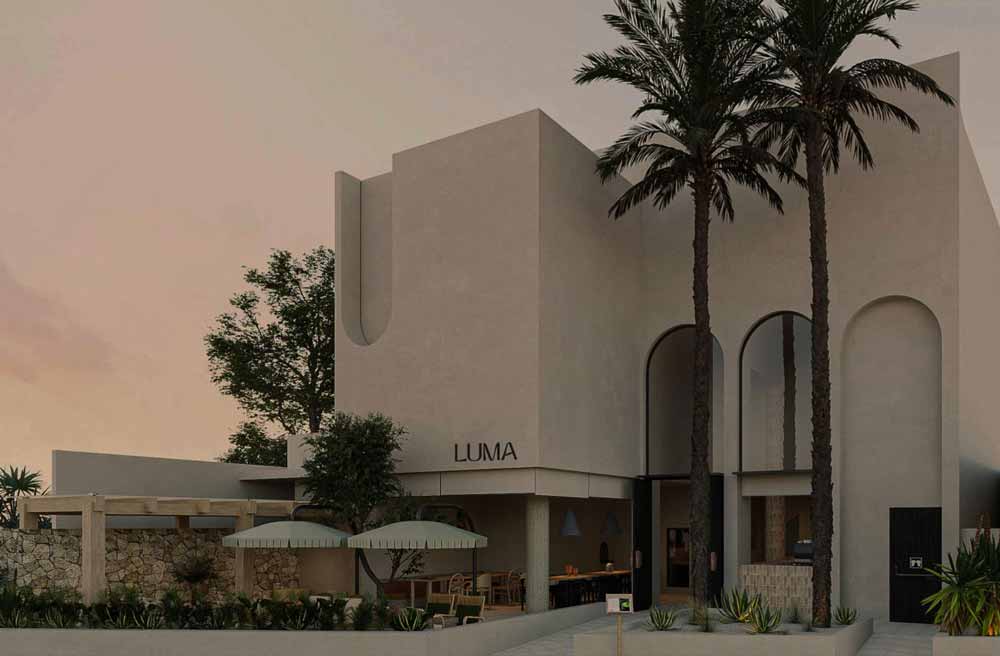 Mediterranean-inspired in both design and menu, this new restaurant presents the culinary creations of celebrated Chefs Kieran Morland and Cameron Emirali.
Located on Batu Bolong, Canggu, Luma sits smartly on the roadside with its clean, sophisticated and understated style. Designed by local architecture firm, Design Assembly, the restaurant exudes the feeling of the rugged, sun-drenched coastlines of southern Europe, with its marble mosaic flooring, white interiors, arched doorways and windows. A key feature of the interior is the charcoal grill and custom-made, see-through wood-fire oven, a visual tease to what is on the menu.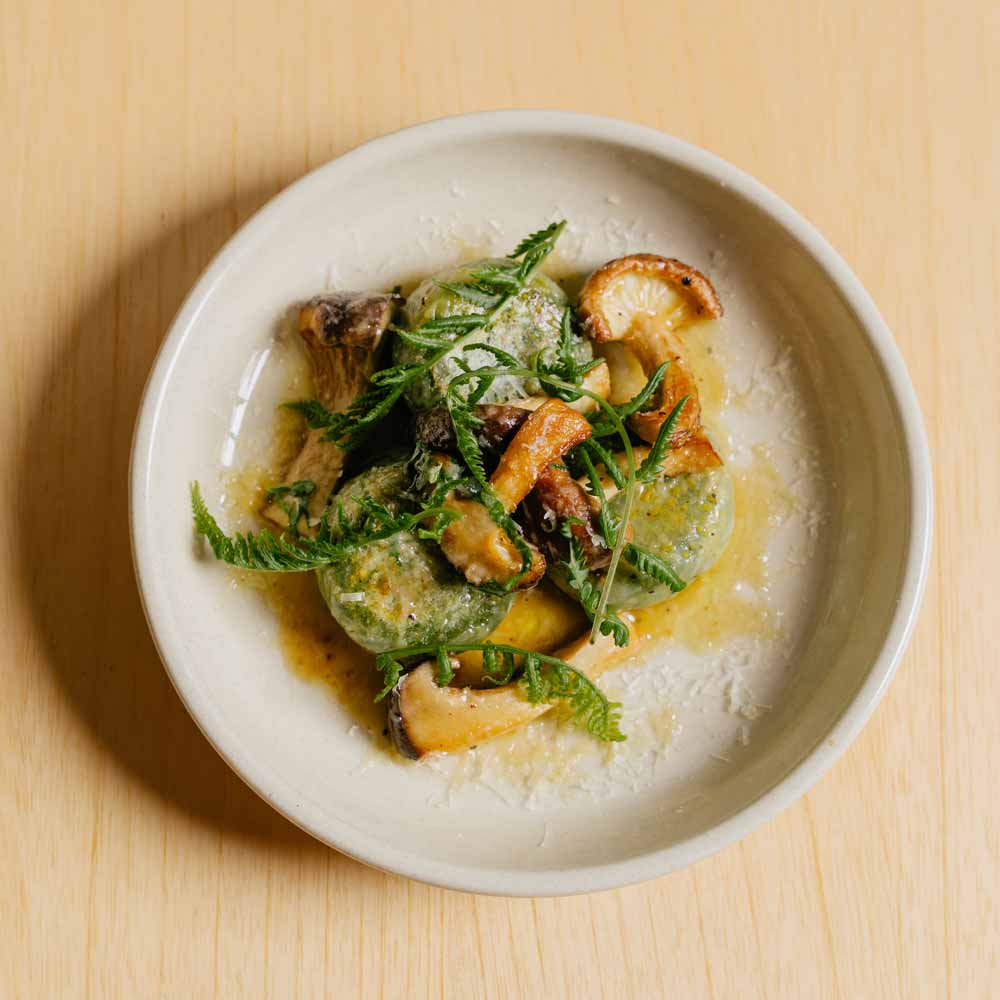 Chef Kieran, known for his successful Bali restaurants Sangsaka and Merah Putih, continues to use his knowledge of unique Indonesian ingredients such as fern tips, kenari nuts, banana blossoms, nutmeg fruit and cassava; Chef Cameron Emirali brings his own style and expertise from 10 Greek Street in Soho, London. Together the chefs present simple, rustic dishes that fuse southern European traditions and Indonesian ingredients. With a focus on seasonality, the menu changes weekly and has daily specials, but diners can expect dishes like: seaweed wrapped prawns, romesco and kenari; Batik lobster risotto, zucchini flowers, chilli butter; Wagyu flat iron, mustard, bone marrow and cassava as well as classics like grilled octopus, orzo and squid ink aioli and lamb shoulder, garlic, sprouting broccoli and anchovy. 
Cocktails are given a local touch as well, with concoctions like Spice Islands gin, local raspberries, torch ginger; Tequila, boysenberry, rosella, calamansi lime and Spiced Flores honey old fashioned, orange bitters. The carefully curated wine list features a Remelliri Rioja from Spain and a Donna Fugata Chardonnay from Sicily alongside a small selection of natural wines, most served by the glass, carafe and bottle. Open 5pm – 11pm daily.
Luma Bali
@lumabali | lumabali.com | Jalan Batu Bolong 91 , Canggu, Bali
---
Club Soda
New bar in Canggu, Batu Bolong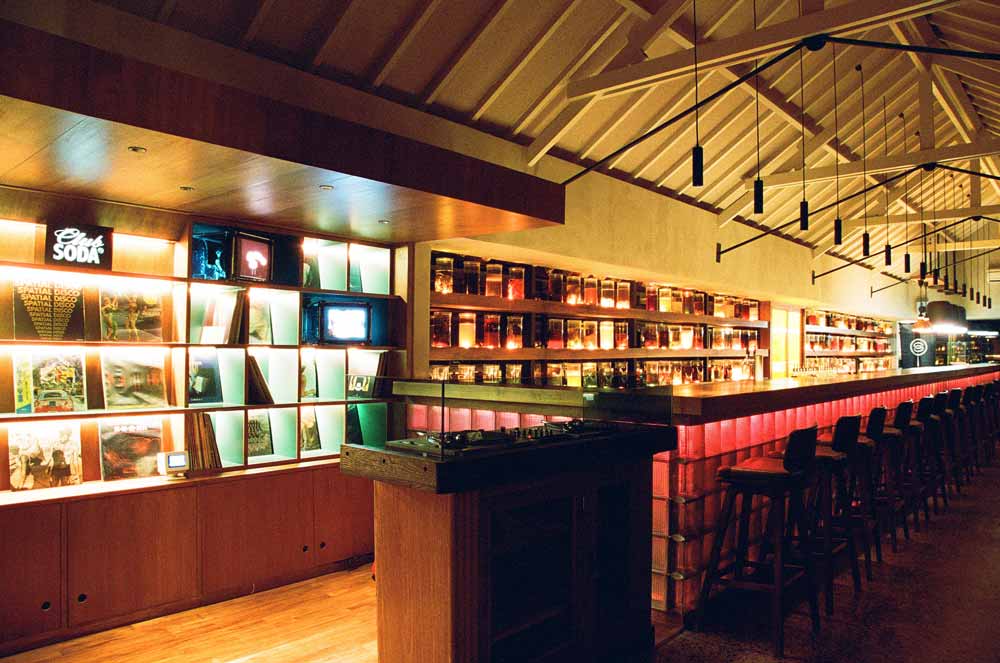 An eclectic new bar has opened defining itself as a 'postmodern happiness portal'. Seriously design-focused, Club Soda presents the trifecta of craft cocktails, art installation and sonic audio waves.
Brought to the bustling Berawa neighbourhood by famed Ubud restaurant, Locavore, Club Soda is the latest expansion to the group's already extensive portfolio of Locavore (and 'To Go'), Nusantara, Local Parts and Night Rooster. The new venture, together with creative partners Agency X, is a contemporary-reimagining of a tropical 80's aesthetic, where palm trees and neon lights find a shared home. With its extensive main bar stretching almost the length of the venue, it is the  theatre of sorts, where Club Soda's 'selection of multi-hyphenated creative refreshments' are made. Head barman, Raka Ambarawan, brings the same philosophy of his drinks menu from Night Rooster: a highlighting of local Indonesian ingredients, crafted into innovative cocktails and also non-alcoholic delights. You'll find Club Soda's own cans of fruity hard seltzers or tonics; fermented cocktails starring nutmeg fruit, banana and rice; classics with a twist; and zero-chemical natural wines made the classic way.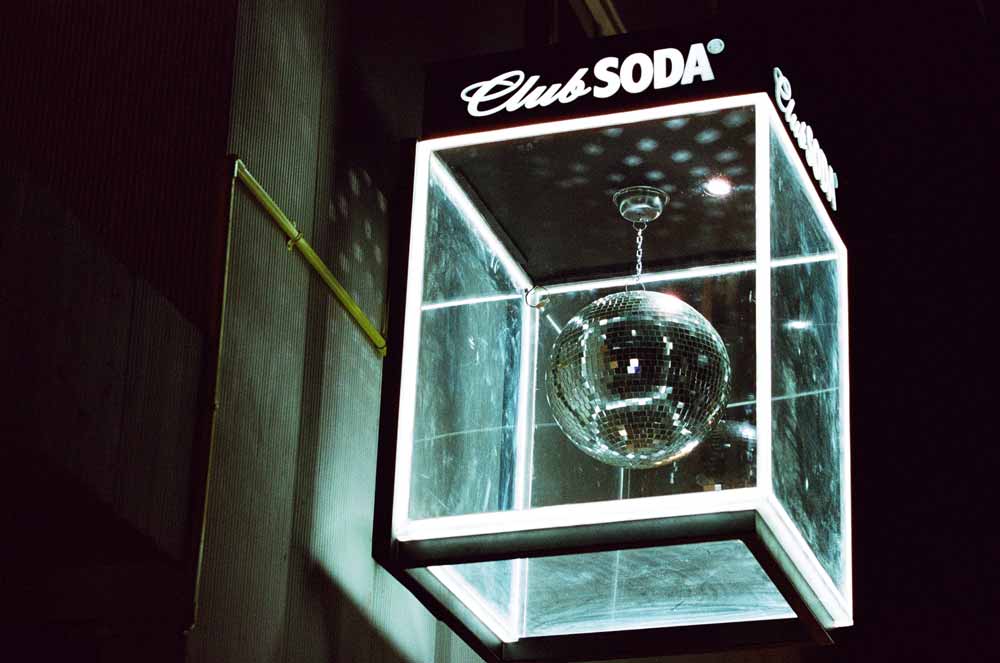 Made to complement their drinks, a list of Asian & Japanese-inspired small plates are on offer, created by the Locavore team. You'll find the likes of Steam Manila Clams; Cold Noodles with spicy kimchi paste, cucumber and sesame seeds; Chicken Katsu Sando; Grilled Watermelon skewers; and other Kushiyaki or Yakitori creations.
Besides drinks, food and interiors; a big part of the Club Soda experience is music. With built-in vinyl turntables and custom speaker towers, the retro dream is complete. Through their sibling brand, DUB Soda, this will be a place of musical appreciation, with hand-picked DJs and vinyl stores given a stage to shine.
Open 5pm – late (closed Mondays).
Club Soda Canggu
@clubsoda_canggu | Menu |Jalan Tegal Sari No.5, Berawa
---
Kawi
New bar in Ubud.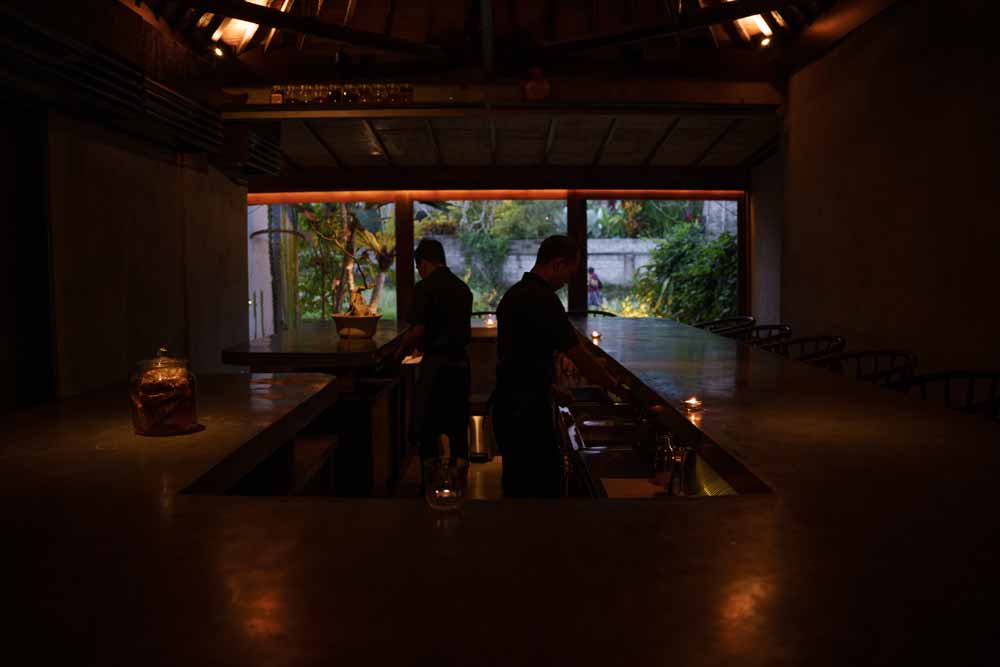 Kawi is one of Ubud's newest cocktail bars with a real focus on ingredients and flavour. This cosy 15-seater is a place for those looking to savour well-balanced cocktails in peace, or have a private little tete-a-tete in an intimate space.
The bar came to be because three friends wished to add a high-quality cocktail bar to Ubud's nightlife scene. Two of the founders, wife and husband Elaine Sun and Kong Premanuwat, brought their expertise with them from Bangkok, having opened and operated many food and beverage venues, such as Ku Bar (cocktail bar), Kangkao (Thailand's first natural wine bar, now closed), and All Cats All Bats (Mexican food, natural wine, craft beer). Teaming up with Christian Tseng of Amala Villas Ubud, the team pulled the Kawi concept together.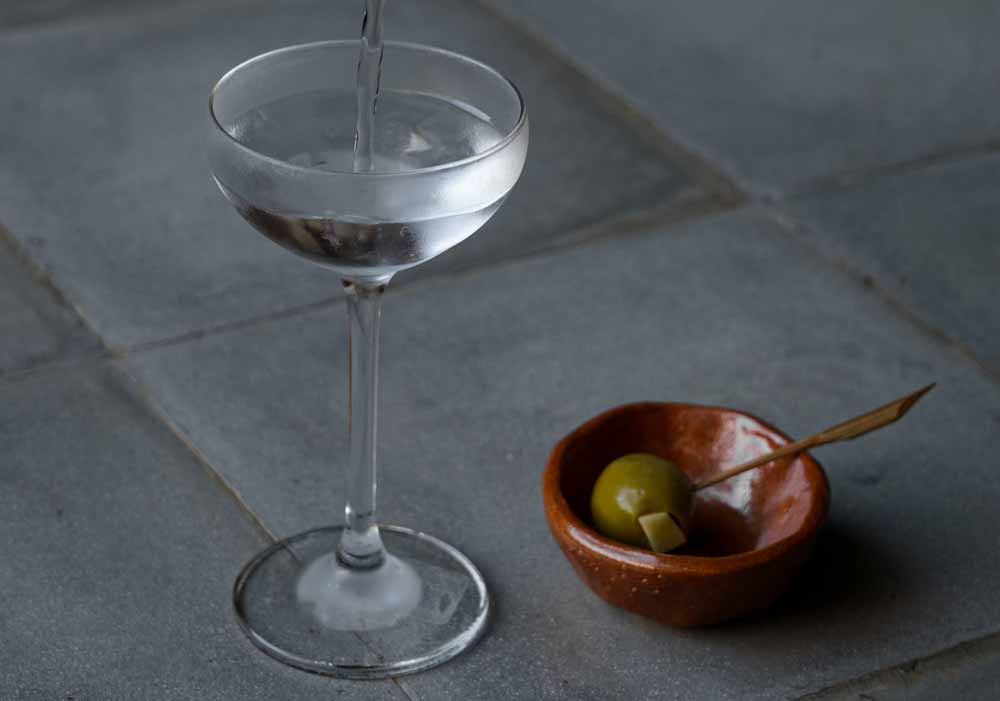 Kawi, meaning poet in Sanskrit, highlights fresh produce and special ingredients from different parts of Bali in their cocktails. For example, 'Ylang Ylang' with gin, ylang ylang flower-infused water, tonic, topped with papaya-campari sorbet; and 'Rice', featuring a house-made spiced rice milk, tape (a fermented rice or cassava), sake and cincau grass jelly. This focus on the local extends to independently produced arak brands, including arak from a family-owned distillery in Sidemen as well as from Karusotju in Tabanan. Some natural wines by the bottle and locally-inspired snacks are also made available. These unique cocktails are enjoyed in the snug-yet-sophisticated space of Kawi, around a single circular bar, where the warm and low lighting set the mood and the back garden brings in a tropical Bali breeze.
Open 6pm – Midnight (Last order 11.30pm), Thurs-Sun.
Kawi Ubud
+62 361 9086528 | @kawiubud | Jl. Raya Lungsiakan, Ubud (Next to Manik Art Studios)
---
Double Bee Café and Resto
New resto in Denpasar.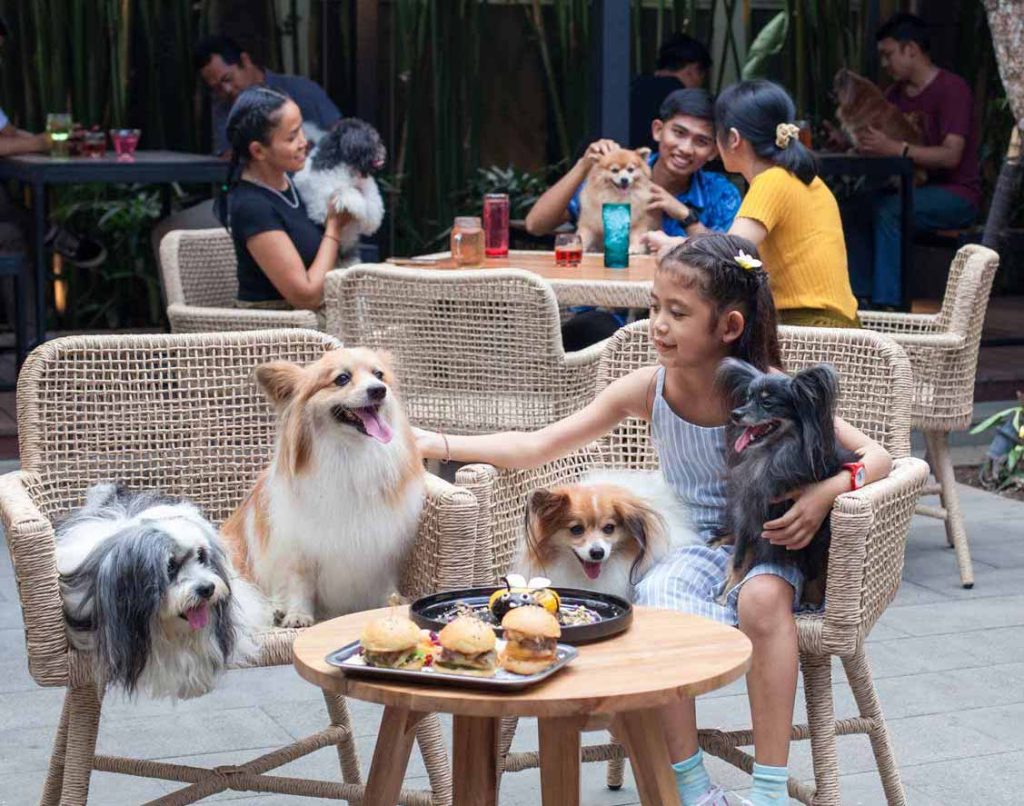 One of the capital's iconic restaurants has gone through a transformation out of which Double Bee Café and Resto has emerged! This eatery adds a refreshingly contemporary dining destination to Denpasar, as well as being one of the first pet-friendly restaurants in the area.
Previously known as Braga Permai Bali, colonial-inspired venue, the classic restaurant has been given a total face-lift. With totally new exterior and interior renovations, it has re-emerged as Double Bee Café, presenting an atmosphere that resonates with today's tastes.The inside dining area is sleek and cosy, suitable for lunch gatherings to casual yet intimate dinners. Outside, an open courtyard is a place for fun and entertainment, with a bar, dining tables and live music all found within the surrounds of a residential garden. Both inside and out, the feeling of the venue is akin to a home, a very welcoming space one can ease into comfortably. Uniquely, Double Bee Café and Resto is one of the first pet-friendly restaurants in Denpasar, and openly invites diners to bring their 'furry friends' to accompany them in the courtyard space for meals.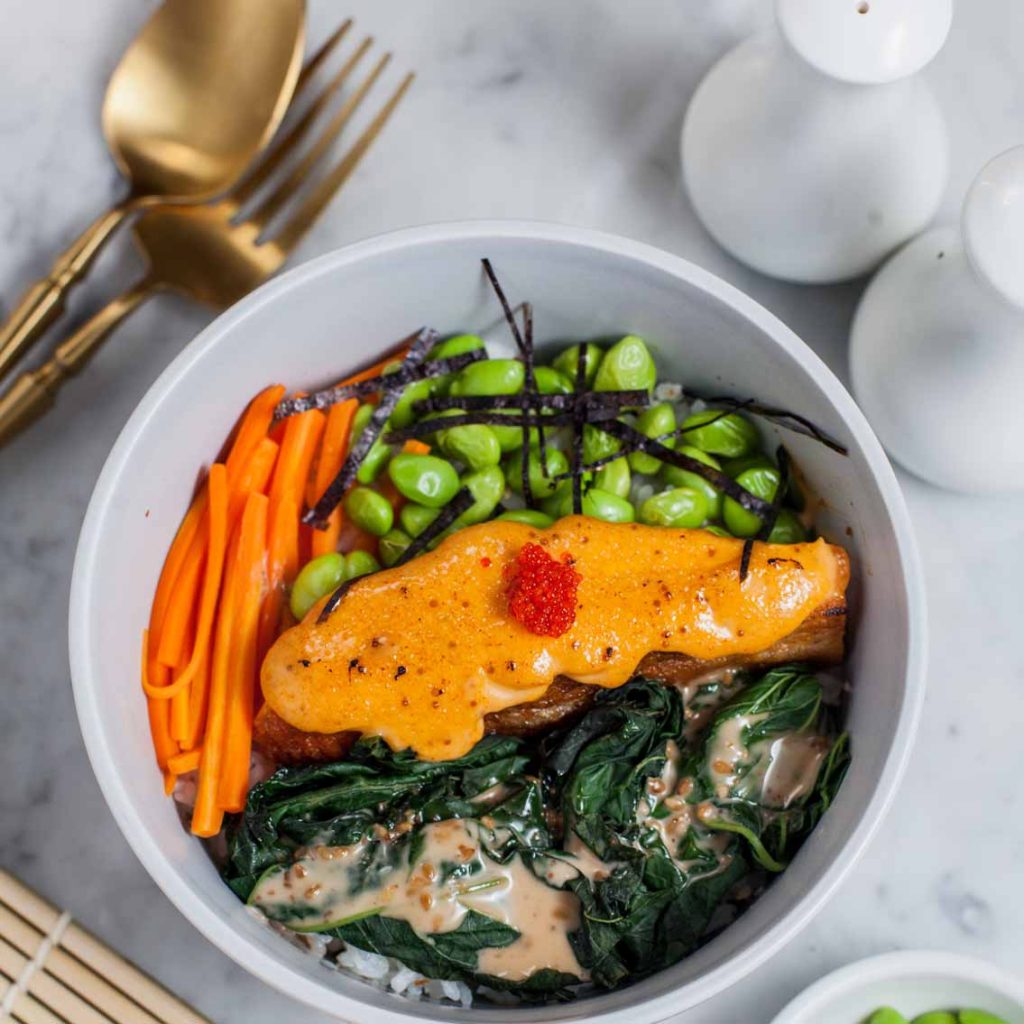 The menu at Double Bee is all about comfort and home-cooked goodness. This new food and beverage concept showcases various street food dishes from around the world — because street food is the ultimate comfort food! You'll find Korean-style Corndogs and Dutch Bitterballen for snacks, to Japanese Hambagu, Salmon Mentai, steaks, pizzas, rice bowls and more for mains. Their range of desserts and creative cocktails and mocktails are a highlight at this Denpasar dining venue. Double Bee Café and Resto offers great value for money, with plenty of parking for cars and motorcycles available (and even stands for cyclists).
Open 11am – 10pm, Mon-Sun
Double Bee Cafe and Resto
+6281239281649 | @doublebeecafeandresto | Jl. Diponegoro No.101,Denpasar Barat
---
MAY UPDATE
New restaurants in Bali that opened in May 2022.
The cave Bali, by Chef Ryan Clift
New restaurant in Uluwatu.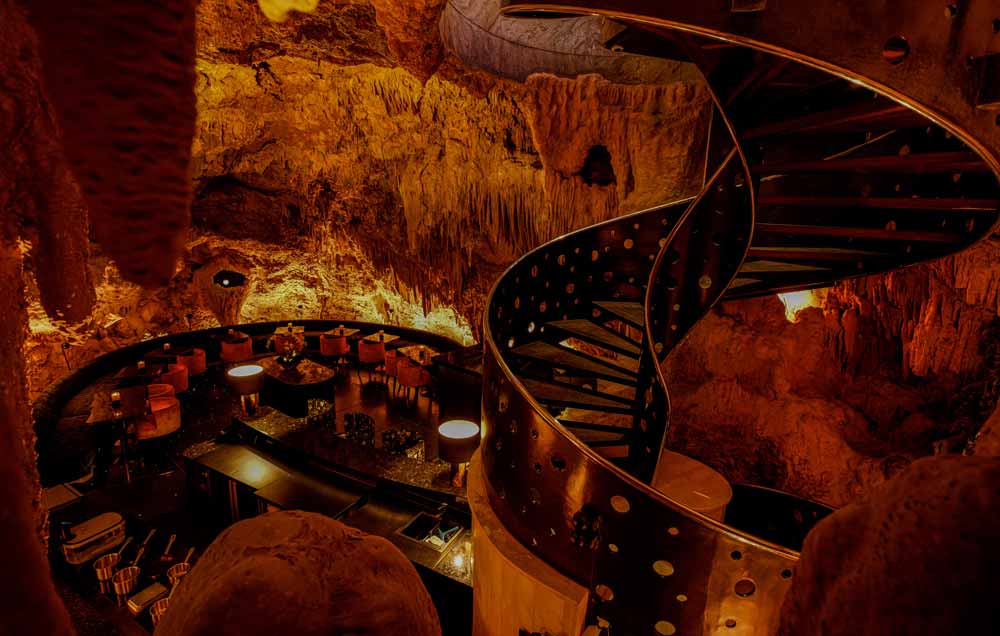 Immerse yourself into a one-of-a-kind fine dining experience at The cave Bali, the newest restaurant beneath the Uluwatu clifftop resort, The edge.
True to its name, this dining destination is found within a subterranean cave that is believed to have developed over 25,000 years. Discovered by accident during construction of a new villa in 2013, the cave was conserved. Recently it has been reimagined into a modern, fine-dining restaurant with the help of award-winning interior designer firm, Ushers Beyond Design (UBD). Between the natural cave formations, the designers have created a sophisticated dining alcove, complete with a dramatic spiral staircase that brings you down into the 'belly of the beast' and an eye-catching engraving inspired by Bali's own Goa Gajah. Through effective lighting, decor and minimal intrusion of the cave walls, The cave Bali allows this chamber, 25,000 years in the making, to speak for itself.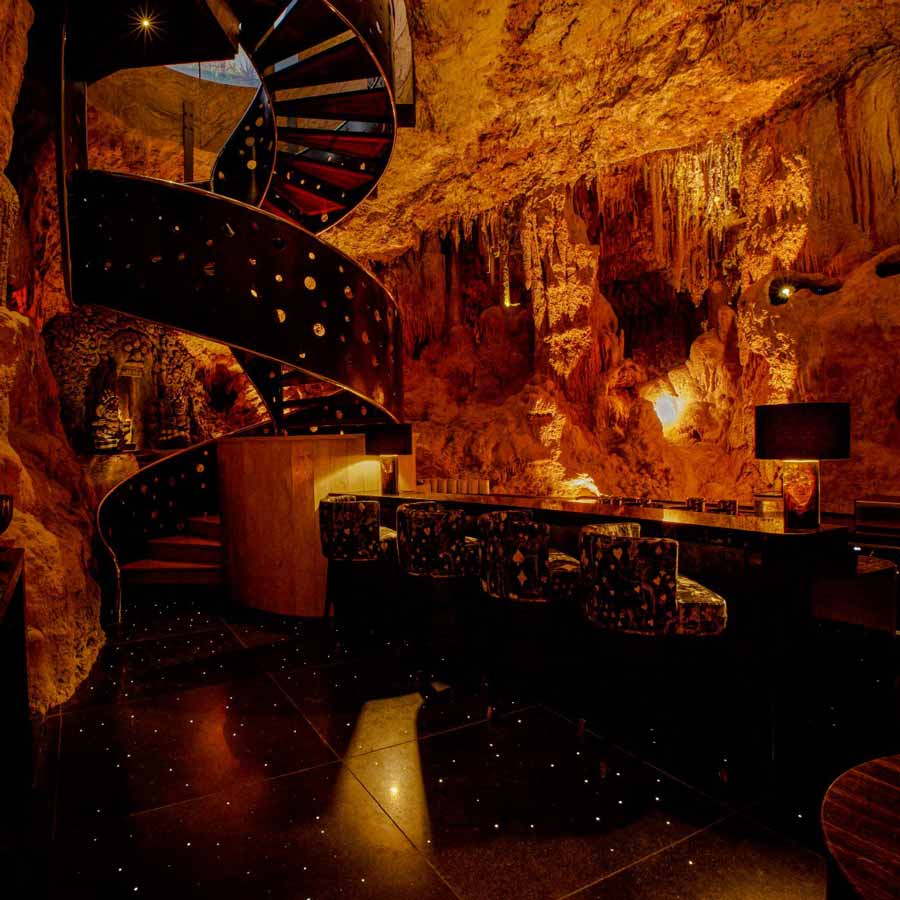 This unbeatable environment must have a menu to match, which is there Culinary Director Ryan Clift comes in. "I think the inspiration for this project is simple: take what Mother Nature created for you, be grateful and then do her proud," says the renowned Chef of Tippling Club, Singapore, fame. Guests are invited to experience his seven-course menu, with optional wine or cocktail pairings. The menu takes diners on a creative journey over land and sea, with Chef's own twists of Steak Tartare, Foie Gras Cheesecake, Hamachi and more. Vegetarian menu available. Beyond this curated dinner served under ancient stalactites, guests will also enjoy a 3D mapped project show set on the cave walls between courses.
The cave Bali, found 6.5 metres underground seats 22 guests. Reservations are necessary as this is a set-course dinner experience with dining slots allocated. Dress code applies.
The cave Bali by Chef Ryan Clift, at The edge Bali, Uluwatu
@thecavebali | thecavebali.com | +62 361 8470700
Menya Kenji
New Ramen eatery in Berawa.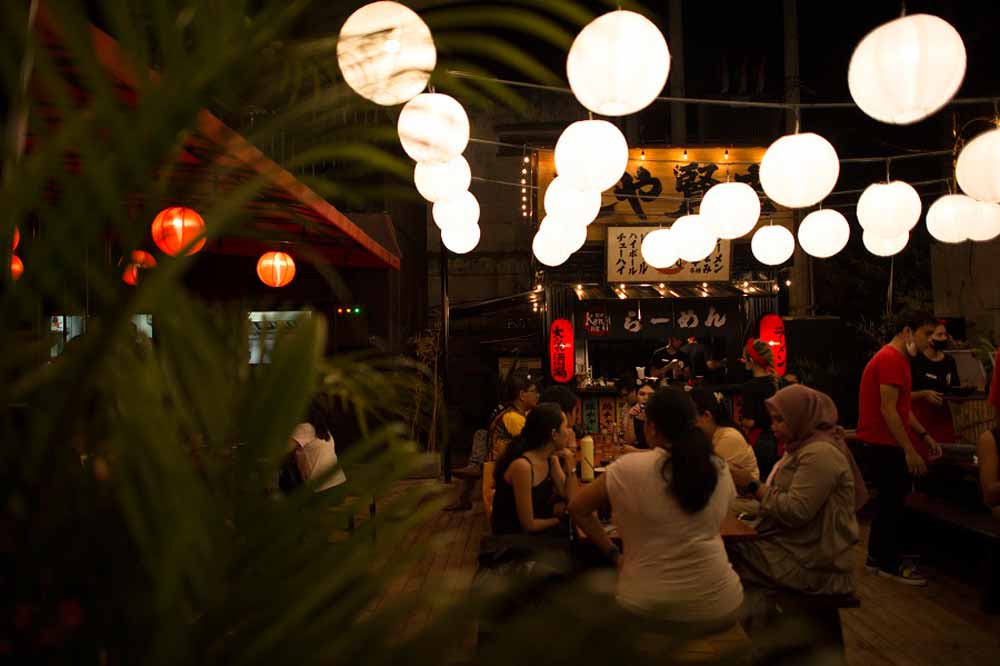 If you're on the hunt for ramen, look no further because there's a new ramen hotspot in town. Situated in a prime location amongst Berawa's thriving culinary scene, Menya Kenji presents guests with an authentic Japanese ramen dining experience in the comfort of an Izakaya-inspired setting.
Menya Kenji believes that the key to a great bowl of ramen is its broth and their signature homemade broth has been developed through years of searching for the perfect recipe. Utilising recipes originating from Fukuoka, their chefs' approach to preparing the signature chicken and pork broth is done with extreme care and attention, made fresh daily through an 8-hour, low-and-slow cooking technique with high-quality and locally-sourced ingredients, using no artificial flavours.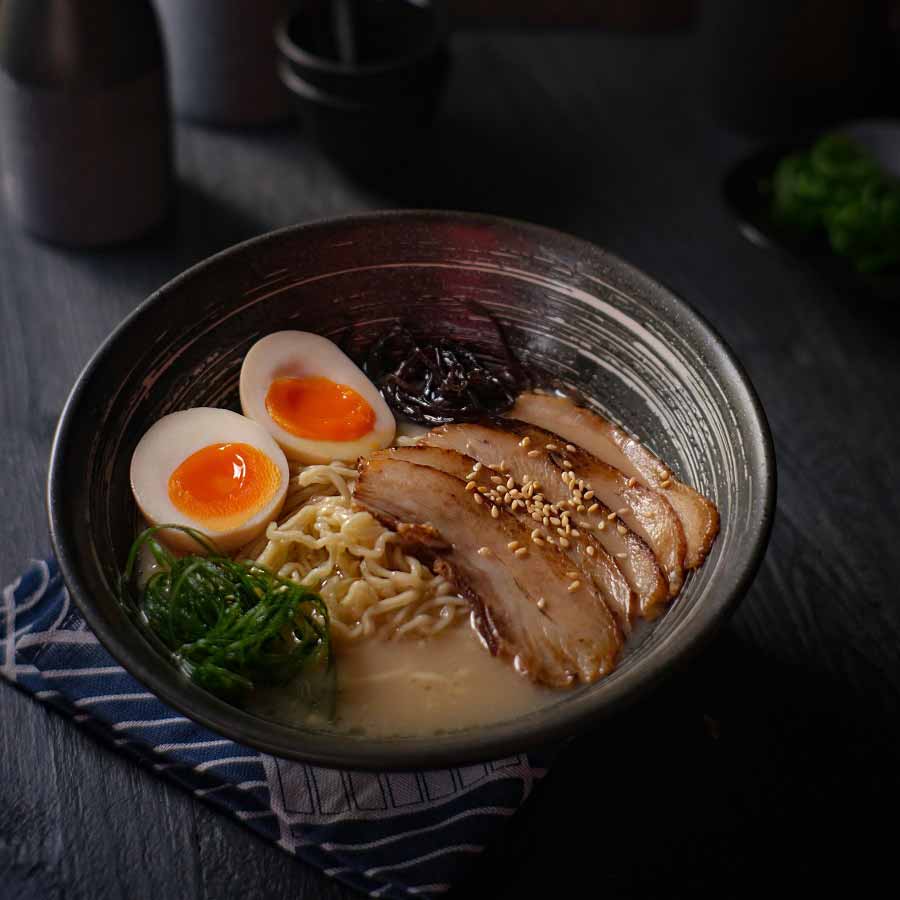 There are four distinct ramen selections, all presented with their homemade noodle and broth, including Kenji Signature Ramen with the signature chicken or pork broth; Curry Ramen with traditional Japanese curry broth served with potatoes, carrots and onion; Dan Dan Men with its spiced hot broth and diced meat; and Kara Kara Men with its signature broth topped with a spoonful of seafood paste. The ramen options are served with soft boiled eggs, kikurage and negi, with the option of chicken or pork.
Additionally, the menu features an array of Japanese comfort dishes including Chasu Don and Curry Rice, healthy options such as Wakame and Sesame Salad, and classic Japanese bar snacks including Chicken Gyoza, Chicken Karage and Chasu Aburi. You'll find an array of Arak-based craft cocktails from the outdoor bar stall, with signature cocktails such as Guava Splash and Passion Fun.
Open daily from 11am to 10pm, Menya Kenji has a capacity of up to 64 guests, offering indoor and outdoor seating intricately designed by a seasoned Japanese carpenter to exude an authentic Izakaya-style ambience.
Menya Kenji
Jl. Pantai Berawa No. 13B, Berawa
wa.me/628119525857 | @menya.kenji
—
Sababa Bali
New Restaurant in Berawa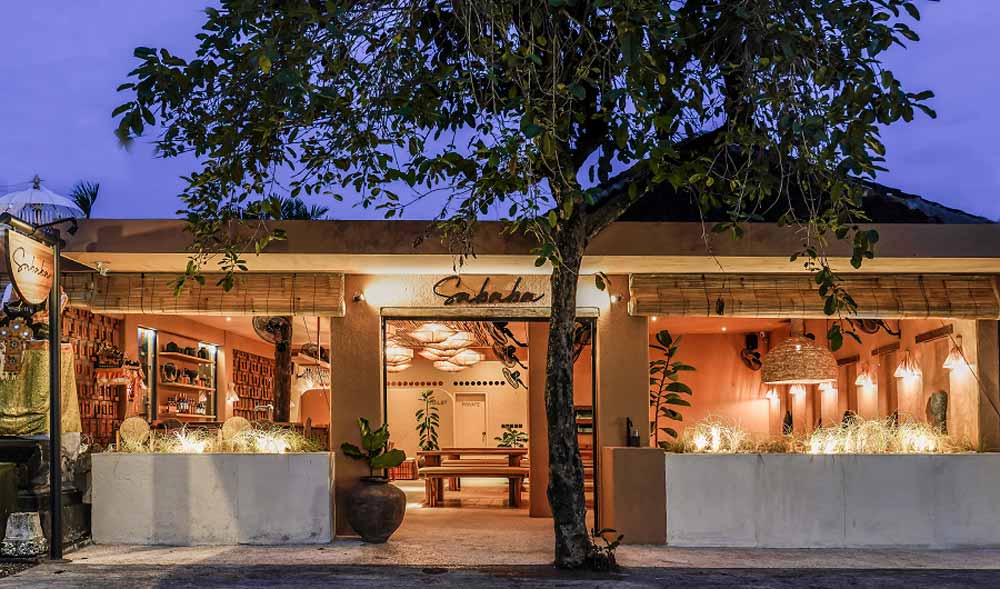 Recently opened in the heart of Berawa, Sababa Bali welcomes diners to a cosy and laidback dining venue that boasts an earthy ambience, offering eastern Mediterranean and Middle Eastern soul food. The name Sababa is derived from the Arabic word 'Tzababa', meaning "great" or "wonderful", embodying a cool and chill attitude that represents Levant countries, which perfectly fits with Bali's vibe.
Sababa brings inspiration from the cultural traditions of the Middle East, presenting diners with the freshness of the products, spices and colours. Featuring a menu selection of East Mediterranean-inspired shared plate cuisine. Several of their must-try menus include the Sababa Bread and Dips (signature hallah brioche with harissa, coriander zhoug and activated charcoal tahini sauce); Octo – Ganoush (grilled octopus with smoked black babaganoush, onion marmalade and parsley dukkah); Braised Lamb Shank (with dry fruits, cashew nut and tabouli salad); Levantine Grilled Meat (free-range chicken leg, Australian lamb, Australian beef striploin, organic local jasmine jewelled rice and baturiti mix salad); Hummus (edamame and flatbread); Crispy Okra (harissa, bell peppers ragout, bread and sesame oil); Falafel (cucumber tzatziki); and Choco hu'mousse (caramelised pistachio) for dessert.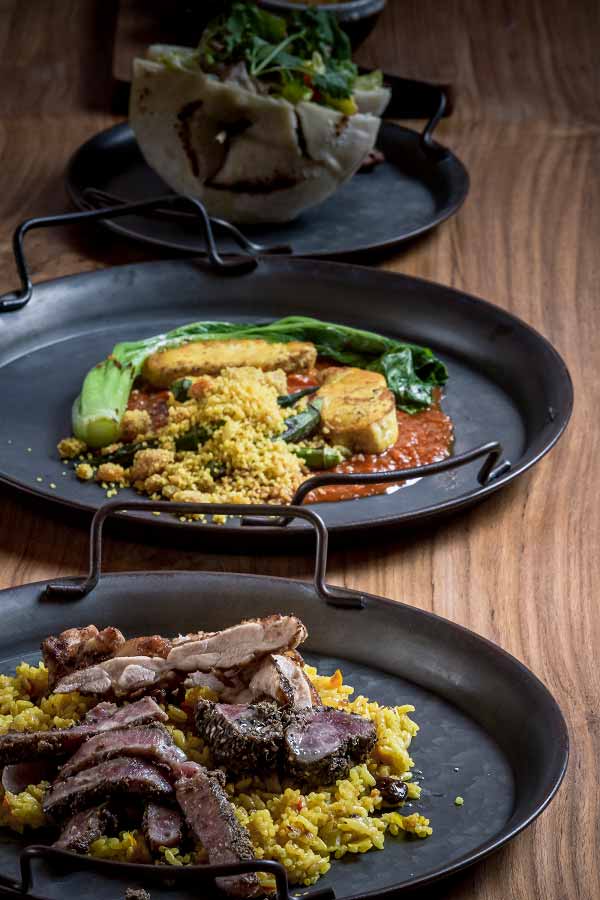 The venue also features a bar, offering oriental-inspired cocktails that mirror ingredients from the menu. Indulge in Sababa's take on classic cocktails such as Old-Fashioned Date (dates infused with Bourbon, bitters and sugar) and Sababa Negroni (smoked and aged Gin, Campari and Vermouth) or try out house cocktails such as Medjool (whisky, dates, Crème de Cacao white, kretek and bitters). Wine connoisseurs can also enjoy their best selection of wine.
Boasting a warm and cool ambience, the venue offers diners cosy corners, long communal benches, seats and textured bars. Sababa Bali is open daily from 5pm onwards.
Sababa Bali
Jl. Pantai Berawa, Tibubeneng, Berawa
wa.me/628113891221 | @sababa.bali | sabababali.com
---
APRIL UPDATE
New restaurants in Bali that opened in April 2022.
Dough Darlings Canggu
New Café in Berawa.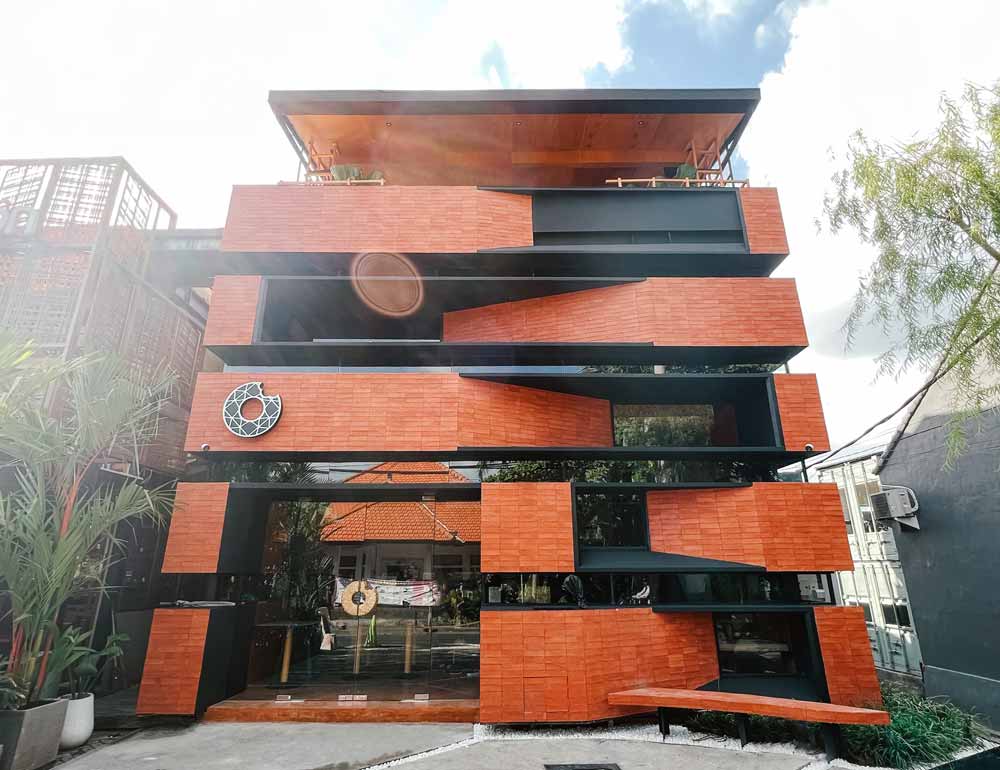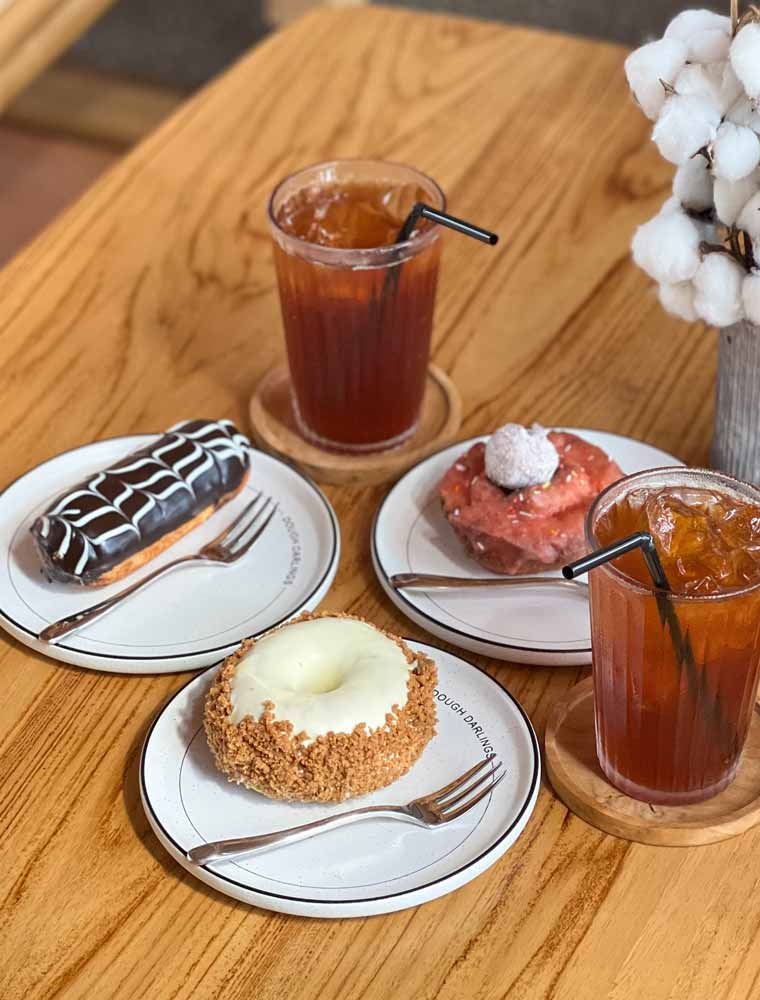 These guys are taking doughnuts to new heights – quite literally. Dough Darlings, the artisanal doughnut brand that has built an almost cult-following on the island, has opened a three-floor venue in the popular Berawa area.
This is the brand's third branch in Bali (starting in Seminyak, then in Jimbaran), and not only have they expanded into a new area, Dough Darlings Canggu expands their offerings, with food, coffee, juices and even cocktails now available. With its impressive contemporary design, the aesthetic red-brick building is an instant eye-catcher on the busy roadside, adding a modern and sophisticated touch to the Berawa strip. Inside the creativity continues, with an array of conceptual interior design creating unique spaces to work, eat and gather. The prolific use of wood and rattan furniture accentuates a warm and homey feeling.
Of course, being known for the doughnuts, Dough Darlings Canggu offers a selection of 25 epic doughnut creations, from their 'original' classic vanilla glaze to their stuffed doughnuts, cake doughnuts, vegan and even gluten-free selection. You'll also find a selection of coffees and juices to drink alongside your sweets, as well as a 16-option food menu for those after something more savoury. On the third floor, things get a little naughtier: not only does this floor present a totally unique interior to the first and second floors, you'll find a bar serving up some unique cocktails.
Importantly for this location, Dough Darlings Canggu offers parking for 12 cars and 30 motorbikes for customer convenience. Open every day from 7AM – 9PM.
Dough Darlings Canggu
Jl. Raya Semat No.1D, Berawa, Tibubeneng
@doughdarlings | doughdarlings.com  
---
SKOOL
New Restaurant in Canggu.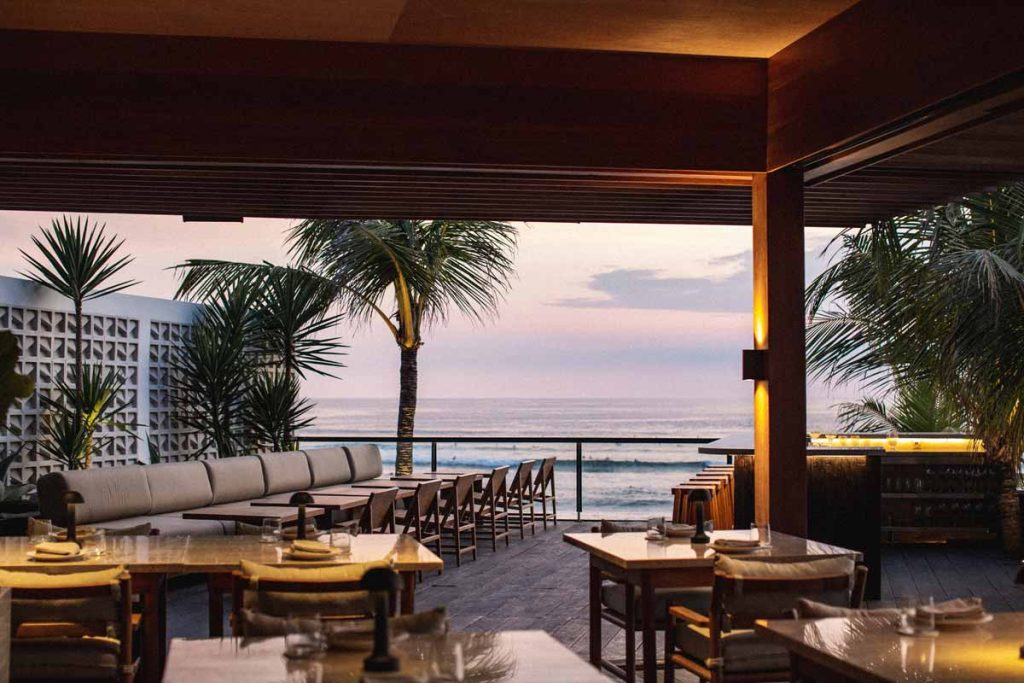 The beachside barbecue just got a facelift. Overlooking the waves of Batu Bolong Beach from its first-floor perch, SKOOL offers a modern dining experience where every dish has been touched by fire — from appetisers to desserts.
The restaurant marks a collaboration between two of Bali's most successful restaurateurs, Tai Buddha (known for The Lawn, Times Beach Warung and Single Fin) and Adam Mcasey (Sisterfields, Bossman Bali and BIKINI). SKOOL sees a marriage of the two group's styles, laidback surf life meets the social and sophisticated; hence the apt description of an elevated beachside barbecue. Their driving principle, 'PRIMITIVE COOKING / MODERN DINING', says it all. Chef Vallian Gunawan is the one stoking the flames in the open-kitchen, where fresh, line-caught fish hang beside pineapples, smoking gently above the grills, heated by coffee wood and charcoal. Though the concept is simple, the flavours are not. Chef Vallian delivers his flame-touched dishes with rich layers and complexity: the slow-roasted lamb, marinated for over three days in garlic, yogurt, and spices, is trussed and hung over the fireplace to roast to perfection, then served in its own spiced juice. The sweets are suited for a memorable send-off. A whole spice-glazed pineapple, slow roasted for 7 hours over charcoal embers, is served lukewarm paired with macadamia nut ice cream. Smokey flavours where you least expect them, sweet notes from surprising ingredients; the young Indonesian chef has impressed his diners with his mastery of the flame and flavours. You'll find great vegetarian dishes as well. 
The entire restaurant sits alongside the coconut tree canopy, with a laidback open-deck bar outside with views over the beach. Signature cocktails by Head Mixologist Daniel Gerves are a must-try (psst… order the Watermelon Mojito!). Inside is the intimate and stylish restaurant area, dressed with the works of contemporary artists Steve Gorrow and Ricky Lee Gordon, with 80's beats from the in-house vinyl collection imbuing the venue with a cool, nostalgic atmosphere.
SKOOL Kitchen
Jl. Pura Dalem, Batu Bolong, Canggu
@skoolkitchen | skoolkitchen.co  
---
Le Club 22 at Karma Kandara
New Bar in Uluwatu.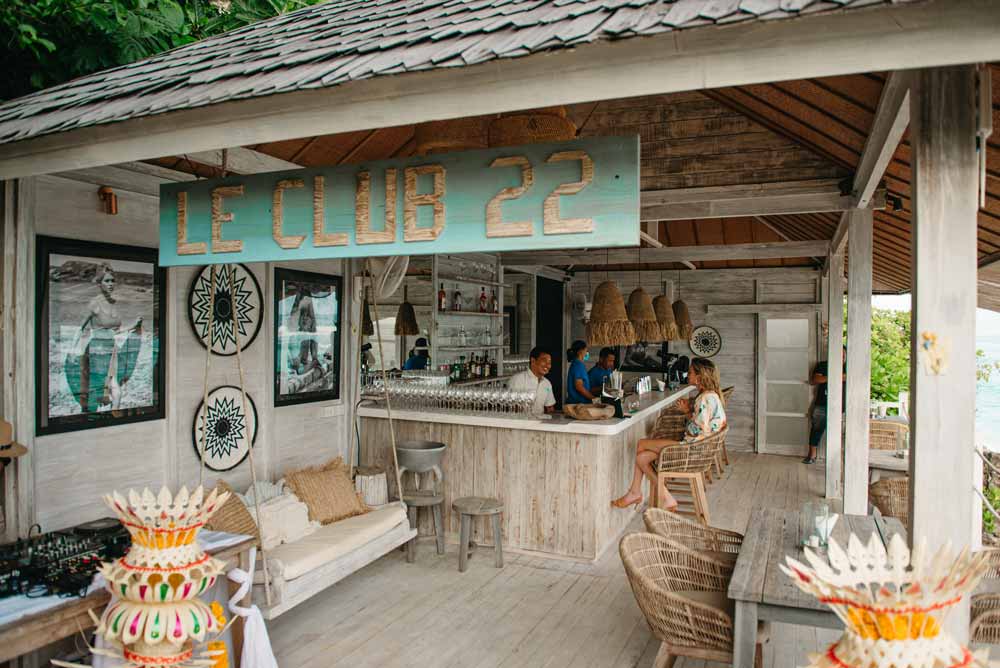 An addition to the famous Karma Beach Bali, Le Club 22 is a new beachfront bar, inviting you to rediscover the white sands of the Bukit Peninsula.
Le Club 22 is tucked in a corner from the main Karma Beach area. It presents a casual and laidback tropical beach bar atmosphere — because that is precisely what it is! In its little nook under the cliffs, this cosy, beachfront clubhouse overlooks one of the most pristine beaches in Bali, just a few steps down and your toes are in the crystal clear waters.
Though the venue is comfortable and laidback, what's available behind the bar is top-end. Karma's resident mixologists have whipped together a menu of superb cocktails perfect for a day under the sun, and made with unique Balinese ingredients. You'll also find an impressive list of imported wines, something that the Karma Kandara resort in general is known for. To complement your tipples is a curated menu of fresh Mediterranean dishes, focusing delicious barbecued options with a highlight on some superb seafood fresh from the area.
The seclusion of this idyllic beach bar makes it for a great area for private parties and groups, otherwise, a quiet drink with front-row seats to the sunset isn't bad either.
@karma.kandara.bali | karmagroup.com/karma-kandara/
---
MARCH UPDATE
New restaurants in Bali that opened in March 2022.
Mari Beach Club
New beach club in Batu Belig (between Seminyak and Canggu)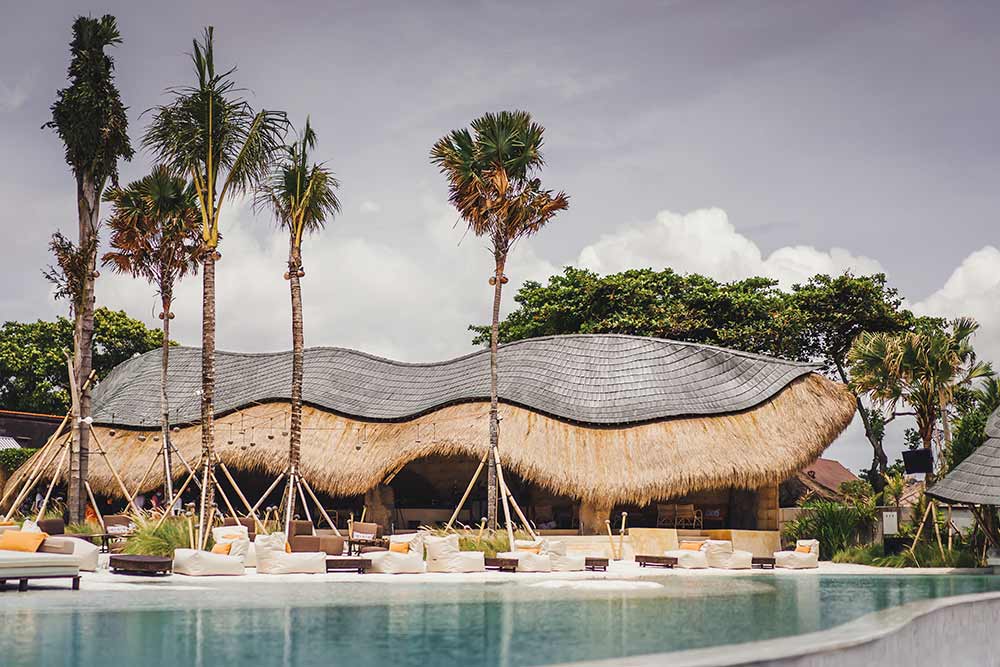 Opening with style on 26 March 2022, Bali's newest destination, Mari Beach Club, presents an original approach to your typical beach club with a venue steeped in nature-based design and cultural inspiration. Found lining the shores of Batu Belig Beach, bordering Seminyak and Canggu, the new hotspot presents a chic and tropical Bohemian-style venue that has all the right beach club ingredients: an inviting, freeform infinity pool overlooking the ocean, with a swim-up bar and daybeds under the shade of palm trees.
Envisioned by Syah Establishments, an Indonesian hospitality and entertainment company, the beach club marks a new venture for the group and as such they have set out to create something unique: a beachfront destination that presents Bali as its muse. This is done subtly through the thoughtful design, with their iconic bamboo buildings engineered byIbuku, a Bali-based company who master in sustainable bamboo architecture and design. Traditionanl alang-alang (elephant grass) roofs and the shading Balinese parasol umbrellas, or tedung, emphasise the island's aesthetic influence. The eye-catching centre-piece at Mari Beach Club is a traditional wooden swing that is a recreation of those found in Tenganan Village, home to the indigenous 'Bali Aga. Overall Mari presents a unique destination to immerse oneself in, a venue that matches its milieu, remaining stylish yet understated.
Read our full review here.
Mari Beach Club (@maribeachclub)
Jalan Batu Belig No.66, Seminyak
info@maribeachclub.com
maribeachclub.com 
---
Burgreens Bali
New vegan restaurant in Canggu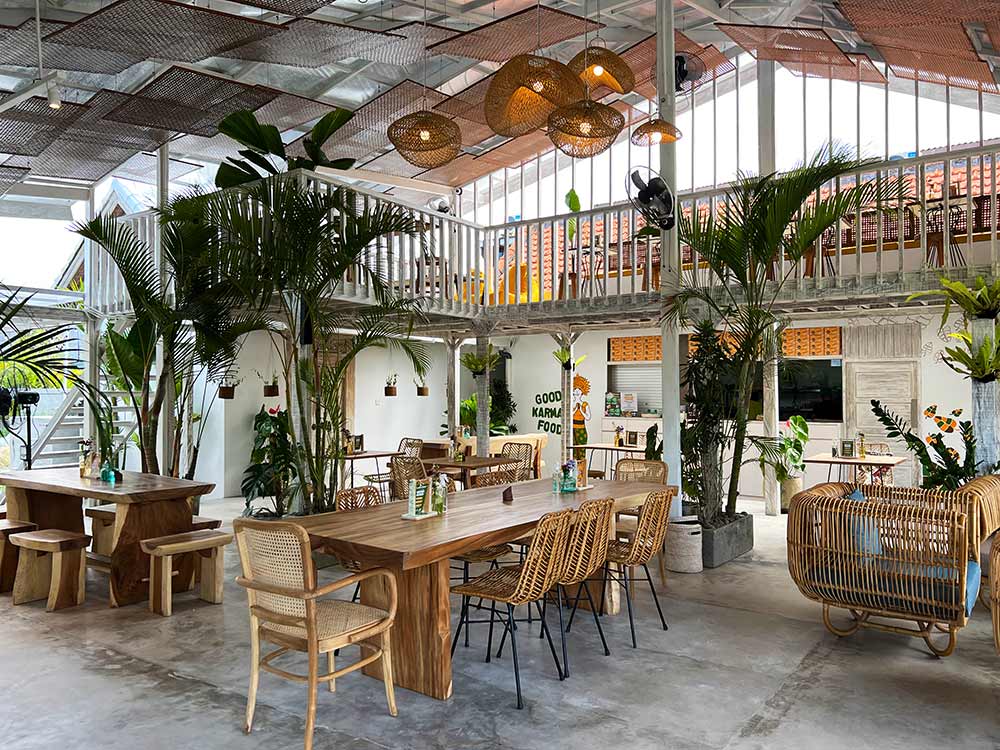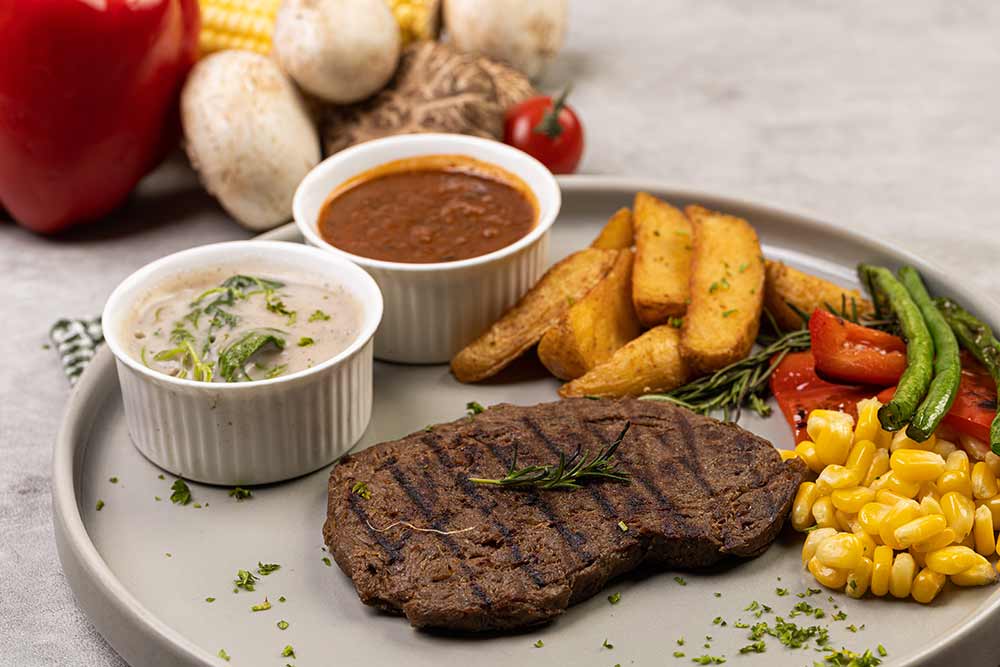 Burgreens, the leading plant-based food chain in Indonesia, and Green Rebel, Indonesia's leading food tech startup developing all-natural plant-based meat and cheese, has finally opened their flagship Bali outlet in the vibrant neighbourhood of Canggu. Established to advocate a healthy and sustainable lifestyle through food, Burgreens & Green Rebel were founded by Indonesian couple Max Mandias and Helga Angelina. 
Nestled on Pantai Batu Mejan street with panoramic views of the rice fields, Burgreens is designed with chic bohemian interiors that blend sleek rustic decors and eco-friendly furnishings, creating a comfortable, stylish tropical ambience in a laidback alfresco dining venue.
Boasting a concept of a "Plant-based Paradise", Burgreens offers a wide range of dishes featuring bold and fresh Asian cuisines (Indonesian, Korean and Japanese), Western (Burgers, Steak, Pasta, Salad, Wraps) to Vegan Bobas and an array of gluten-free desserts. Must-try signature dishes include Vegan Rendang Platter, Mighty Mushroom Burger, Beefless Steak, Vegan Boba, and the Canggu exclusive menu, Balinese Nasi Campur, consisting of sate lilit, chick'n sambal matah, long beans plecing, stir-fried corn and beans, and balado tempeh tofu. Open for breakfast, lunch and dinner from 9am – 9.30pm.
Jl. Pantai Batu Mejan No.1, Banjar, Canggu
0818887028
IG: @burgreens | burgreens.com 
---
Platonic
New speak-easy bar in Canggu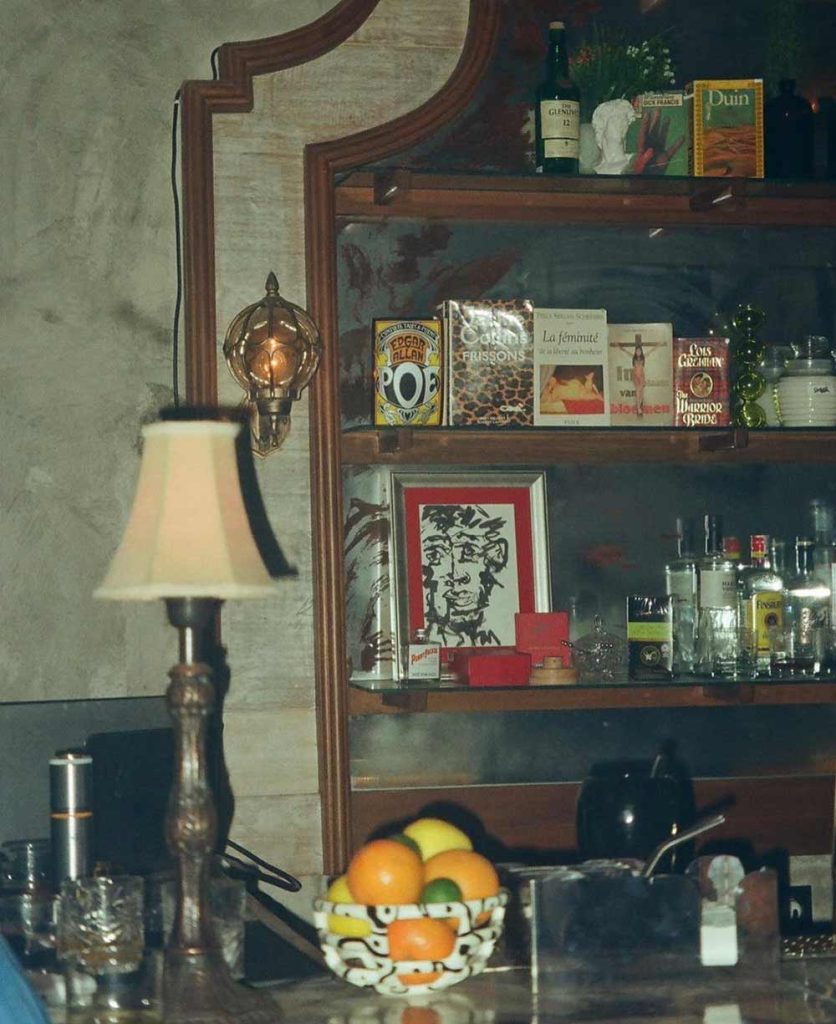 Nightcrawlers on the search for the latest nightlife scene in Canggu will find new excitement in a brand-new bar that recently opened: Platonic. Tucked away in a small alley at Jalan Tanah Barak, Platonic is a warm, eccentric bar and intimate community space that celebrates art, people and music. First-time visitors can find the understated entrance to the bar against the venue's black-brick façade.
Taking inspiration from today's social culture, the name "Platonic" reflects the modern embodiment of sexuality, relationships and human-to-human intimacy that plays a role in forming the present-day cultural zeitgeist. The quirky venue is designed with a diverse mix of contradictory concepts, from neoclassical elements featured in the antique apothecary bar counter, rough plastered walls, bare cement floors, recovered floor tiles, and a cabinet adorned with liquor bottles and peculiar objects combined with mid-century modern furnishings with the leather upholstery, sleek organic curves and plywood walls.
Featuring a weekly line up of DJs spinning different genres of music including R&B, house and disco, Platonic's laidback and welcoming ambience presents a space where modern creatives can gather for an intellectual night of indulgence with the innovative and refined cocktail menu. Signature cocktails to try include The Plan B, Ay, Dios Mio, Naked n Famous, Gone with the Gin, Hot Girl Summer, Purely Platonic and so much more!
IG: @platonicintimate | wa.me/+6282144788810
---
The Wingery Bali
New restaurant in Seminyak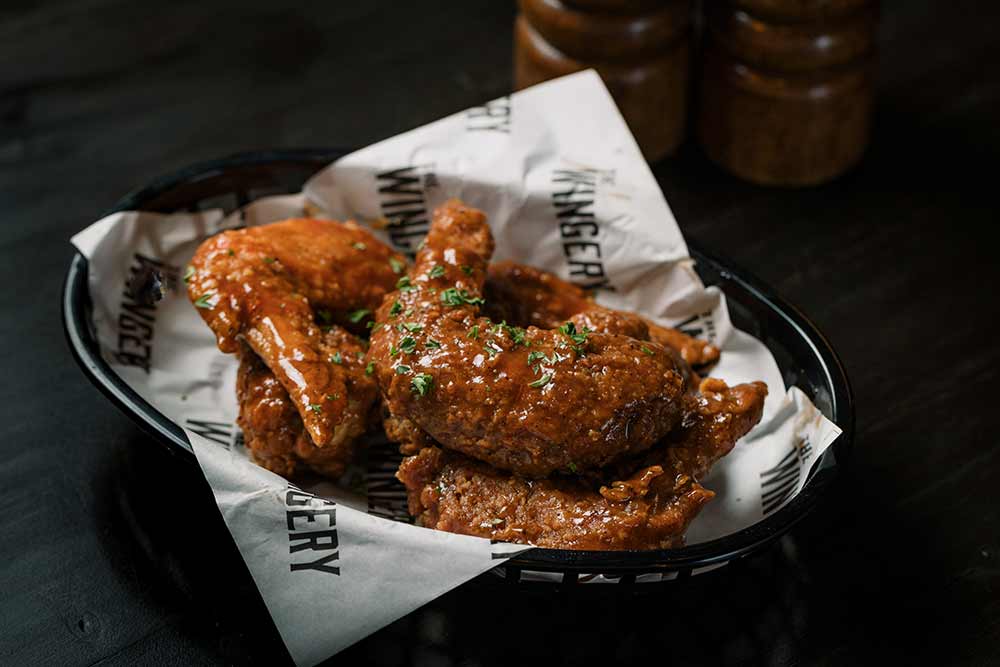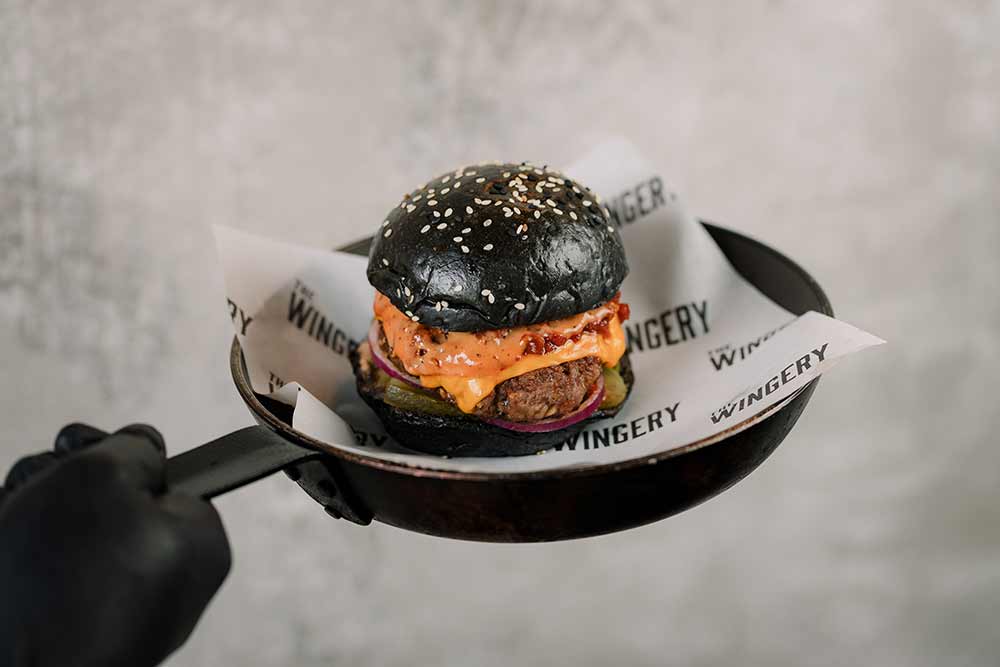 If you're on the hunt for a new joint to hang out with friends in a relaxing ambience and great comfort food, then The Wingery Bali is just the place for you. As the name suggests, The Wingery Bali's pride and joy are the eclectic selection of delicious chicken wings with a wide range of finger-licking sauces including the classic buffalo wings, lemon salt, BBQ chipotle and the aged chilli sauce. On top of the signature chicken wings, the restaurant also offers a wide range of all-time favourite bites such as the dry-aged burger, subway sandwich, classic Caesar salad, chicken wrap and more.
An idyllic venue to sit back and kick it with your mates, the restaurant is also equipped with a fully-stocked bar, where the great team of mixologists will concoct innovative cocktails and serve icy cold beers as you enjoy the fantastic view of the rice fields from the backyard garden.
IG: @thewingerybali | thewingerybali.com
---
FEBRUARY'S UPDATE
New restaurants in Bali that opened in February 2022.
BONITO Fish Bar
New restaurant in Umalas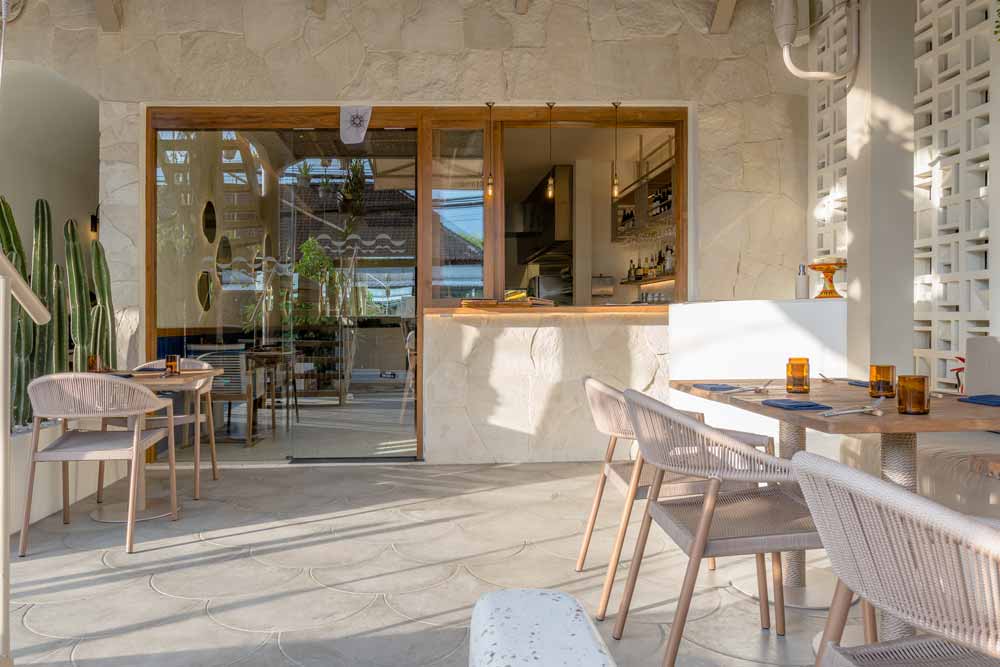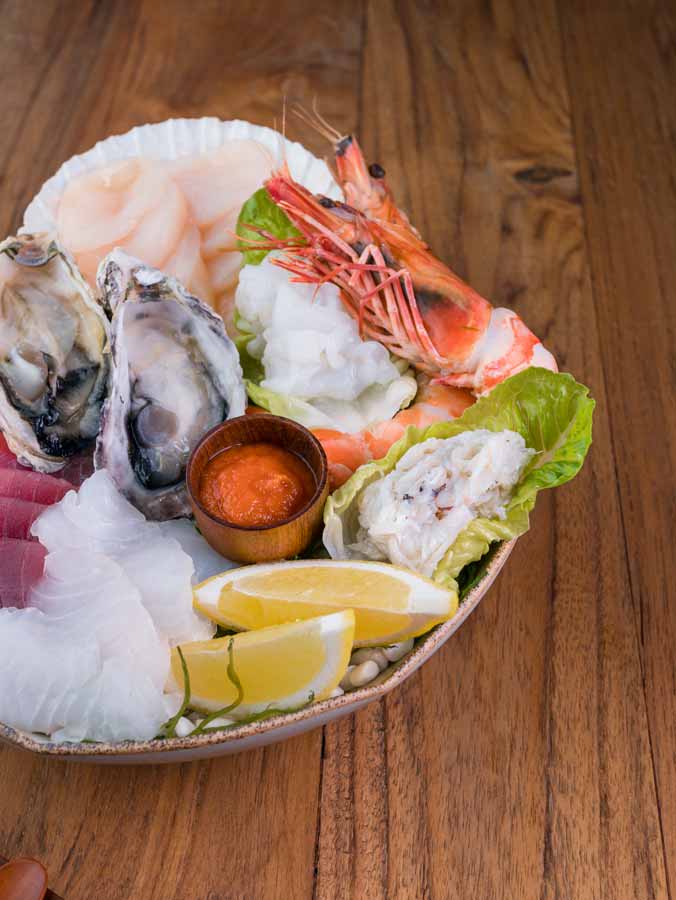 An all-new seafood haven has opened in Umalas, brought to us by Chef Maurizio Bombini, known for his success with MAURI restaurant, along with his co-founder Luigi Amorotti. This new venture shares the exquisite fish and seafood delicacies of their homeland of Puglia, Italy.
This pescatarian venue is set over two floors, featuring stylish yet laidback indoor and al-fresco areas; an elegant, contemporary space designed by Caroline Usher of UBD, who also designed sister restaurant MAURI. BONITO Fish Bar is more casual than its predecessor, where diners can enjoy a range of creative, Italian-inspired seafood dishes prepared crudo (raw), pan-seared, roasted, deep fried and more, prepared by Executive Chef, Vittorio Negri. 80% of the fresh fish and seafood offered is sustainably caught from the outer regions of the Indonesian archipelago, including Bali, Lombok, Flores and Timor, with premium imported crustaceans. The venue also doubles as a fresh fish and seafood delicatessen, for those wanting to purchase freshly cut fillets and shellfish to cook at home. 
Recommended dishes include Bonito Bites, A 12-delicacy dish curated around the catch of the day; the Seafood Platter; and Bonito Rosetta. Open daily for lunch and dinner.
Jl. Bumbak Dauh No. 5 Umalas, Bali
+62 811 3811 888
@bonitofishbar
Bonito-fishbar.com
---
Bar Souvenir
New bar in Berawa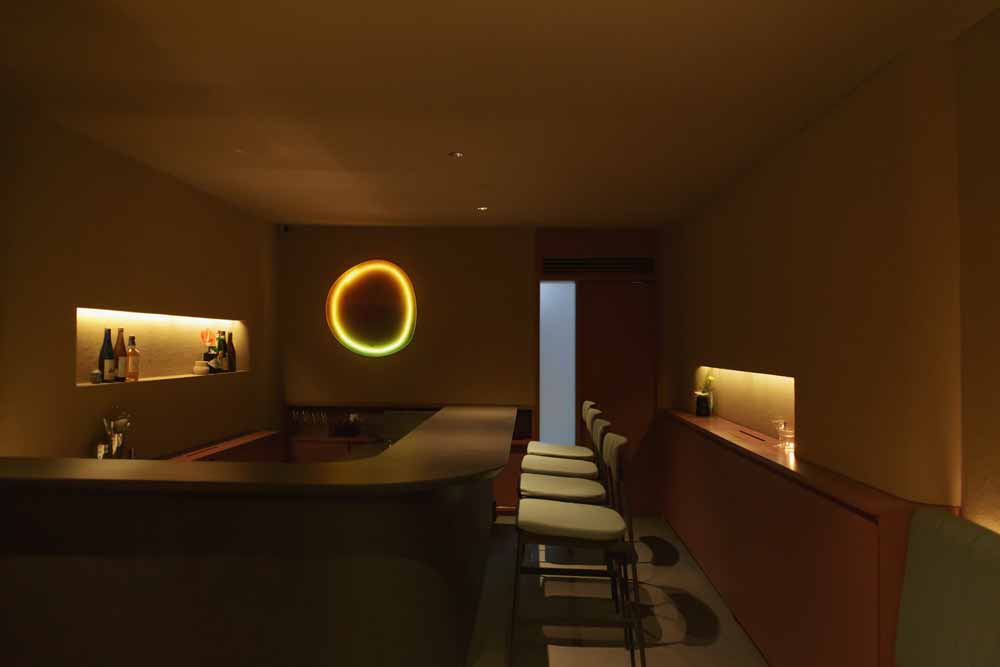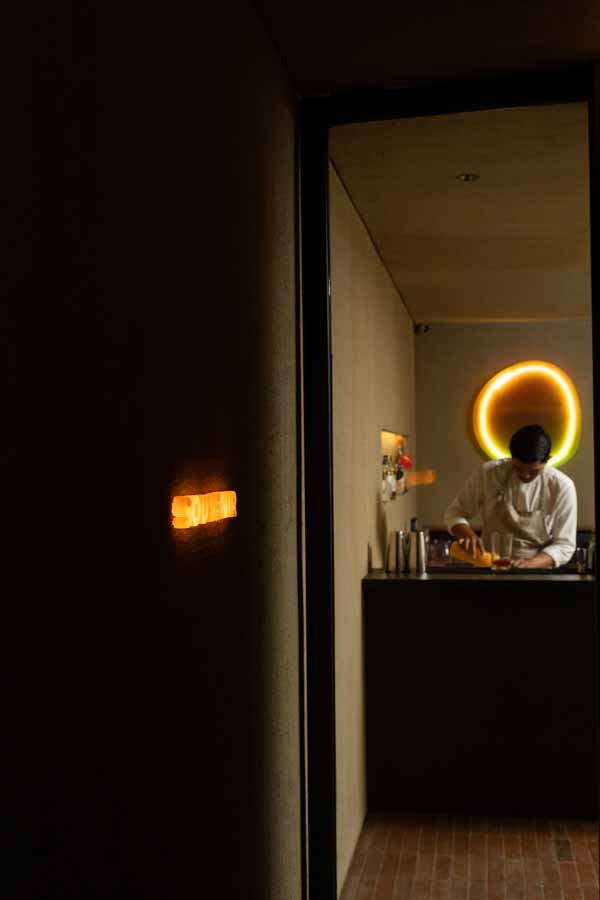 For a 12-seater, hole-in-the-wall drinking den, a lot of creative collaboration went into birthing Bar Souvenir, the latest clandestine bar to open in Berawa.
Emulating the culture and atmosphere of neighbourhood bars found across Japan, owners Louise Millroy and Michael Madrid have created a drinking space where the bar and drinks are the focus. The bar menu highlights natural wines, with a wine list curated by Noma-almuni, Sophia Burger. There are also cocktails aplenty which showcase experimentation with tinctures and herbs said to benefit the mind and body. Non-alcoholic beverages are just as creative, mingling traditional tonics with modern twists. The bar snacks, curated by Bali-born, Melbourne-trained Dhanu of FED by Made, include the likes of locally produced cheeses, cured meats and bespoke dips.
Being inside the creative workspace, Kinship Studio, design is a big part of Bar Souvenir. Interiors were designed by Bali-based ZXC Studio, who created a minimalist but intimate bar-lounge space aimed at stimulating the senses. Pouring daily from 4PM – late.
Kinship Studio, Gg jalak VIB, Berawa, Bali
@bar.souvenir
www.sensesbepraised.com
---
FED by Made
New restaurant in Seminyak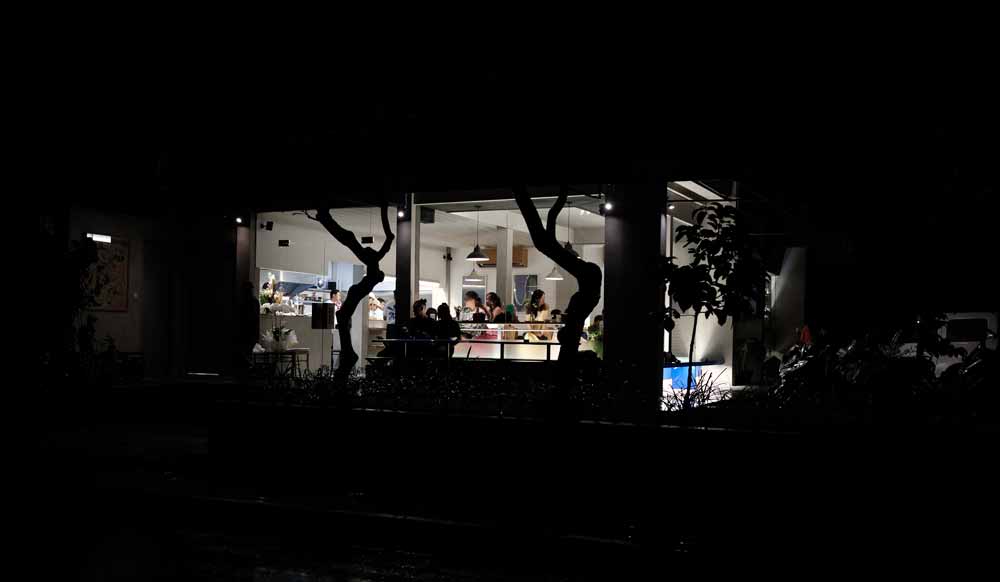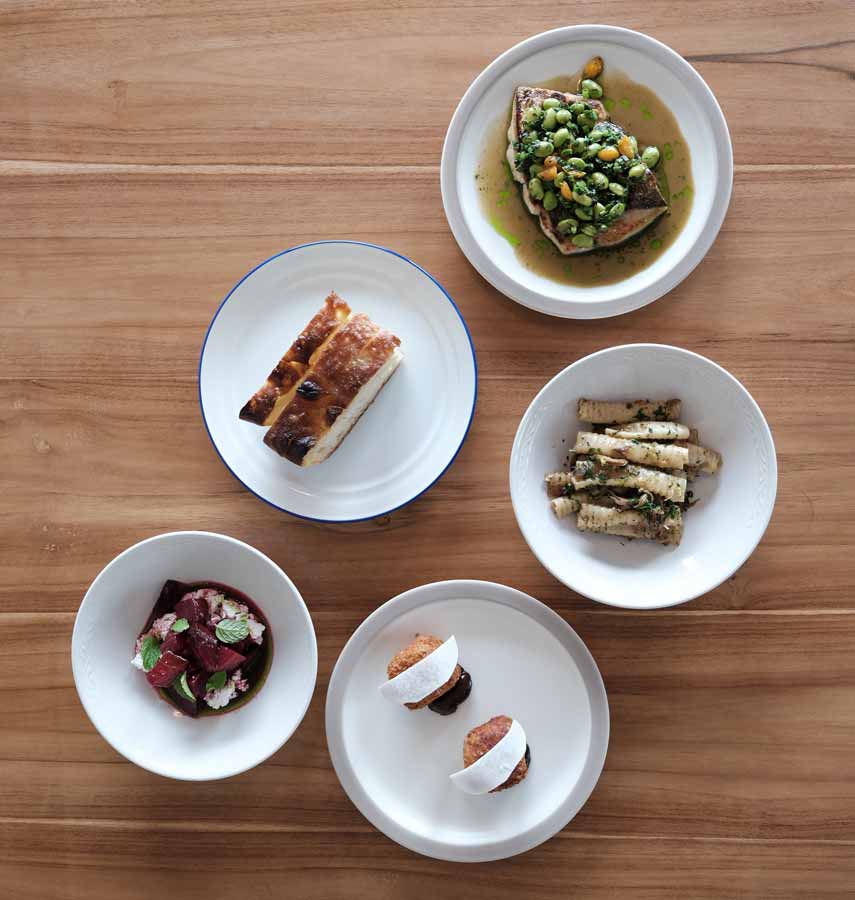 Run by a group of young and passionate Bali-born restaurateurs, FED is a set-course restaurant based in Seminyak. The group had their humble beginnings in Melbourne, Australia, whereby they would curate dinners at people's homes. This evolved when they returned to Bali where they created pop-up events or collaborated with big names like Potato Head, Luigi's and Mana Uluwatu, adapting menus and food cultures based on each venue. 
Having grown up in Seminyak, the dream for FED has always been to open up shop in this neighbourhood – a dream now realised! Their new space on Jalan Kunti 1, which opened in January 2022, now hosts their set-course dinner experience. Presenting modern, Melbourne-inspired cuisine, the set menu at FED changes every two weeks. This keeps the innovation and creativity of their kitchen constantly rolling, and means that returning patrons will always have something fresh to experience. More than anything, the FED by Made team are excited to see people returning to Seminyak, Bali's original eat-street. Currently only open Friday, Saturday and Sunday, booking in advance required. Check their Instagram or Whatsapp to inquire about their latest set menu.
Jalan Kunti 1, No 117, Seminyak
@fedbymade
+6281337771924 (WA)
---
Mosto
New restaurant-bar in Berawa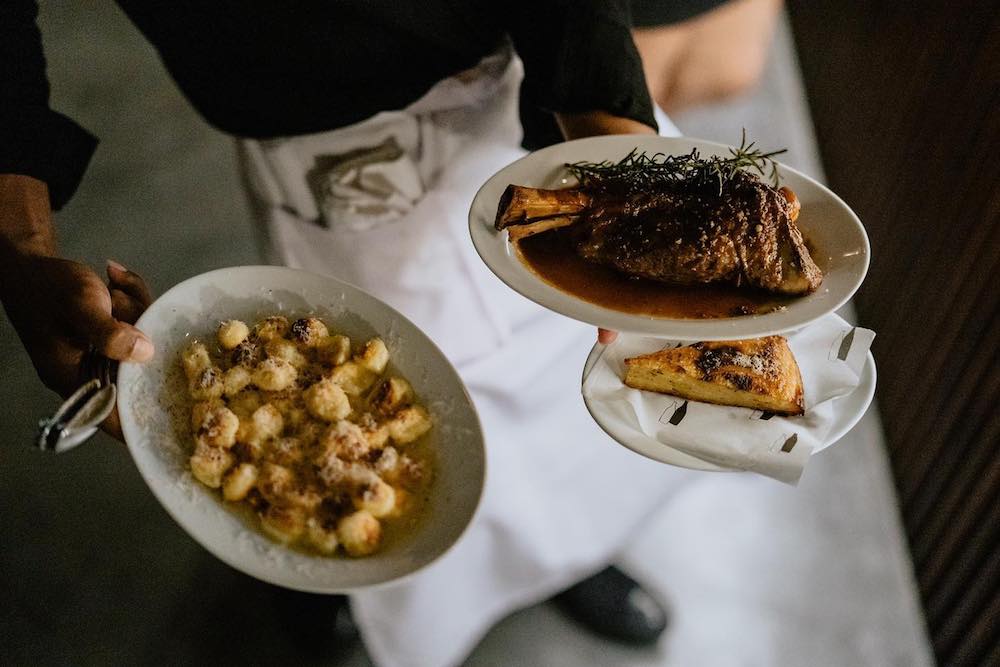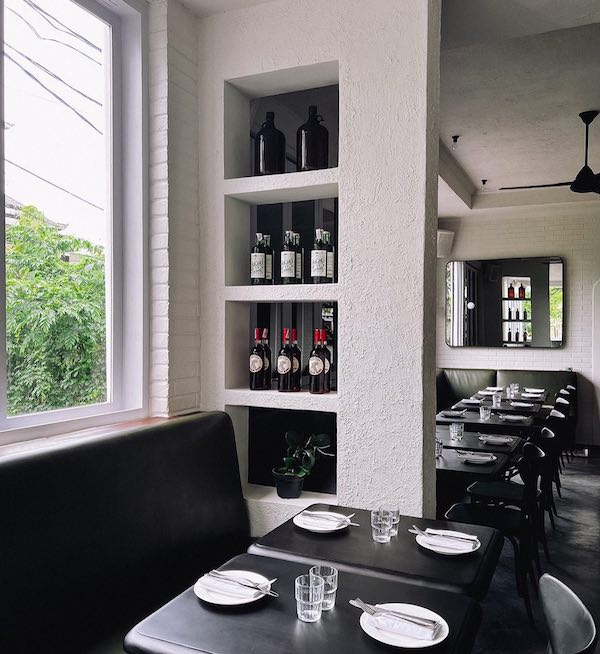 Mosto, the pulpy, freshly-pressed unfermented grape juice that kickstarts the winemaking process; or meaning 'must', in Italian. An appropriate name for this new natural wine bar that has opened in Berawa. Inspired by Sydney's flourishing wine bar scene and the neo-bistros that have reinvigorated Paris, Mosto brings a relaxed and European flavour to the area. Mosto comes to Bali from the collective behind the Lazarus Pulp project, responsible for producing and bottling Indonesia's first pétillant naturel, "The Alter Ego".
The highlight here is of course the wine list, curated by Sommelier Nicolas Lento. He has assembled a collection of more than 70 labels from small producers around the world, bringing organic and/or biodynamic wines fermented with native yeasts, no fining or filtration with low/no sulphur added. Mosto's flexible format allows for drinking by the glass, carafe or bottle, as well as the option to take away. Cocktails, meanwhile, come care of Denny Bakiev, and will nod to the classics while incorporating experimental flavours and a zero-waste ethos.
As for the food, executive chef Lorenzo Depeteris has put together an all-day menu comprising seasonal snacks and small plates designed for sharing that draw on his Italian heritage. Highlights include: potato and San Daniele prosciutto croquettes, skewered ox tongue with salsa verde and gnocco fritto, just to name a few. Open daily from 5PM. 
Jl. Pantai Berawa No. 99
instagram.com/mostobali
mostobali.com 
---
Zali from Beirut
New restaurant in Pererenan
As its name suggests, Zali from Beirut is a convivial eatery that embodies the legendary Lebanese hospitality and love for good Levantine food. A welcome addition to the up-and-coming Pererenan area, Zali presents the home-style cooking of Beirut-born Mama Liza.
The restaurant is tastefully decorated, with a chic white and Mediterranean blue colour palette, complemented with wooden furniture, giving it a cosily, rustic atmosphere. The menu more than complements this feeling, with the naturally wholesome and nourishing Lebanese cuisine.  Share a portion of Tabbouleh or Fattoush salads before going for the stars of the Lebanese cuisine such as Falafel, Kafta, and its famous Saj, the essential Lebanese thin flatbread, baked at Zali. These are best enjoyed with an array of popular Mezzehs, such as their Hummus, "Cauli Moutabbal" (roasted cauliflower, yogurt & tahini) and "Labneh with a twist". Meat-lovers can indulge in specialities like the Chicken Shawarma or Kebbeh (ground meat, bulgur, onion, pine nuts, and tzatziki). Open daily from 11AM to 11PM.
Jalan Pererenan N0.152, Pererenan, Badung, Bali 80351
+6281239003100
instagram.com/zalifrombeirut 
---
JANUARY'S UPDATE
New restaurants in Bali that opened in January 2022.
Naga Eight
New restaurant in Sanur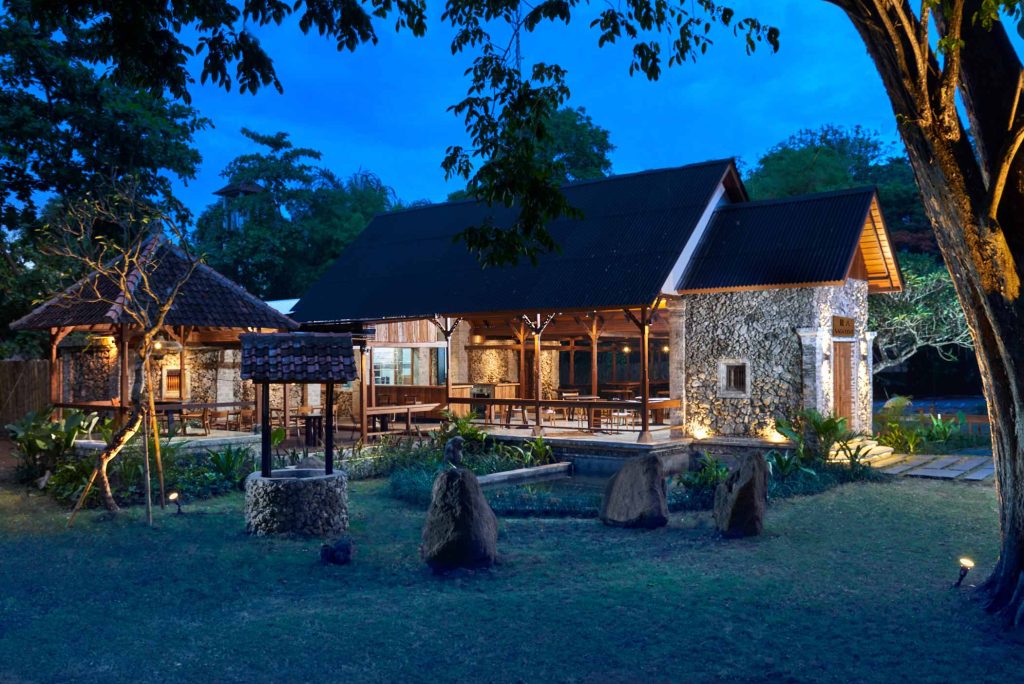 The seaside village of Sanur, illustrious for its timeless charm and iconic sunrises, welcomes an exciting addition to its culinary scene with Naga Eight, a Cantonese restaurant that opened in December 2021.
Nestled on a 500sqm land enclosed by four hectares of lush tropical gardens on the main Sanur area, Naga Eight is designed in a casual and modern concept that can comfortably accommodate 90 diners. Diners can enjoy the finest of Cantonese barbecue and Wok cuisine whilst enjoying the warm ambience of the restaurant beautifully illuminated by natural lighting.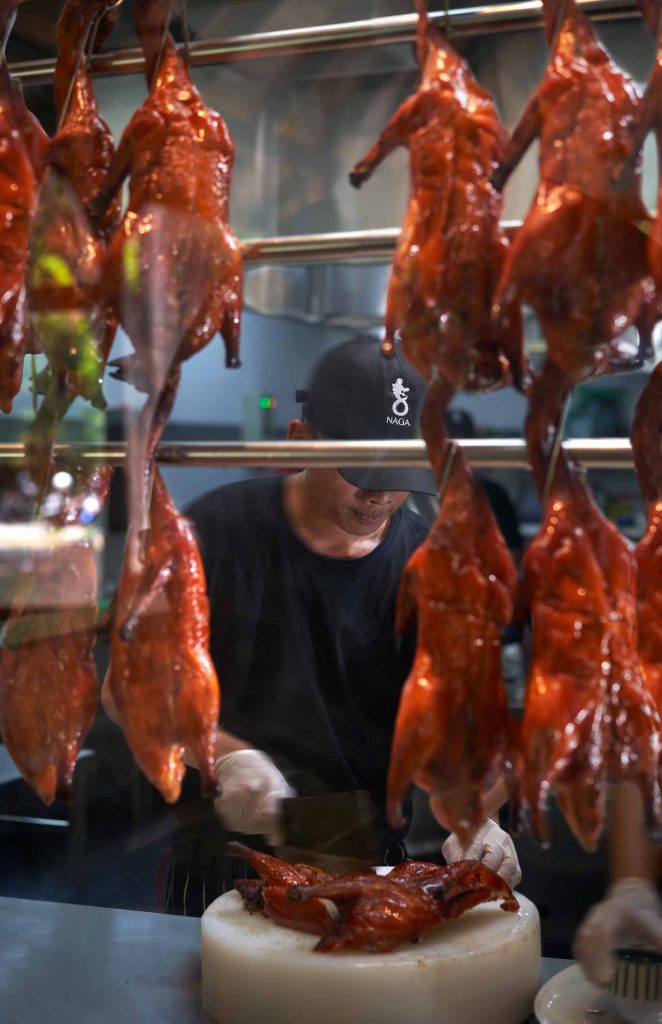 Open from Tuesday to Sunday, from 11am to 9pm, the dishes served uses the finest and high-quality ingredients available in Bali. Combining classic and modern techniques, the expert chefs cook up signature dishes that include Roast Duck, Crispy Samcan, and more. The food and drink menu ranges from IDR 25,000++ up to IDR 368,000++.
The design of Naga Eight is a collaboration between the founding company, PT. Naga Batu Jimbar, and Balinese architectural firm, Astaloka, reworking the existing building's original structure with modern aesthetics including a reception area featuring dragon scale-accented tiles surrounded by mirrored walls, a higher ceiling designed in an industrial style, and a modern-style centrepiece bar.
Jl. Danau Tamblilngan No. 89, Sanur
+62 812 3788 8089
nagaeight.com
---
Raja's Bar Bali
New bar in Seminyak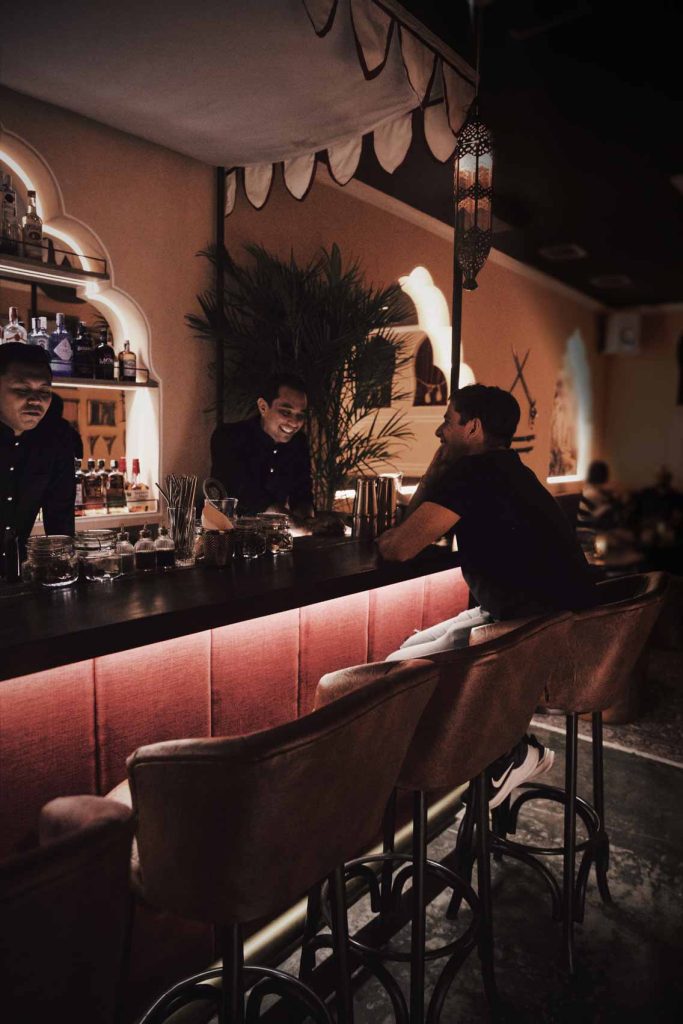 Bringing something entirely new to Bali's bar scene, Raja's presents their passionate love letter that blends the aesthetics and flavours of Rajasthan – Northern India, Wes Anderson movie sets, Moroccan rooftop venues, Italian spirits, and classic cocktail revival.
Raja's offers a unique experience and opportunity to be transported somewhere altogether different while still in Bali; the alluring scents of incense, dim lighting on arched mirrors, ornate decor, and photographs featuring Indian street scenes sweep you to a different time and place. Hidden from plain sight on Petitenget, Seminyak, offering both an indoor and rooftop space, the bar brings originality and intimacy to the island's nightlife. Raja's drinks program offers up signature cocktails inspired by the subcontinent and Balinese flavours, like the Jaljeera Gin Mojito, inspired by a popular Indian summer drink with spice notes of coriander, cumin, and cardamom. And their signature Garam Masala Old Fashioned, a spirit-forward drink with rich garam masala flavours – a spice usually reserved for cooking, Raja's carefully brings together both East and West. However, your classic cocktails are given no less attention. The classic Negroni at Raja's went through at least 12 recipe trials before they found what they believed to be a perfect balance — a must-try! 
Along with a regular events schedule of live blues and alternative music, and DJs regularly spinning funk, soul, blues, a night at Raja's Bar may have you sipping along to Indian sitar sampled beats and middle eastern-inspired electronic grooves you typically wouldn't hear in most Bali venues.
Jalan Petitenget, Seminyak
@rajasbali
---
Yuki Bali
New restaurant in Canggu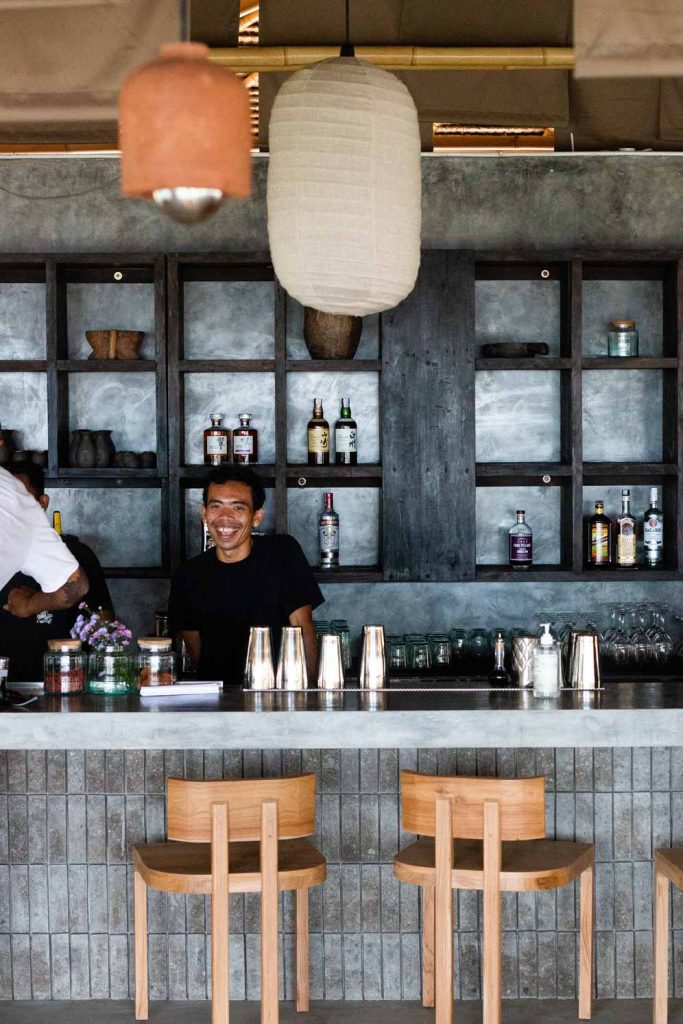 Welcoming in an ocean breeze from its prime location in front of Batu Bolong Beach, Yuki Bali presents a modern take on a Japanese izakaya, where quality drinks take precedence and satisfying bites follow suit. It's one of the hottest new restaurants in Bali in 2022.
Made entirely out of bamboo, this stylish Japanese restaurant blends a tropical beach house with a sleek Japanese aesthetic. Envisioned by design house Kōsame, the interiors strike an elegant balance between Bali and Japan, presented through an array of minimalist Japanese accoutrements and decor.
Now to the food and drink which were conceptualised by Pulau Projects. As is the function of an izakaya, Yuki Bali invites patrons to slip in for sunset drinks, with a menu of expertly made signature cocktails like Yukies (goji berry-infused gin, four pillars bloody shiraz, calamansi and citrus) or the Isla Negroni (nashi pear infused gin, vermouth, watermelon infused Campari, coconut water). Sake, wines, beers, craft sodas and juices are also available. The food is what keeps imbibers on after the sunset has long gone. The menu focuses on bite-sized goodness; plates of Japanese delights to snack on as you sip. You'll find delicate appetisers like the Poached and Cured Prawn, served on a nori cracker with mango shisho jelly and ponzu; perfected Yakitori, like the Tsukune, pork meatball with marinated egg yolk (a must); to signature Maki Rolls, like their Tuna Truffle, light and exquisite combination of truffled tuna on a roll of tobiko, pickled radish and yuzu kosho, wrapped in softly fried seaweed.
The highlight at Yuki is their Charcoal Grill, or Yakimono, selection. Dishes like the succulent and fresh Calamari (Sichuan pepper, spring onion, lemon), or the juicy 200gr Sirloin Wagyu A5 (charred leek, corn puree, tosazu), present grilled delights that let that natural flavours ooze out of each bite. To finish, we suggest the Chocolate Mousse with salted caramel!
Jalan Pura Dalem, Batu Bolong, Canggu
wa.me/6282145099706
@yukibali_
---
Alpha Agro Indonesia Bali
New restaurant and meat shop in Canggu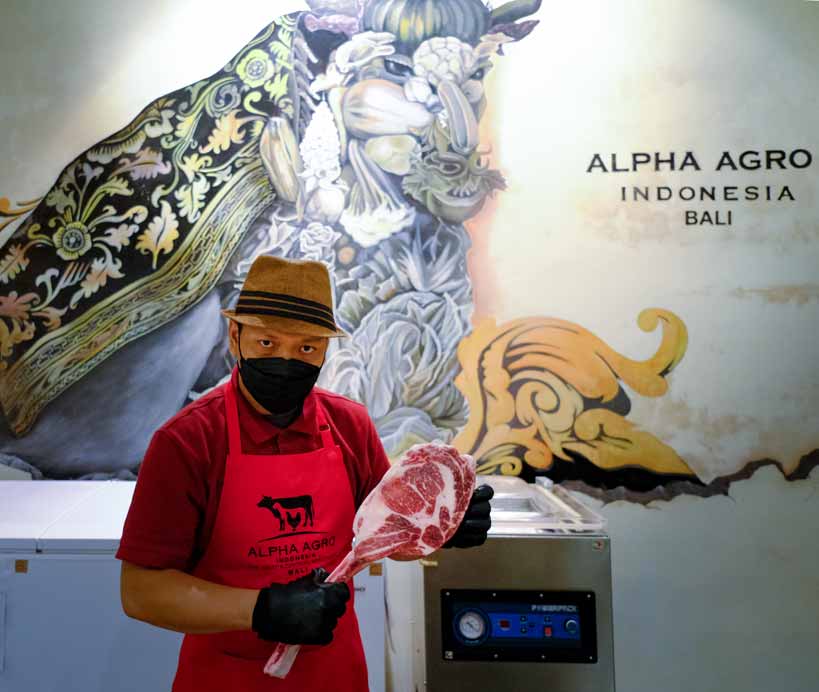 One of Jakarta's most renowned premium meat distributors, Alpha Agro Indonesia, has opened in Bali, presenting a space that combines a meat shop and steakhouse, perfect for meat lovers around the island.
Situated on Jalan Pantai Batu Mejan, Canggu, Alpha Agro Indonesia brings a totally new experience to your usual steak dinner. Predominantly suppliers of premium imported beef, with Jakarta's most exclusive restaurants and hotels as their clientele, Alpha Agro opens up their treasured meat locker for everyday customers in Bali.
Customers are welcome to come in and choose their desired cuts, which is then cut to desired thickness fresh off the loaf by the shop's expert, in-house butcher. Otherwise, guests can dine-in, with their chosen steaks cooked to perfection and enjoyed in Alpha Agro's garden backyard or al-fresco dining area.
It must be said that these are no regular cuts, Alpha Agro Indonesia focuses on the highest grade meats and rarest cuts. Perhaps most rare is the Little JoeTM, with its marble score of 4+, it is one of the most exclusive and luxurious grass-fed beef in the world. Both grass-fed and grain-fed beef is offered, raised without antibiotics, no added hormones and GMO-free. Alpha Agro also offers catering for barbecues, wholesale for restaurants and hotels, offering a whole range of cuts from tenderloin to tomahawks. All cuts can be savoured in-house or bought home, professionally packaged for ultimate freshness.
Jalan Batu Mejan No.2, Canggu
+6282144328864
alphaagroindonesia.com
---
Behind the Green Door
New bar in Berawa
There's a new player in Bali's nightlife scene, hidden behind a grand green door, fittingly named Behind the Green Door, which has already created a massive buzz in Bali's social scene. Echoing that of a traditional boudoir of mystique and pleasure, this music emporium and cocktail lounge cater to classic indulgers in search of something fresh. This is the hottest new bar in Bali at the moment, especially for parties.
The elegant and intimate lounge applies a password protected entry with a guestlist you'll want to be on in order to be permitted entrance to the exclusive space upstairs. Featuring dark interiors and lush tropical plants hovering above the bar, this new establishment merges that of an old whiskey den with comfortable intimacy.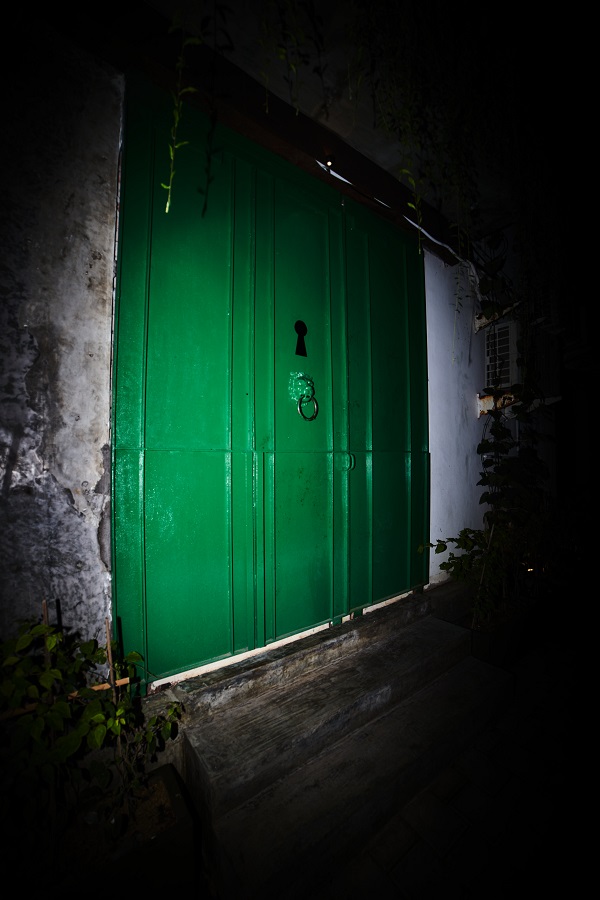 This establishment features a wide range of seasonal, traditional, and awe-inspiring concoctions to sit back, sip on and relish. Utilising only the finest of Bali fruits, patrons can expect a rotating range of innovative and fresh seasonal drinks.
Presenting an excellent line-up of weekly talents from Monday through Sunday with talent curated by world-famous DJ Thomas Alexandre, there will always be something fresh and inspiring behind the turntables every night. From R&B classics, groovy hits to early evening jazz, dive into a myriad of genres each night of the week.
Jl. Subak Sari, Gang Bamboo 17, Berawa
+62 813 5368 0981
@behindthegreendoor_bali
---
Mervilla
New restaurant in Canggu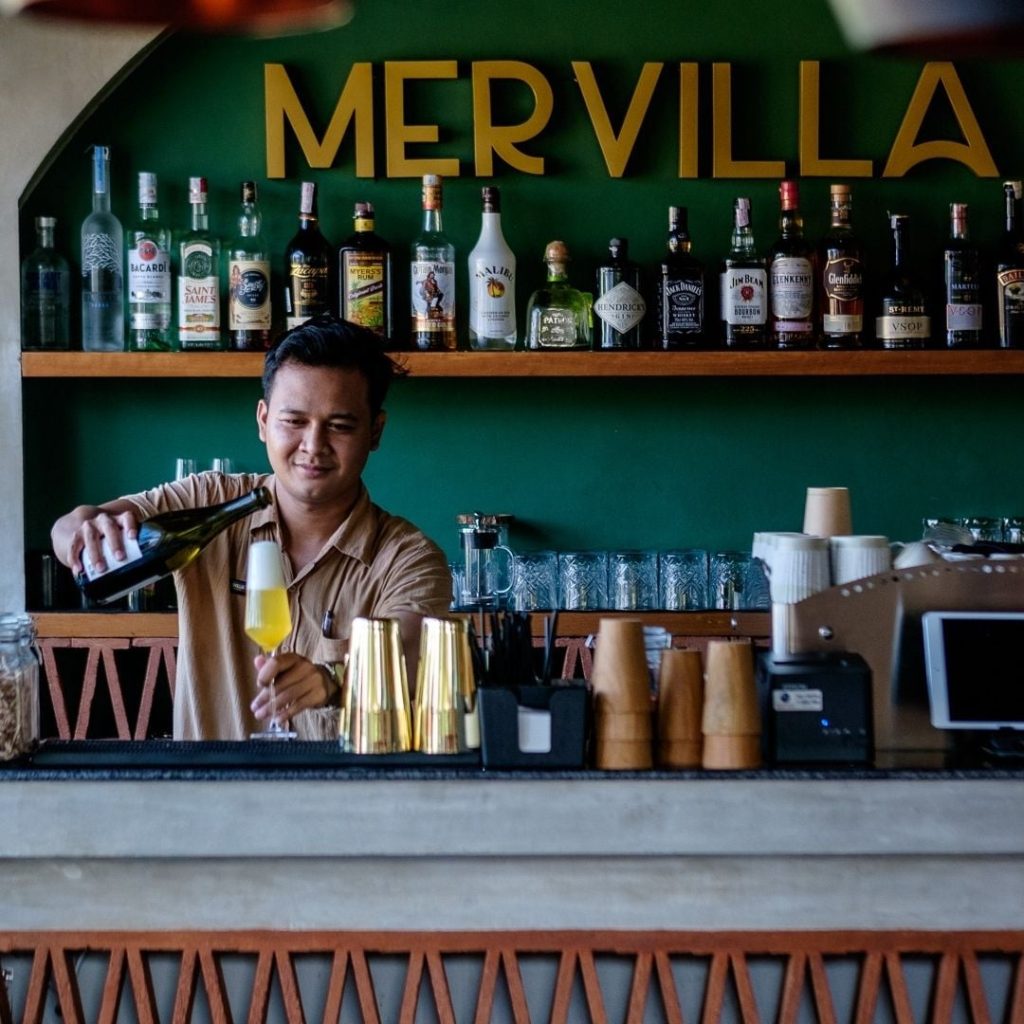 Bali's diverse culinary scene welcomes an exciting new addition with the opening of Mervilla, the first-ever Caribbean restaurant and bar to open on the island. Caribbean cuisine isn't commonly found anywhere in Asia, which is why this venue invites guests to indulge in the exotic and bold flavours of Caribbean dishes. This is not one of the really new restaurants in Bali but it's an worthy mention!
Despite Bali's eclectic and diverse culinary scene, from the various Western-inspired eateries and European influenced dining destinations including Italian restaurants and French-style cafés, there's a clear underrepresentation of black influence in existing restaurants, something that award-winning UK businessman Ryan Jackson noticed. Seeing the definite gap in the market, and the fact that there are no Caribbean restaurants on the island, Ryan decided to move across the globe to open Mervilla, his revolutionary restaurant and bar specialising in Caribbean cuisine.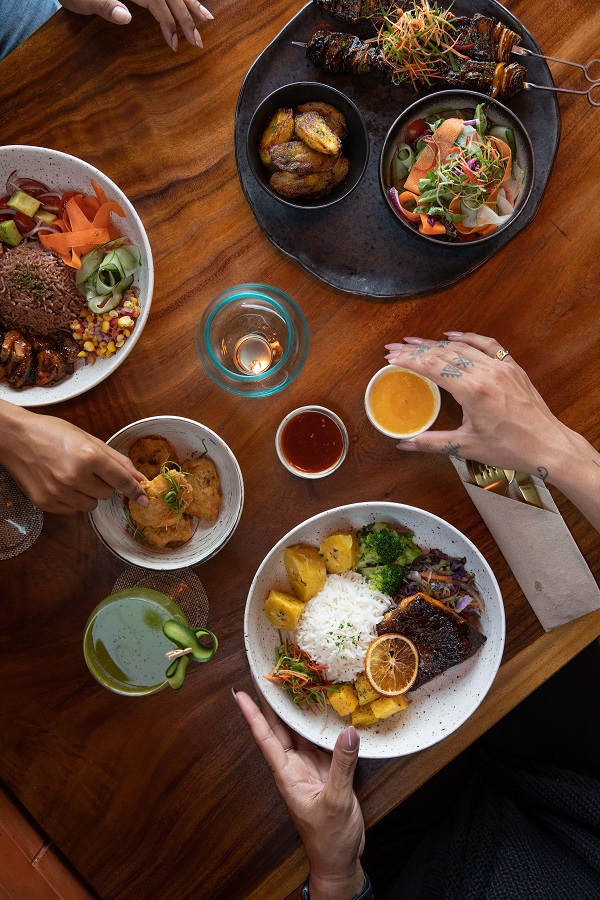 Several dishes to try from the menu include Appetisers such as Charred Sweet Corn, Calypso Quinoa Salad and Saltfish Fritters; Straight from the Grill menu including Jerk Chicken, Jerk Salmon, Jerk Pork and Jerk Vegetable Skewer; Caribbean Bowl menu such as Jamaican Chicken Bowl, Coconut Quinoa Bowl, and Chickpea and Sweet Potato Bowl; From the Pot menu featuring Prawn Curry, Stewed Chicken and Curried Lamb; Mervilla Specials including Snapper Escovitch and Authentic Braised Oxtail; and Sweets menu such as Sticky Toffee Pudding, Banana Rum Flambe, Banoffee Pie and more.
The beverage and cocktail menu at Mervilla offer the likes of Rum Based Cocktails such as Pina Colada, Dark N Stormy, Mai Tai, Mojito and Long Island Iced Tea; Mervilla Signature Cocktails such as Bahama Queen, Jamaican Hustle, Lost in Bermuda, and Caribbean Mule; Classic Cocktails including Espresso Martini, Whisky Sour, and Negroni; Caribbean Classics such as Guinness Punch; and an extensive list of beers, wine, spirits, smoothies, juices, soft drinks, coffee and tea.
Jl. Tanah Barak No. 43, Canggu
+62 877 6153 6888
@mervillabali
mervillarestaurant.com