Blending two distinct experiences together, Kojin Teppanyaki Restaurant brings Japanese cuisine to the verdant valleys of north Ubud. This intimate venue offers flaming teppanyaki and the chef-led Omakase experiences, in a location quite unlike any other Japanese restaurant in Bali – one inspired by the Japanese Kami (God) of Fire, the Hearth and the Kitchen.
Deep in the forested valleys that neighbour the famous Tegallalang Rice Terraces you'll find Aksari Resort, a secluded tropical escape. Its stylish suites and villas, all boasting views out to the jungle and wilderness of the area, are reason enough to visit this modern, Bali-inspired getaway. Not to mention its iconic, double-level infinity pool.
However, one of the hidden gems of Aksari Resort is its Japanese restaurant, Kojin. With its wood-lining and earth-coloured tones, the restaurant presents a modern Japanese 'zen' atmosphere, which fits perfectly with the resort's own surroundings. Here guests can enjoy two distinct Japanese dining experiences: Teppanyaki and Omakase. 
Teppanyaki at Kojin
Now, who isn't familiar with teppanyaki? The ultimate 'dinner and a show' where guests get front-row seats to watch the chef slice, dice, flip and throw as he or she prepares each dish, of course in a flurry of fire and flames. At Kojin, guests are seated in an intimate space at corner of the restaurant, with the views out to the valleys just behind diners.
But it's not just about entertainment of course: the teppanyaki menu here is special, where classic dishes have been given a contemporary twist and are impeccably presented.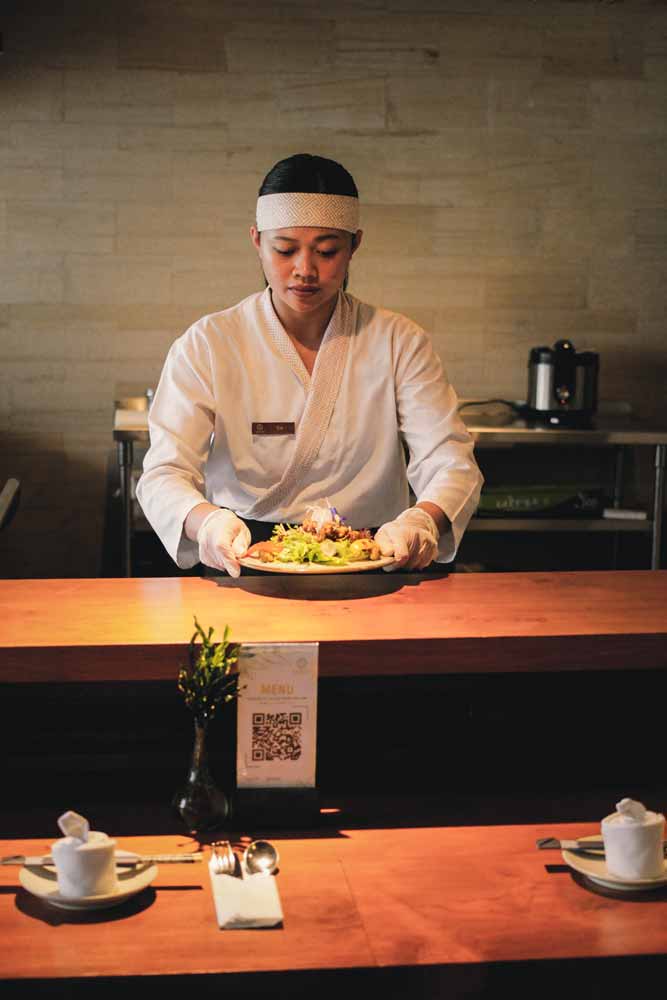 On the Teppan menu you'll find Gyu Tongue, Wagyu Tokusen Tenderloin, Black Pepper Tofu Steak, Salmon Teriyaki and even signature creations like the Chicken Spicy Teriyaki with Sambal Matah (Balinese chilli relish). Other delicacies include Foie Gras, Black Cod in Miso, Unagi Kabayaki, Grass Fed Wagyu Rib Eye, Scallop in Shisho Oil more.
The desserts are also not to be missed, featuring a Yuzu Custard and a Chocolate Parfait with Black Apple.
Teppanyaki Class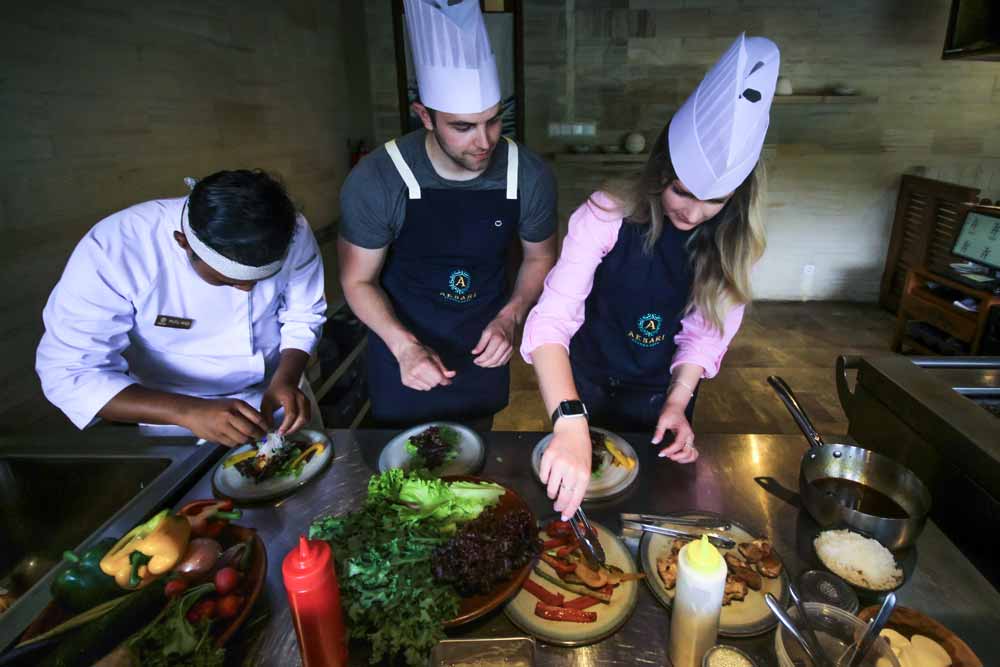 For those hoping to get on the other side of the grill and learn a few of those Japanese cooking skills, Kojin also offers a Teppanyaki Cooking Class. 
This interactive, educational but highly entertaining cooking class provides participants with both theoretical and practical knowledge — and of course, everyone sits down for a superb meal afterwards.
Omakase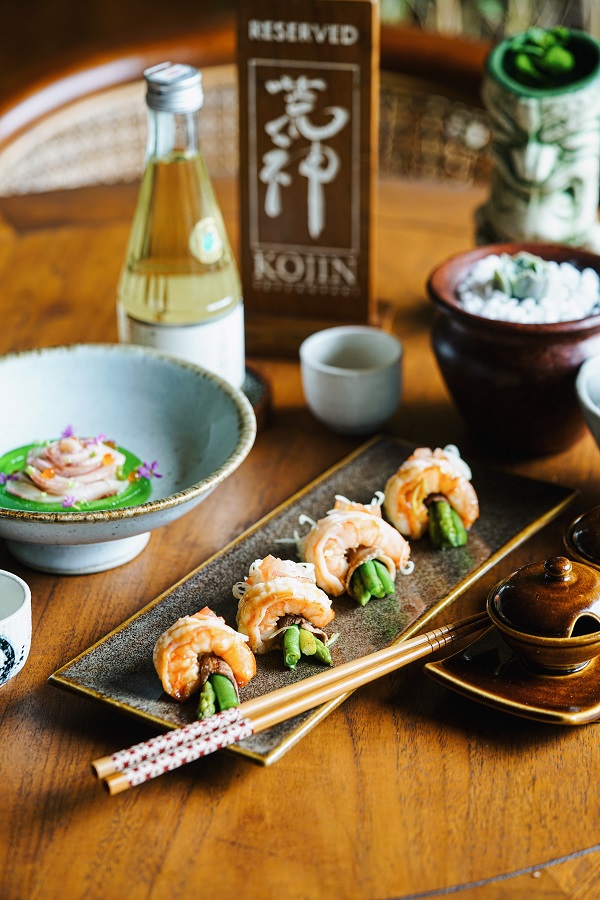 Omakase is a Japanese phrase that means 'I'll leave it up to you'; it's used in restaurants when diners entrust the chef to select and serve seasonal specialities. Kojin presents an Omakase experience every night, with alternating menus: Ame (available Monday, Tuesday, Friday) and Natsu (available Wednesday, Thursday, Saturday, Sunday).
Diners will be presented with 2 Assorted Sashimi, Soup, Cold Appetiser, 2 Assorted Nigiri, Cleanser, Chef selection cooked dish, and a Sweet. Of course, in line with the Omakase tradition, the chef will decide what to serve to guests, with the chef specially preparing these dishes for the experience. This is quite an intimate dining journey, as the chef shares more than just food, but also the philosophy and history behind the menu and dishes served.
Reservation for Omakase is required one day in advance. 
—
Be it the teppanyaki, Omakase or indeed a la carte menu, Kojin pays homage to Japanese cuisine by selecting fresh, high-quality ingredients, bringing out the best flavours for each dish prepared.
This Japanese restaurant in the middle of an Ubud valley is certainly an experience — one filled with entertainment, great views and authentic food. This is complemented by the drinks menu too, offering an extensive range of traditional Japanese sake and shochu, classic and signature cocktails, wine by the glass and by the bottle, as well as premium spirits.
To book or find out more:
Kojin Restaurant at Aksari Resort
Jl. Raya Desa Kenderan No.88x, Kenderan, Ubud
Phone: +6282213022899
www.aksariubud.com/kojin