Whilst the island's food and beverage scene has seen a rise in vegetarian restaurants, vegan restaurants and the like, you'll still find great spots to dig into juicy steaks in Bali. Whether you're aftersucculent marbled wagyu, juicy dry-aged cuts or a beastly tomahawk to share with the group, there are plenty of meat maestros and steakhouses in Bali that rank amongst the best in the country! The majority of these steak restaurants are found in Seminyak, but we've also listed some favourites from Ubud, Sanur and other areas. Happy feasting!
---
Discover the Best Steaks in Bali (2023)
---
Uma Garden (Umalas)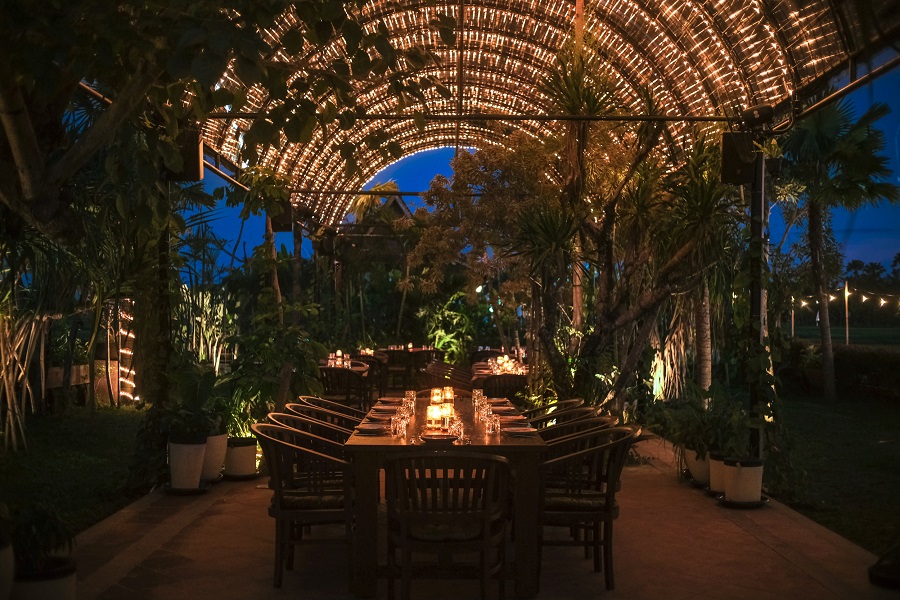 The Umalas neighbour welcomes a new addition to its culinary scene with the opening of Uma Garden. Situated on the outskirts of Umalas, a short distance away from the vibrant Seminyak area, Uma Garden is the brainchild of Tavolo Group.
The new dining destination presents fire-based cooking that meets backyard conversations, showcasing a fire-based kitchen centred on the philosophy of uniting people together around good food and good vibes. Conceived as a neighbourhood hotspot, Uma Garden showcases a chic rustic ambience enclosed by lush rice paddy views.
Guests will be greeted with a lounge and bar area, where innovative concoctions of the tastefully curated library of imported wines, smoky cocktails and craft beers, before taking guests to the dining area where a theatrical open-flame kitchen acts as a centrepiece. Designed with rustic wooden panels and beams, dark wooden tables and tropical foliage, the space boasts a smooth transition between the lounge and garden. As the core essence of the venue, the garden features communal dining tables that encourage a sharing experience and Uma Garden's façade as a communal hub inspired by traditions, togetherness, simplicity and creativity.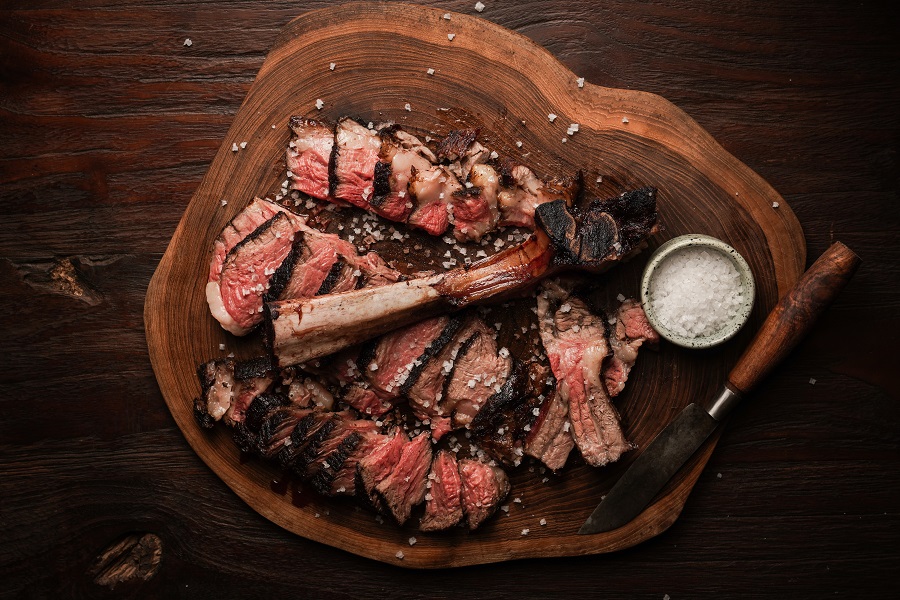 Dive into a journey through sight, sound, scent and taste, where wood-fire cooking is combined with premium ingredients, imparting age-old culinary traditions with communities via the theatrical open-flame cooking experience, a primitive technique that lets the ingredients speak for itself.
Uma Garden offers a wide-ranging menu selection, from wood-fired meat and sea produce to grilled vegetables and pasta, the menu displays an eclectic variety of flame-kissed dishes inspired by the sharing experience. Indulge in premium meat selections including Pork Ribs BBQ, Australian Wagyu Skirt Steak and Australian Wagyu Tomahawk, as well as seafood options such as Grilled Prawns and Grilled Grouper, presenting freshly and locally sourced seasonal fish and seafood, fire-grilled to perfection.
Uma Garden is open daily from 6pm to 11pm.
Jl. Umalas 1 No. 8, Kerobokan Kelod
+62 821 4736 9323
@umagardenbali
umagardenbali.com
---
Boy'N'Cow Steakhouse, Cocktail Lounge & Meat Boutique (Seminyak)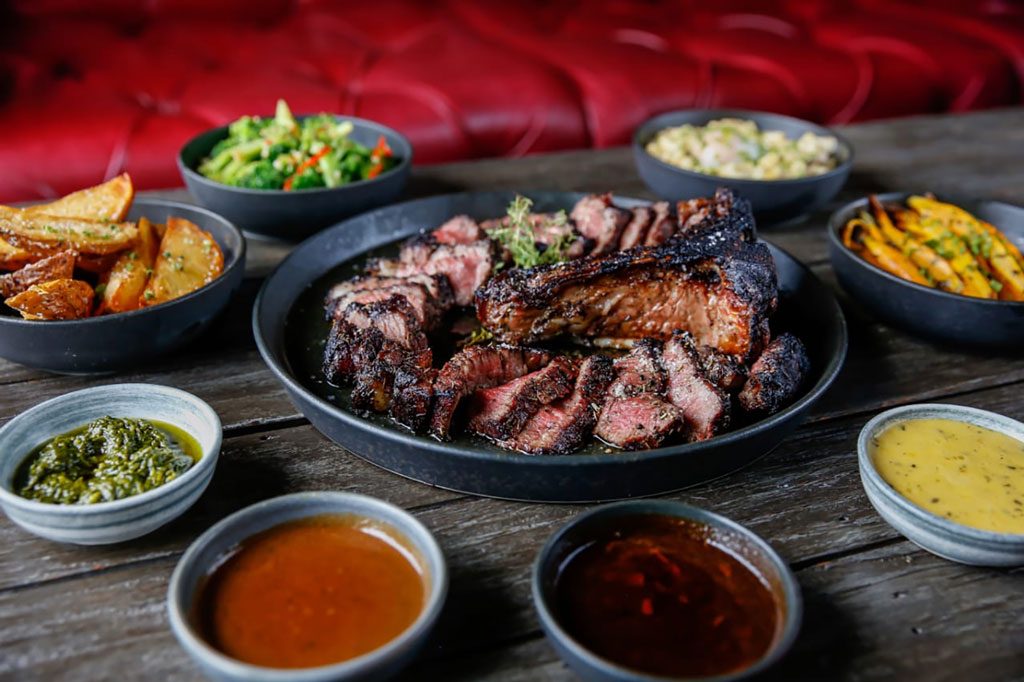 Located strategically at the top of Seminyak's bustling Eat Street, Boy'N'Cow is definitely a must-visit for those of you really craving a juicy bite of meat and perfectly cooked steak in Bali. As you step into this industrial-designed steakhouse, you'll not only be greeted by the welcoming hosts but will be treated to a showcase of their meat fridge with slabs of various dry-aged cuts set up uniformly for you to admire as the whiff the aroma of premium meat on the grill from the open-kitchen.
The fridge at this steakhouse in Bali houses the strip loin, rib-eye, tenderloin, porterhouse, and bone-in rib-eye, and they have a special place for their Wagyu at the end of the list to show you how serious they are about their meat.
Boy'N'Cow's grain and grass-fed beef are sourced from sustainable farms in Australia and the United States and are aged for 28 days on-site. The quality of your steak is carefully monitored throughout the intimate cooking sequence.
Moreover, this isn't simply a Bali steak restaurant, they also offer an assortment of chicken, tuna, lamb and pork dishes, along with a smorgasbord of sides, starters, and sharing plates that vary from the crowd-favourite mac and cheese to more unique variations of beef.
That's not all! This Bali steak joint also features a bar and lounge area on the second floor where you can indulge in late-night aperitifs post-dinner or kill time as wait for a table at the main dining area.
So, will you be making a visit to this popular steakhouse in Bali?
Boy'N'Cow is open every day from 12pm to 10pm.
Jl. Raya Kerobokan 138, Seminyak
+62 361 934 8468 | +62 812 3794 1047
info@boyncow.com
boyncow.com
---
FIRE Restaurant (Seminyak)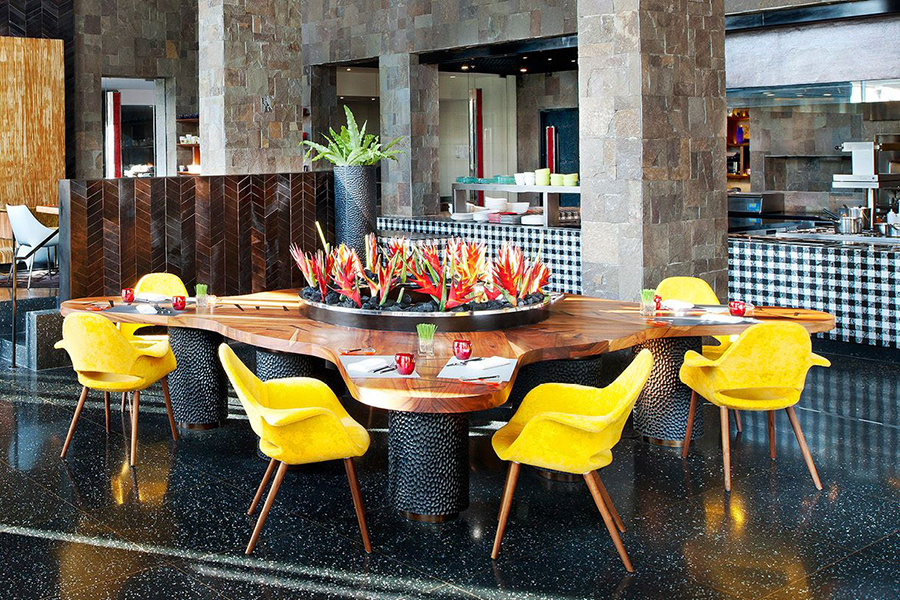 Flame-cooked dry-aged meats, sizzling seafood, slow-cooked chickens and juicy pork belly: when there's smoke, there's fire at W Bali – Seminyak. The vibrant resort's FIRE Restaurant has reverted back to its original roots by serving flamingly indulgent flavours with a revamped concept under the helm of their new Director of Culinary, Norberto Palacios.
Renowned for its dry-aged, flame-cooked culinary offerings, where fire plays a central role in its gastronomic offerings, this restaurant draws inspiration from Bali's iconic traditional Kecak dance, incorporating a playful interpretation of the island's tradition and mysticism through interactive experiences.
A feast for the senses, FIRE showcases a dramatic open kitchen where guests can witness first-hand the expert culinary team working their magic. Exuding a moody, theatrical ambience, the vibrant restaurant is illuminated by bold white, black, red and yellow accents inspired by Balinese elements.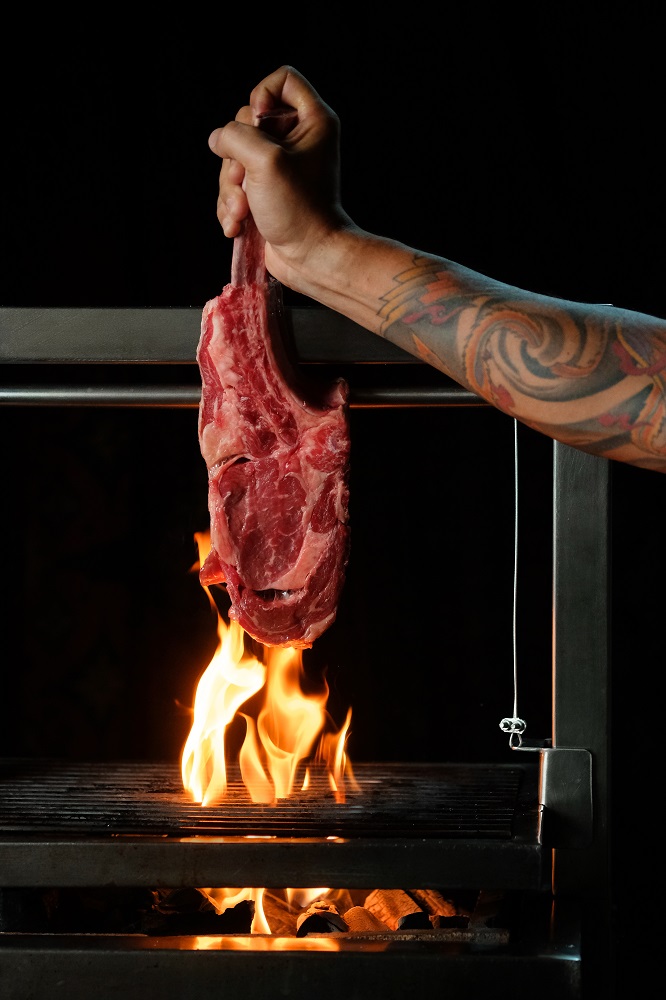 FIRE boasts a unique type of dine-in experience each day, from breakfast, lunch and dinner. When it comes to lunch and dinner, the laidback grill hotspot offers up a menu of fire-cooked prime meats, fresh seafood and flexitarian options. When it comes to the flame-grilled offerings, FIRE's elevated dry-aged selection of meats is to die for. Enlighten your taste buds with the complex flavours of their selection of juicy and tender Striploins, Tenderloins and Lamb Rack French Cut. The star of FIRE though is their 1.5 kg, signature 21 days dry-aged Black Angus Tomahawk, the perfect dish to share for the ultimate indulgence!
FIRE is open daily from 6.30am to 12am (last order at 10.30pm). 
Jl. Petitenget, Seminyak, Kerobokan
+62 361 3000 106
bf.wbali@whotels.com
firerestaurantbali.com
---
SI JIN (Seminyak)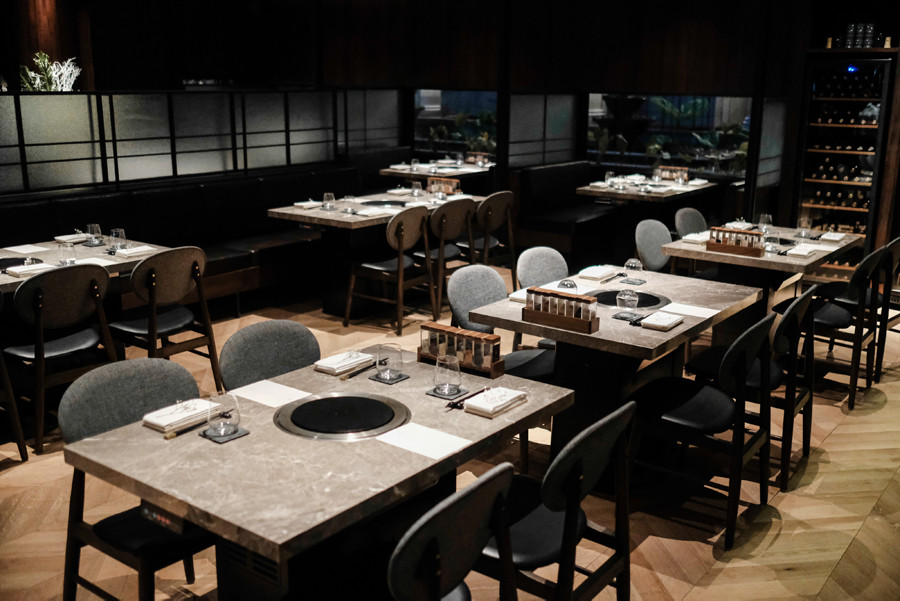 Now, this restaurant is one of the more recent players in Bali's steak industry, having only been around for the past two years. SI JIN is an Asian-inspired steakhouse which rapidly gained popularity and a reputation for serving some of the best steaks in Bali.
Highlighting the concept of sharing, SI JIN's selections of dry-aged meats, from 30 days to 200 days as well as premium wet-aged, are prepared in-house and freshly served on smokeless grills on every table paired with starters – all created by incorporating Korean and Japanese techniques with wholesome local ingredients sourced from across Bali.
At this Bali steak joint, you can choose from some of the best steaks you can find on the island, from 30 Aged Picanha 9+, 45 Aged Hokkaido "Snow" Series, and 60 Aged Andong Soju Bone-In Ribeye 7+, in addition to the Wet Age Signatures such as Cha-Dol Bali 9+, Misuji 9+, and Tochigi Sirloin; all served with eight different selections of homemade salts.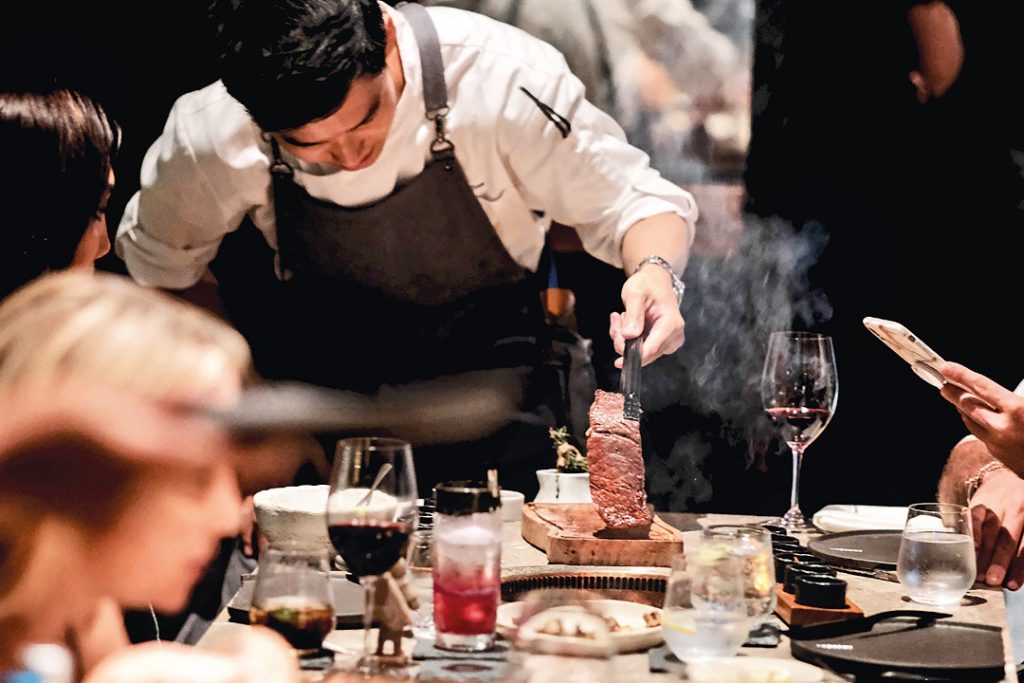 But before you sink your teeth in the juicy meats, you may want to kick-start your feast at SI JIN with Uni "Yukhoe", Wagyu Butter, Korean Namul, and sharing sides such as Pomme Puree, Dolsot Stonepot, and Mt. Fuji Spinach.
Its massive popularity has made this steak restaurant in Bali one of the most sought-after dining destinations on the island. Getting a table at this restaurant might be hard as it is constantly fully booked, so, if you're planning to make a visit to SI JIN, it's best to call in and make your reservations way beforehand.
SI JIN is open every day from 5pm onwards.
Jl. Lebak Sari No. 18, Petitenget
+62 812 3871 3964
booking@sijinbali.com
sijinbali.com
---
The Butchers Club Steakhouse Bali (Seminyak)
As their name suggests, The Butchers Club Steakhouse Bali is a place for meat lovers. They're known first and foremost for their finger-licking gourmet burgers, made with dry-aged meat. However, with their skills in dry-aged meat, they offer some of the best steaks in Bali.
The heart of the restaurant is its steakhouse' custom-built charcoal grill made out of a wheel crank system that raises and lowers in multiple sections to regulate temperature and charring during the cooking process – the secret to a perfectly seared steak!
As for their burgers, expect prime-cut, juicy Australian beef resting on homemade buns that are bouncy but firm enough to keep the tower in place. All-time crowd favourites are The Butchers Club Burger, The Wu-Tang and The Double Happiness.
The Butchers Club Steakhouse Bali offers a big and bold range of choices including shareable starters, tasty pasta and even some vegetarian dishes – nicknamed "What Food Eats". So this once-burger joint has upgraded to serve not only burgers and the best steaks in Bali, but a range of delights for the whole family. Everything here is made from scratch, down to their sauces, using only the highest quality ingredients from Bali and Australia.
The Butchers Club is open daily from 7am to 11pm.
Jl. Cendrawasih No. 1, Petitenget, Kerobokan
+62 361 897 4004
infobutchersclubbali@gmail.com
thebutchersclubbali.co.id
---
Salazon Restaurant Bali (Seminyak)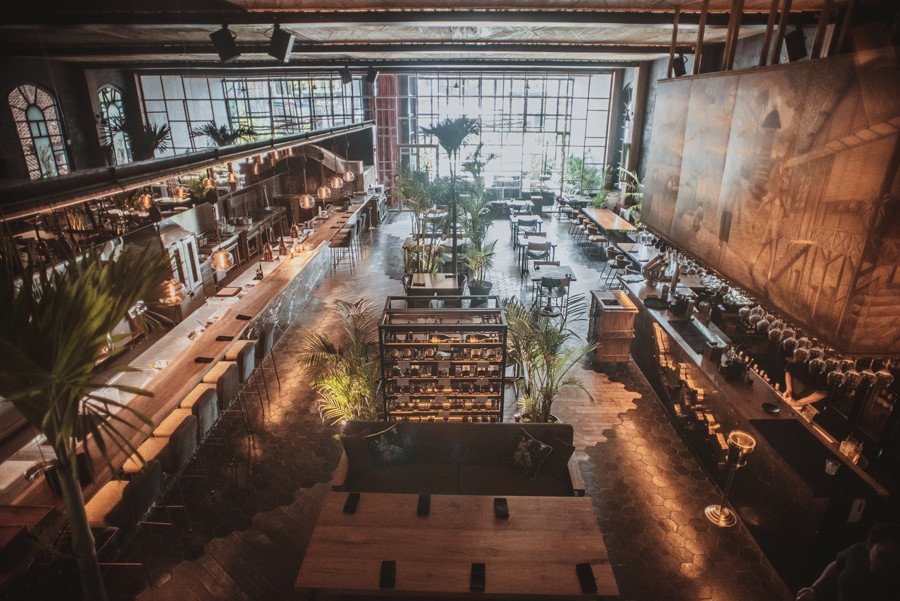 Right in the heart of the Seminyak Eat Street on Jalan Kayu Aya, Salazon Restaurant Bali welcomes you into their chic-yet-laidback venue, where Bali's tropical atmosphere seeps through into this modern steakhouse experience.
Whilst offering a wide range of dishes, it is of course their mastery of meat and all things protein where they truly excel. The magic happens in the glass-encased dry-ageing showroom, where the chefs slice and dice different cuts of meat for you to see. This is the home of their many dry-aged steaks, from 21 Day-Aged Kilcoy Ribeye (250g) to their behemoth 45 Day-Aged stockyard Tomahawk (1.2kg). These juicy delicacies are cooked up on the wood fire grill, resulting in some of the best steaks in Bali.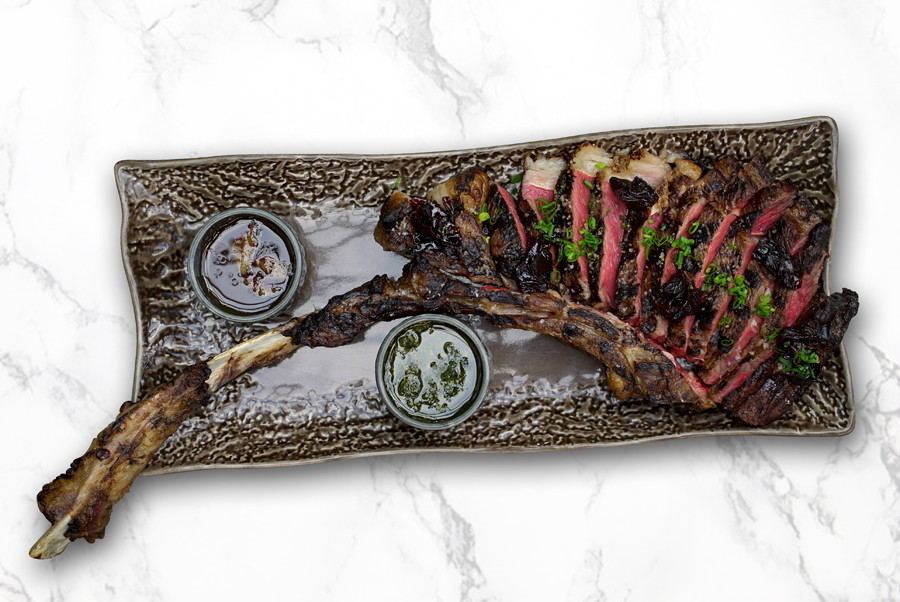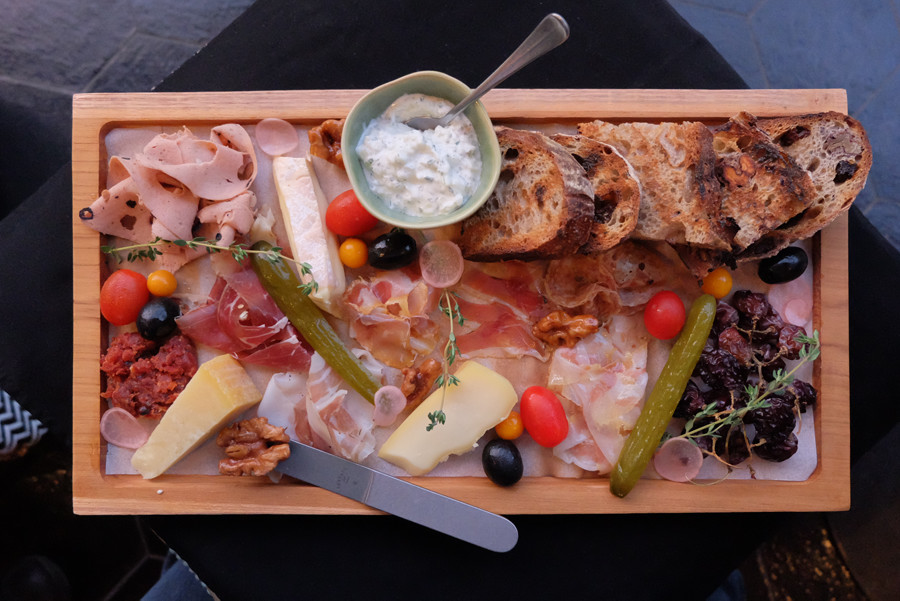 But Salazon doesn't only have mastery of the big chunks of meat, when it comes to the fine and delicate, their knives are precise. They serve house-cured meats too, which make up their charcuterie options. Think Copa ham, pork cheek ham, lamb prosciutto, bresaola, duck ham, pork sausage and more. All done in-house and sliced to slim perfection.
Onto the other bites and delights. Away from the wood fire grill, the menu takes a very international approach, presenting dishes generous with rich flavour and creativity. The Baked Burrata Cheese Tart is a favourite from the Tapas Menu, whilst Asian tastes come in hot with the likes of Masaman Lamb Shank Casserole or the Peking Roast Duck. The pizzas are special, wood-fired and drizzled with their many house-prepared types of meat.
Desserts here do not disappoint. The signature is the 24-hour Cooked Lemon – where an entire lemon (including the peel) is cooked, prepared and presented to eat as a whole, filled with lemon sorbet, lemon curd and whipped cream. Together with a fantastic wine list and tasteful cocktails, dining in Salazon is a meal to remember. Now offering a special Brunch Menu too.
Salazon is open daily from 3pm to 11pm.
Jl. Kayu Aya No. 33, Seminyak
+62 819 4333 0250 | +62 361 934 2100
info@envielane.com
salazonbali.com
---
Batubara Wood Fire (Ubud)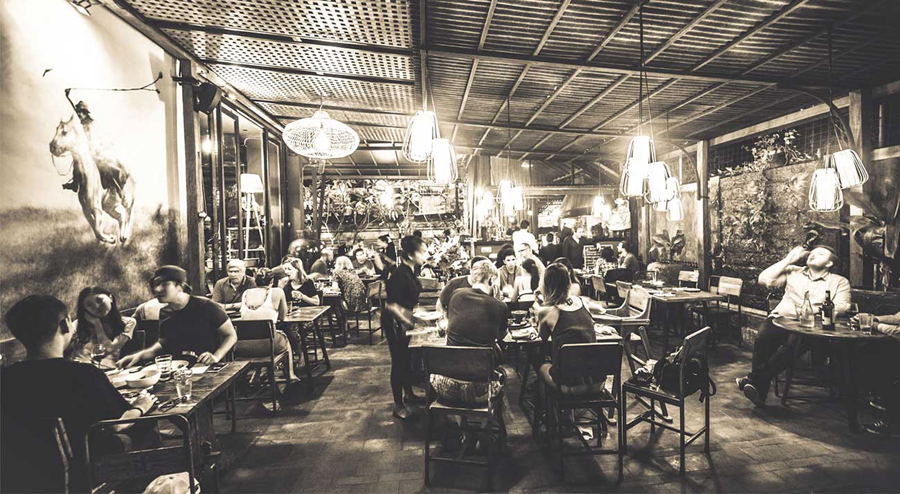 Ubud may be known for a plethora of vegan and healthy dining destinations but it doesn't mean there are no amazing steak joints for meat lovers in the area. Located in the Pengosekan area of Ubud, Batubara Wood Fire brings their passion for wood-fired cuisine with a Mediterranean and Argentinian influence using traditional methods and carefully selected products. It's a cosy steakhouse that offers guests a variety of cuts, cocktails and wine in a tranquil setting with rustic-chic décor. Batubara Wood Fire prides itself on sourcing organic produce, free-range pork and prime grass-fed beef.
The menu offered includes appetisers to share before the mains such as Empanada de Carne, Croquetas, Gazpacho, Tomato Tartar, Provolone a la Parrilla, and more, as well as a selection of salads. The meat is what we're really here for and at Batubara they suggest you check the board to see the cuts of the day with a minimum order of 200g. The selection of meats offered includes the Wagyu, Angus from Scotland, and Bali Cow "Bos Sondaicus".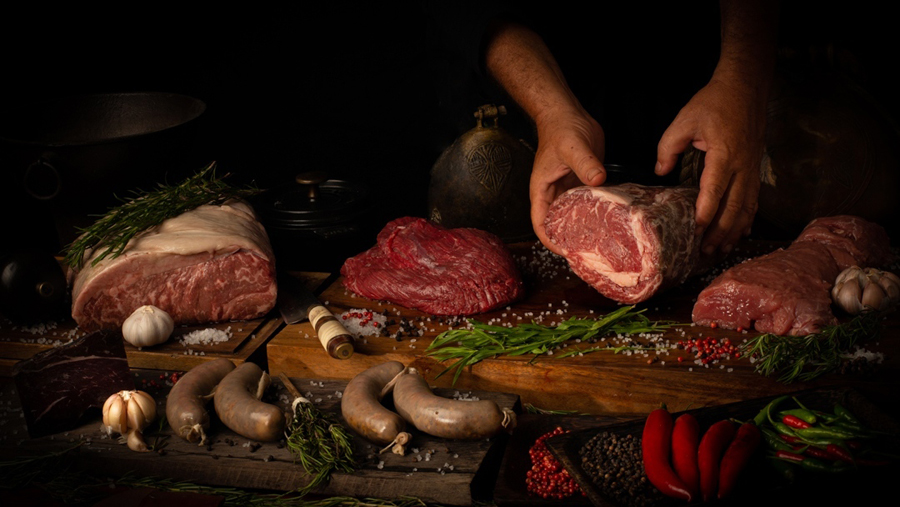 Additionally, Batubara has seafood options on the menu including Calamarcitos a la Brasa, Pulpo a la Brasa, Gambas al Ajillo, and more. They also offer a variety of sides, sweet desserts that you don't want to miss, and a collection of premium wines as well as Argentinian wines.
Moreover, Batubara also has a butcher shop and market, where you can purchase their selection of meats on-site or through their website.
Will you be making a visit to this Mediterranean-Argentenian steakhouse in Bali? We suggest you do because they have some of the best steaks in Bali.
Batubara Wood Fire is open daily from 5pm to 11pm.
Jl. Raya Pengosekan No. 108, Ubud
+62 812 3684 0194
hola@batubarawoodfire.com
batubarawoodfire.com
---
Puerta 26 (Sanur)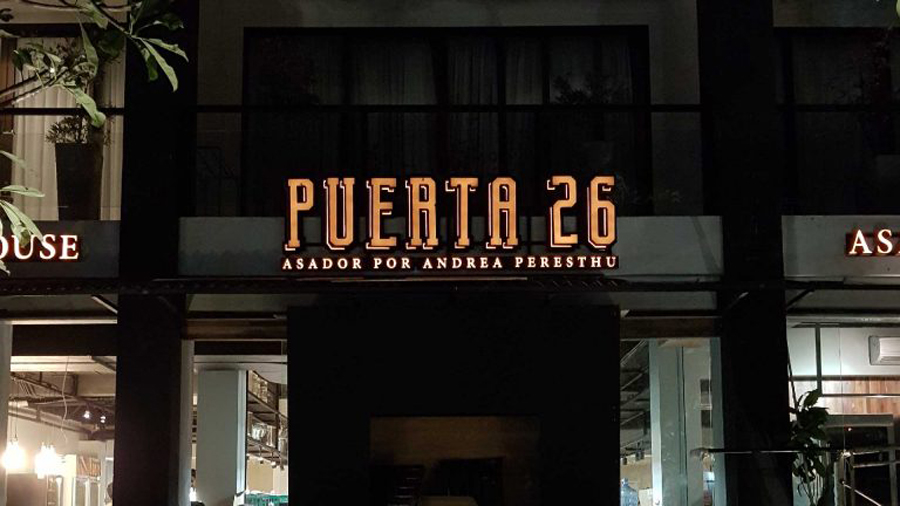 Over at Sanur, you'll find another great steak house in Bali: Puerta 26. This restaurant is an aged beef steakhouse that specialises in dry-aged steaks from Spain, Argentina, and Tasmania alongside a variety of Spanish-Mediterranean delicacies.
Several signature dishes offered at this Sanur steakhouse include Rubia Gallega from Spain, T-bone steak from Argentina, Wagyu Solomillo 6/7 from Tasmania, Paella Marinera and Jamón Ibérico de Belltoa. This modern steak joint accommodates an indoor dining area as well as a dedicated bar area for post-dinner drinks and a sidewalk patio. It features an intimate rustic-chic décor that is elevated by an open-kitchen concept and a dry-age chiller room where guests can explore further into the steakhouse lifestyle.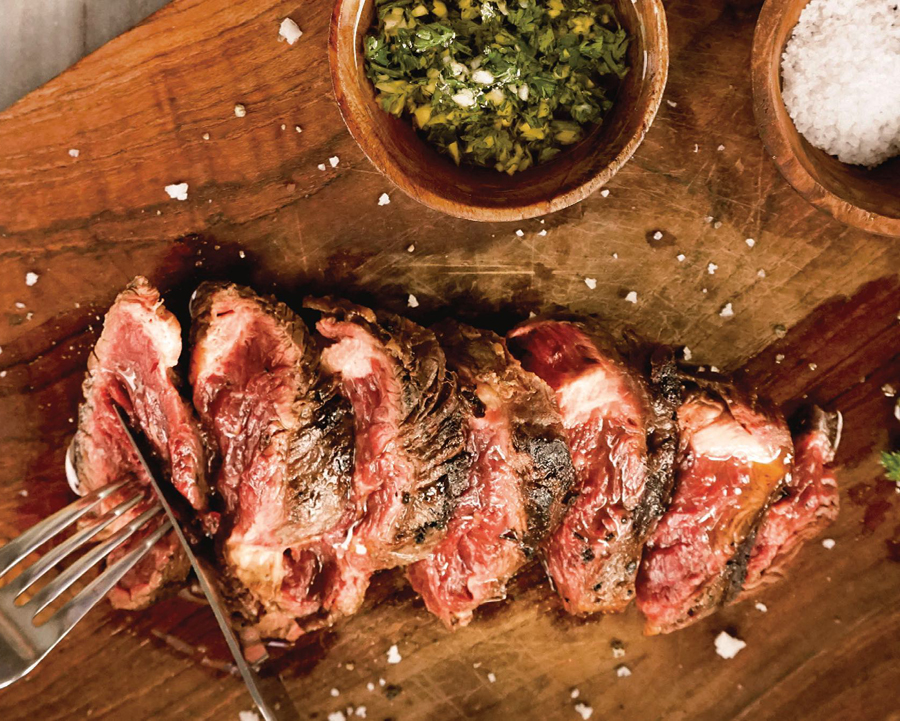 The next time you're in the Sanur neighbourhood, be sure to stop by this restaurant to experience one of the best steaks in Bali.
Puerta 26 is open daily from 1pm to 10pm.
Jl. Sudamala No. 26, Sanur Kauh
+62 811 388 3323
bali@javanegra.com
javanegragourmet.com/puerta-26/