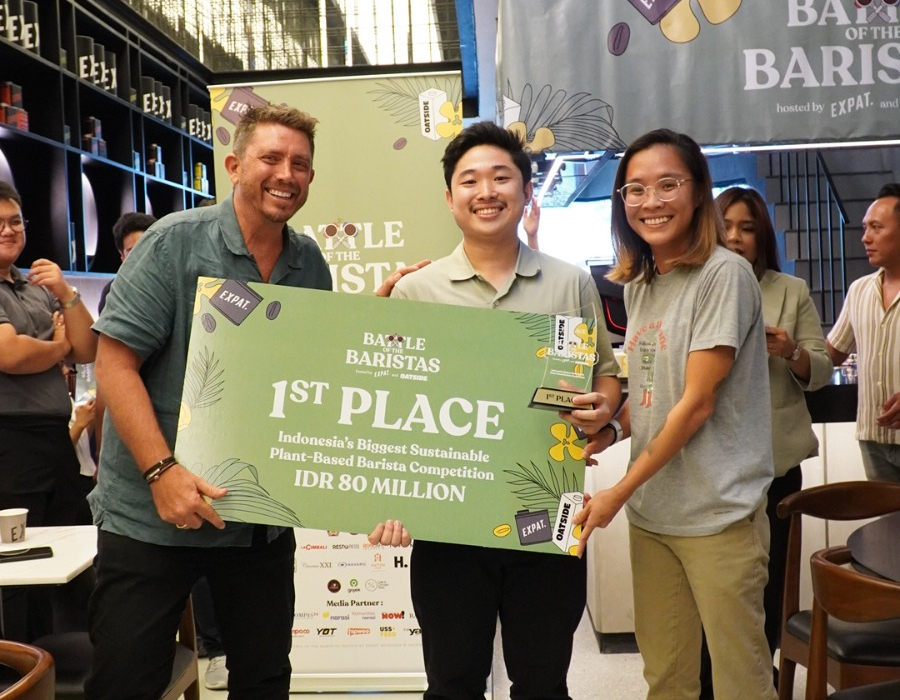 After two months of intense competition, Battle of the Baristas 2023, Indonesia's biggest sustainable and plant-based barista competition crowned its winner during the grand finale event on Friday, 21 July 2023 at Expat. Roasters Surabaya.
Following the first online round of the competition on 15 May 2023 and the live semi-finals round which took place at Luber Bali on 7 July 2023, six of the most talented baristas from across the archipelago secured their spots on the finals. The finalists were Sthira Yabin from Hungry Bird, Yoga Satyadi from Butterman, Gatot from BGS Bali, Mujahidah from Setara (Kalimantan), Muhammad Faisal from Pison Jakarta, and Ayu Sutharini from Expat. Roasters, who went head-to-head to showcase their masterful skills and creativity to bring home the coveted title of Indonesia's best barista.
The final round presented an exciting twist as the six finalists were faced with the task of creating mesmerising latte art based on surprise patterns revealed to them on the day. Moreover, the baristas were also challenged to display their prowess by crafting signature drinks utilising secret ingredients concealed within a mystery box.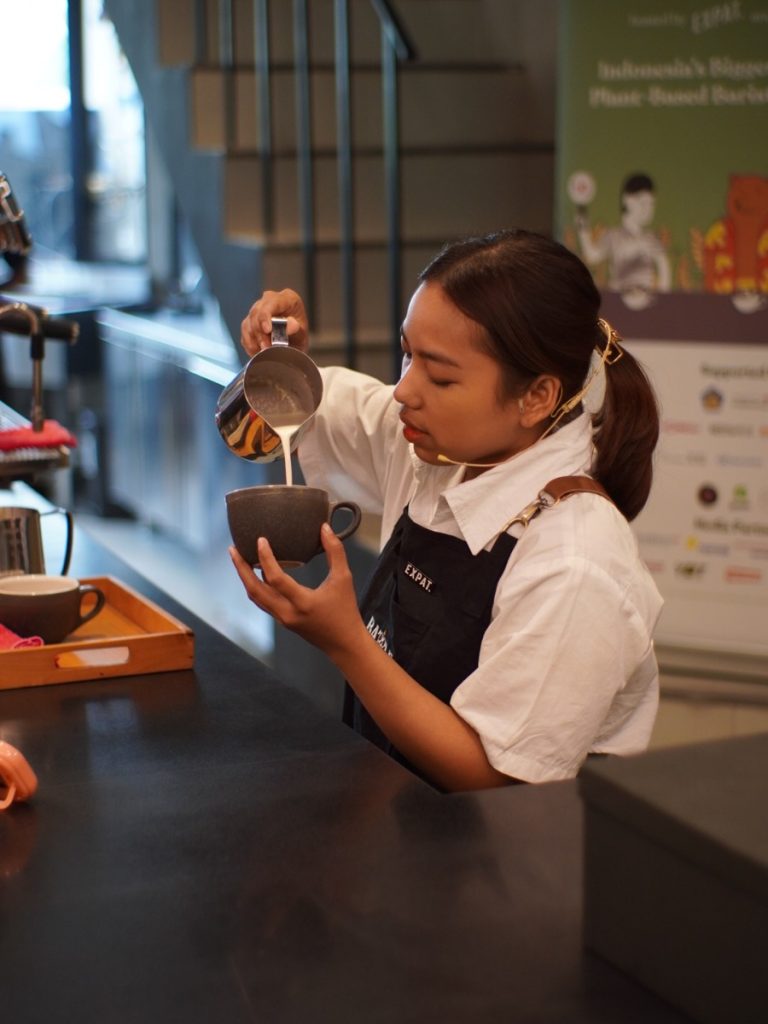 Adding to the excitement, the grand finale featured a fascinating sharing session with illustrious mixologist, Agung Satria (Bacardi – Martini Indonesia), who demonstrated his amazing skills in concocting exquisite mixed drinks, leaving a remarkable impression on the audience with his artistry and flair.
After a vigorous day of competition, a panel of distinguished judges convened to determine the winners. Coming in 1st place is Sthira Yabin from Hungry Bird, who won IDR 80 million (a La Marzocco Linea Mini coffee machine), a trophy, a certificate of achievement, and a collection of Expat. Roasters and OATSIDE products. The 2nd place was rewarded to Yoga Satyadi from Butterman, receiving prizes worth IDR 31 million; 3rd place is Mujahidah from Setara (Kalimantan), receiving prizes worth IDR 14 million; 4th place is Muhammad Faisal from Pison Jakarta, receiving prizes worth IDR 12 million; 5th place is Ayu Sutharini from Expat. Roasters, receiving prizes worth IDR 5 million; and 6th place is Gatot from BGS Bali, receiving prizes worth IDR 3 million. The total prize was valued at IDR 200 million.
Presenting the prizes were Shae Macnamara, Founder & CEO of Expat. Roasters; Charlyn, Regional Head of Partnerships at OATSIDE; and Mira Yudhawati, Bon Café Indonesia.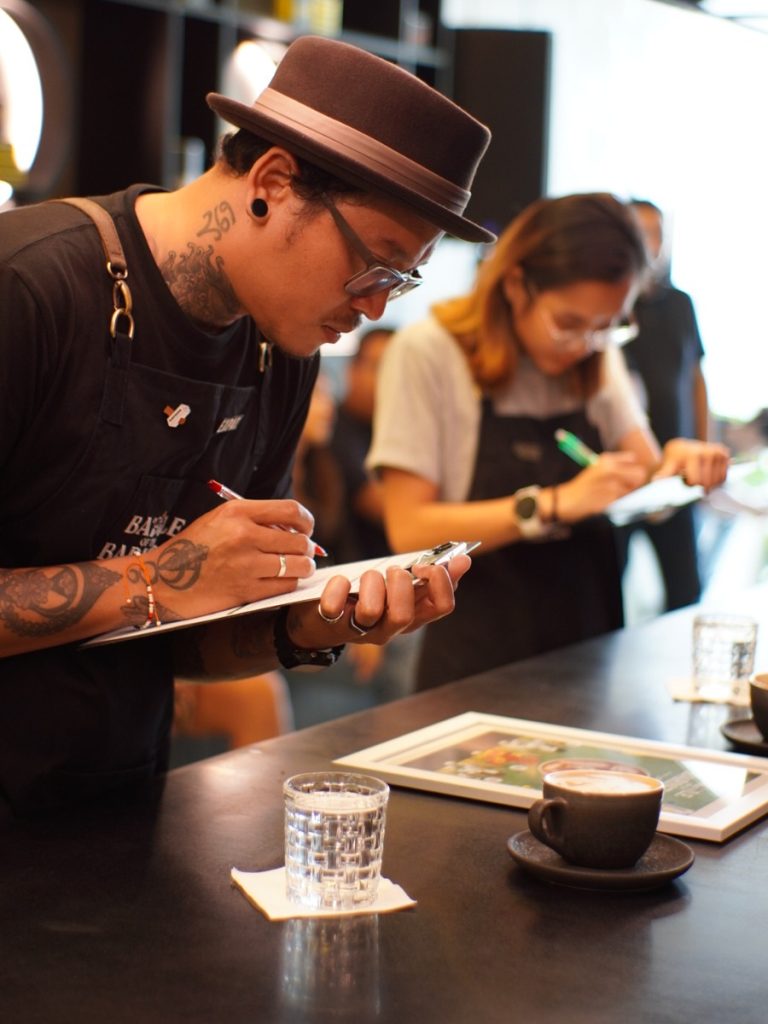 "Battle of The Baristas has always been a platform for showcasing exceptional talent and celebrating the artistry of coffee-making. We were thrilled to witness the culmination of this competition and were amazed by the extraordinary skills displayed by the baristas on the final stage," said Shae Macnamara.
"OATSIDE was proud to be a part of Battle of The Baristas, supporting the thriving coffee community in Indonesia. We believe that this competition not only brought recognition to talented individuals but also inspired a new wave of creativity and passion within the industry," added Charlyn.
The Battle of the Baristas has truly enthralled the Indonesian coffee community, which saw baristas from across Indonesia participating and showcasing their exceptional skills, experience and innovation in coffee art and signature drinks. The competition positions itself as a testament to Indonesia's flourishing coffee community and the developing trend towards sustainable plant-based alternatives.
For more information about the Battle of the Baristas competition, please visit expatroasters.com/pages/battleofthebaristas