Adding to the amazing romantic experiences available across the island, indulging in one of the best couples spas in Bali is perhaps the most sensual, inviting you and your loved on to reconnect, relax and luxuriate together.
With its captivating culture and mouth-gapingly beautiful views, few destinations evoke such romance as Bali. An island of rainforest, rice fields, and dramatic coastlines, it's a haven for honeymooners with a world-class spa culture to match. So if you're here with someone special, make sure to experience the best couples spas in Bali. One of these couples spas in Bali will be what you're looking for:
---
Healing Village Spa (Jimbaran)
Nestled within the lush oceanfront gardens of Four Seasons Resort Bali at Jimbaran Bay, the resort's expansive Healing Village Spa presents the ultimate sanctuary for wellness-seeking couples looking to experience bespoke treatments. One of the spa sanctuary's highlight treatments for couples that is designed around intimacy is the Longevity Garden treatment.
Open to both in-house and outside guests, the impressive spa haven presents 10 spacious spa suites where its professional therapists will deliver immersive and transformative spa treatments. With the Longevity Garden treatment, one can enjoy a private DIY treatment space at the spa's lush "secret" garden – a very curated couples spa in Bali.
The 75-minute treatment allows couples to take the time to indulge in self-directed healing and nourish one another using nutrient-rich local organic products such as Indonesian volcanic mud wraps and coconut soap. The treatment encourages touch, connection and focused attention to one another.
To maximise mineral absorption, the treatment also provides a private steam room along with double sun lounges outfitted with infrared gemstone therapy mats. This will be followed by a cleansing shower beneath the powerful two-metre-high waterfall shower and an ice bath immersion that will release endorphins, tighten pores and speed up muscular recovery. A purifying treatment that will invigorate your body from head to toe. The Healing Village spa is open from 9am – 9pm.
+62 361 701 010
fourseasons.com/jimbaranbay
---
Karma Spa (Uluwatu)
Perched on the magnificent cliffs of Uluwatu, the five-star Karma Kandara is home to one of the most picturesque spa havens in Bali. The resort's Karma Spa has been designed to offer exquisite treatments that nourish, nurture and cure the mind, body and soul under traditional thatched-roof bales. Offering panoramic views of the Indian Ocean, this special couples spa in Bali allows you to enjoy a tranquil and revitalising experience with the Island Escape treatment.
The expertly-trained spa therapists will deliver treatments that will nurture and pamper you with a deeply restorative Island Escape treatment in the open-air cliff spa suites. The 120-minute treatment is designed to be a cleansing journey to relax, refresh and boost your energy, incorporating local organic ingredients including coconut oil, sea salt, herbs and essential oils.
The treatment will begin with a 60-minute Balinese massage, a time-honoured massage technique that's been passed down for generations, implementing long and flowing movements to bring balance to the body, being and energy.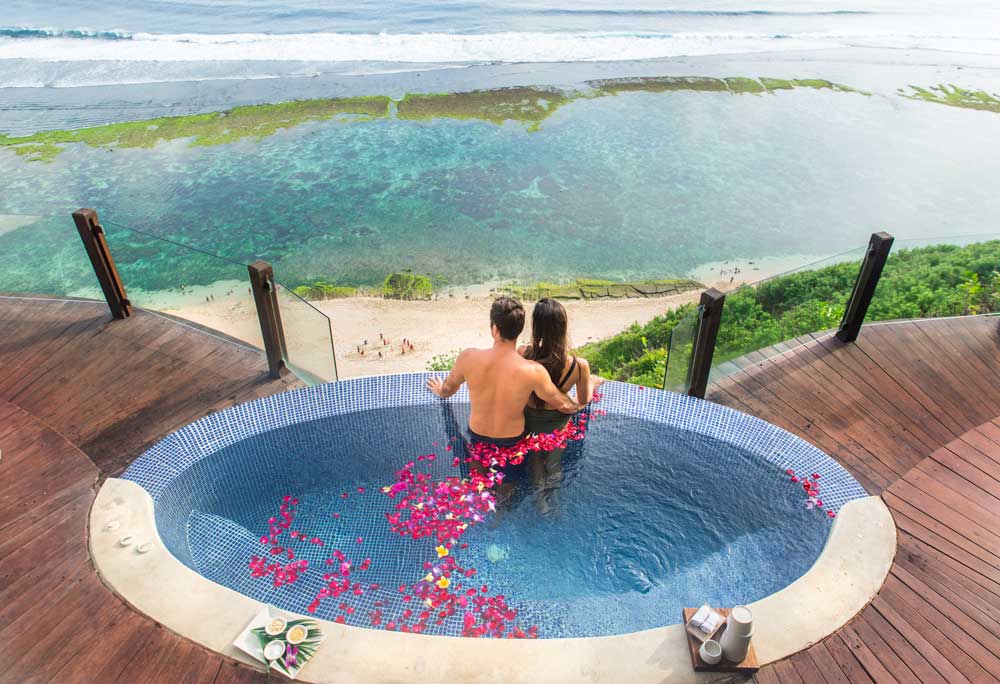 This will be followed by a 30-minute Warm Sea Salt Scrub and a 30-minute Karma Yoga Facial Massage to exfoliate and rejuvenate the skin. Post-treatment couples can enjoy a nice cup of hot herbal tea. The Island Escape treatment can be paired with a complimentary steam session in the private Healing Vibrations Suite. Karma Spa is open from 8am – 10pm.
+62 811 3821 5287
spareception@karmakandara.com
karmagroup.com
---
AWAY Spa (Seminyak)
Tucked in the five-star lifestyle resort of W Bali – Seminyak, AWAY Spa invites guests to unwind and de-stress in the futuristic-looking spa oasis from day to night. Yes, AWAY Spa is open 24 hours a day. Offering services ranging from full body massages to sensational treatments, the spa team will have you feeling refreshed and rejuvenated no matter the time of day.
AWAY Spa features three single treatment rooms with meditation platforms, two double treatment rooms with vitality baths, two spa suites with wet and dry treatment areas, a facial room, a hair salon and a mani-pedi lounge.
AWAY Spa invites couples to reignite their passion with the 3-hour Light My Fire treatment. Experience the vibrant ambience, where guests can explore sensory delights, experience vivid colours, playful scents, imaginative sounds, energising light and detoxifying potions.
The Light My Fire treatment spoils couples with a full body massage, followed by a body scrub and a refreshing Mojito bath. And to top it all off, couples can enjoy a glass of bubbles post-treatment.
Additionally, before or after treatment, guests can also unwind in the separate changing rooms equipped with a hot stone bath, a cold jet set vitality pool, and relax in the chill bar or the decompression (detox/oxygen) lounge.
+62 361 3000 106
awayspa.wbali@whotels.com
wbaliseminyak.com
---
Lembah Spa (Ubud)
Nestled on the verdant highlands of Ubud, Viceroy Bali invites couples to immerse themselves in the enchanting ambience of their wellness haven: Lembah Spa. Newly revamped, presenting a fresh look and feel, Lembah Spa enjoys a perch with views overlooking the property's 40 pool villas.
The expansive multi-level spa and wellness centre exudes tranquillity at its finest. From the moment you descend the spiral staircase of its grand entrance, you'll be greeted with the calming sounds of trickling Zen-like water installations and picturesque views across the dramatic jungle valley.
Lembah Spa offers a wide range of time-honoured treatments and facials, combined with modern techniques including oxygenating Geneo technologies. Reconnect with your loved one in this oasis of serenity with a special 2.5-hour treatment, offering packages of Spa & Yoga package or Spa & Dining at Apéritif or Cascades Restaurant.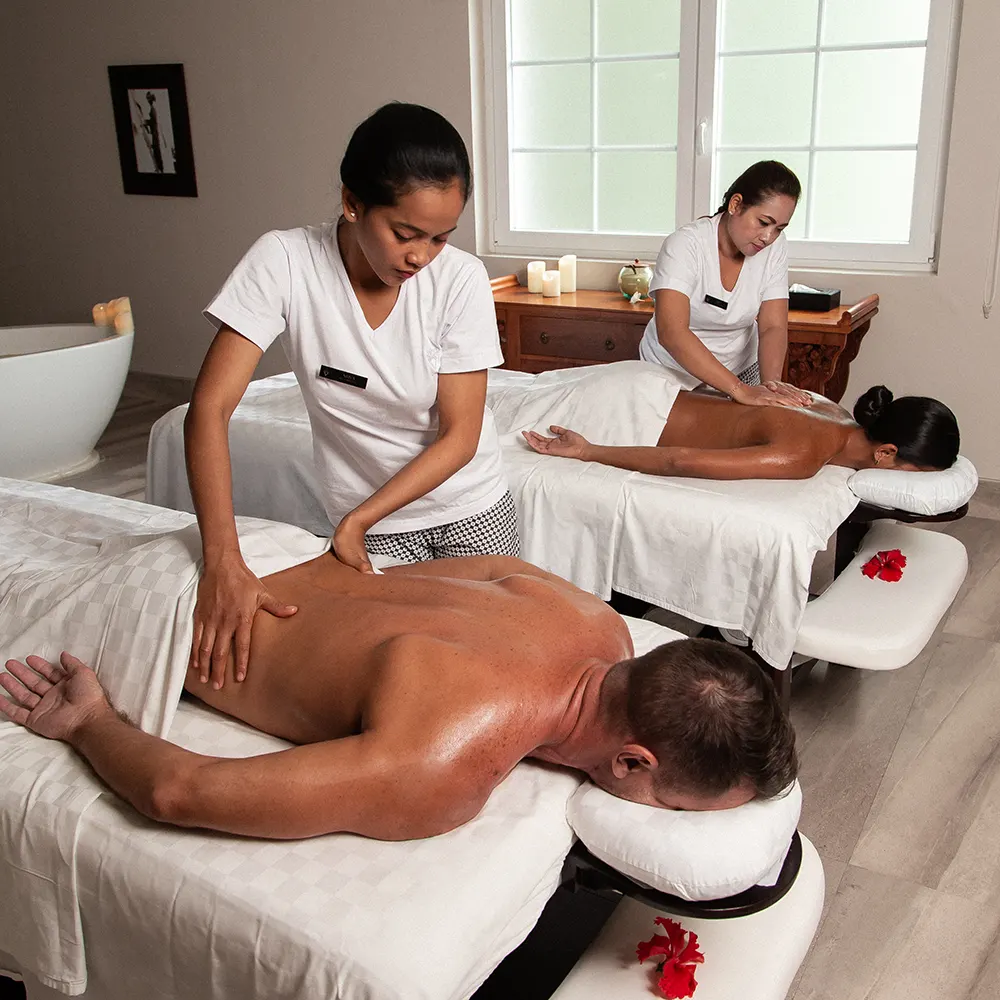 These treatments include a welcome drink, a Balinese (turmeric) body scrub, a body wrap, a one-hour massage and a bath. You can choose your massage preference of Balinese, Swedish or Lymphatic, while bath options include Flowers (rose/lavender), Citrus or Herb (rosemary/chamomile/lemon balm/marigold). Guests can also enjoy new treatments including microdermabrasion facials that utilise exclusive Korean products.
The Yoga & Spa package includes a Yoga session, while the Spa & Dining package includes a 3-course lunch or dinner at Apéritif or CasCades. Lembah Spa is open daily from 10am – 10pm (last treatment at 8pm).
+62 361 971 777
lembahspa.com 
---
Waroeng Djamoe Spa (Canggu)
Tucked within the unique boutique Hotel Tugu Bali, a one-of-a-kind destination imbued in Indonesian heritage and hospitality is Waroeng Djamoe Spa. Here, you'll connect to the secrets of the ancient mystical East where people of Java, Bali and the Peranakan have practised their authentic indigenous health treatments for centuries that we now know as "spa".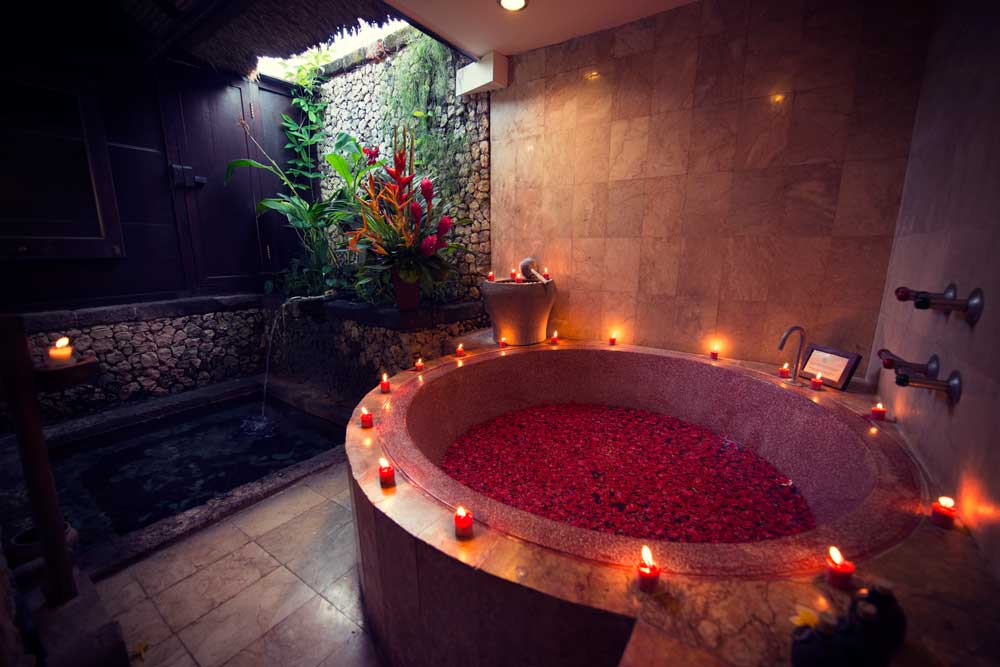 These traditions integrated facets of spirituality with the physical healing arts to obtain the ultimate harmony of the mind, body and soul to boost total deep rejuvenation. Presenting luxurious authenticity, the treatments offered range from traditional massages including the 'Balinese Pijatan' and the 'Javanese Pijatan' to royal pampering which spans up to 5 hours, as well as couple treatments and meditation classes.
Guests can enjoy treatments in one of their treatment chambers dubbed "Kamar". The spa haven comprises Kamar Solek, Kamar Mantra and Kamar Dandang Goela, featuring 19th-century rice storage cabinets repurposed as massage beds, 18th-century royal bed of the king of Madura, Tibetan tankas, Javanese gong hangers, 19th century Buddha Guan Yin wooden statute and more.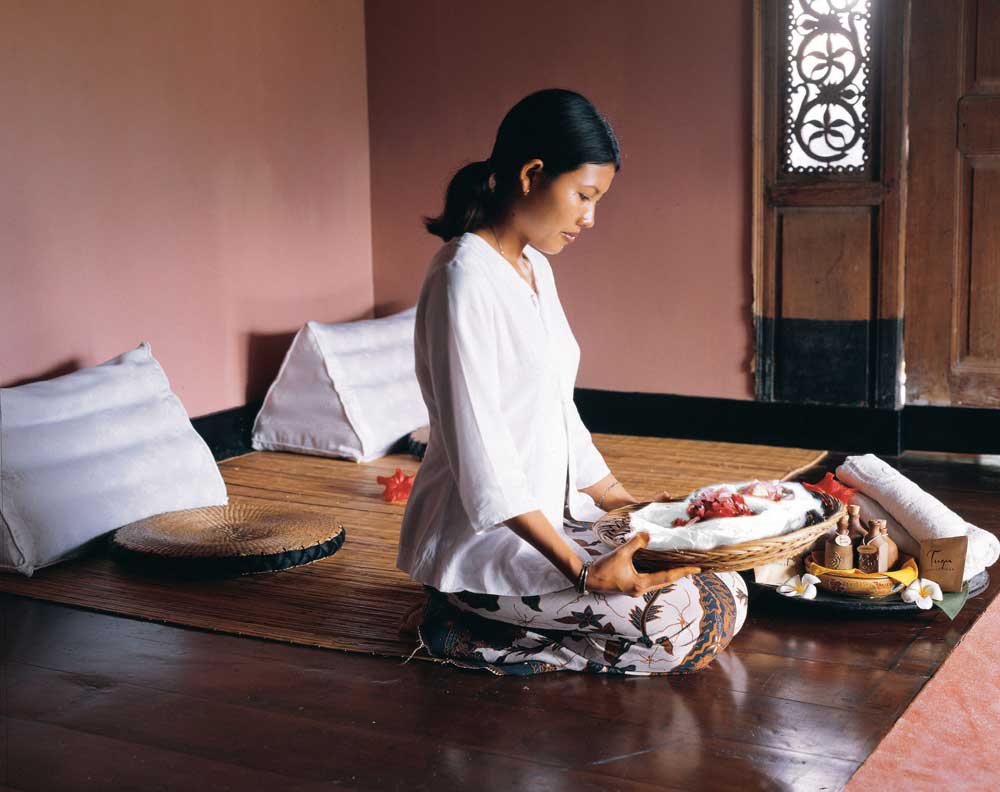 Waroeng Djamoe Spa combines natural elixirs known as "Jamu" or "Djamoe" and the physical healing arts, along with 'magical' flowers such as frangipani, tropical magnolia, rose, jasmine, ylang-ylang and more, which are believed to be the flowers of the supreme deities. Another aspect incorporated is incense, or 'dupa', which also holds magical properties. The Javanese and Balinese have always utilised these flowers and incense to stimulate the spirit and bring peace to the mind. Waroeng Djamu Spa is open daily from 9am to 6pm.
+62 361 4731 701
bali@tuguhotels.com
---
Svaha Spa Bisma
Very close to the centre of Ubud town on the popular rice field road of Jalan Bisma, Kaamala Resort has created a wholesome escape for honeymooners, families and holiday-makers. Their iconic infinity pool enjoys 180-degree views over an expansive river valley.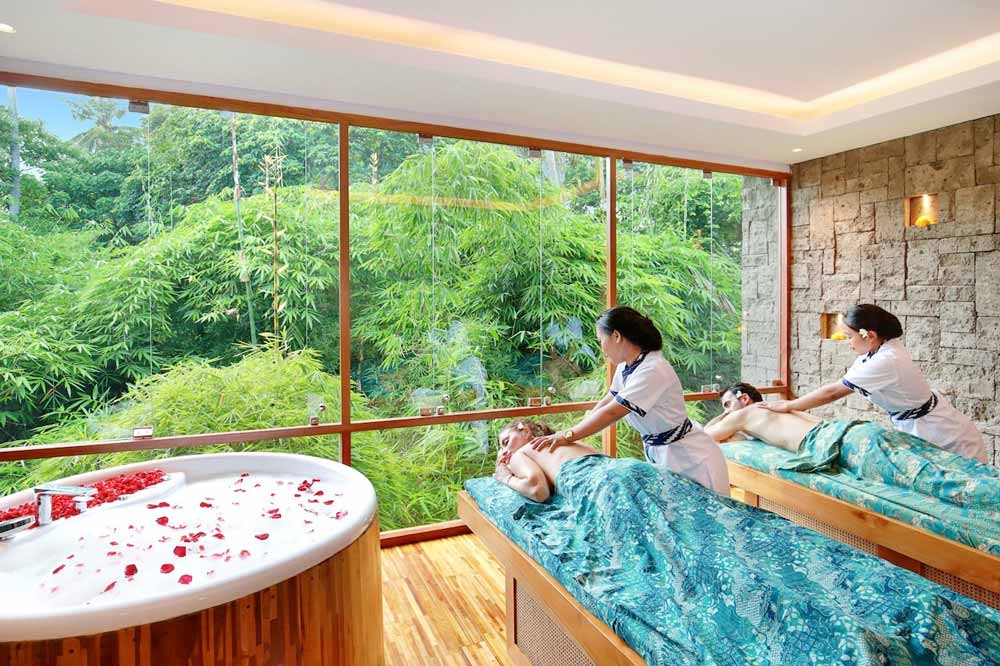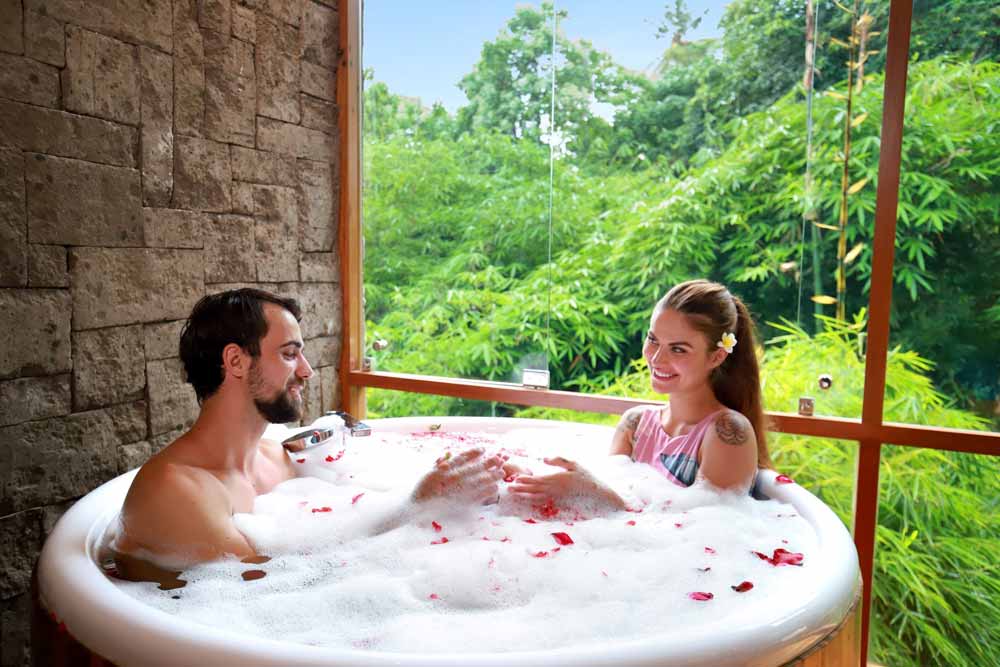 The in-resort Svaha Spa meanwhile, is tucked deep in the surrounding bamboo forest of the resort. The treatment rooms are simply designed, with stone and wood materials lending a warm atmosphere, whilst the full bay windows open to the bamboo forest beyond and allow plenty of natural light. The treatment room also has its own hot tub, used for hot soaks post-treatment, whilst taking in the views.
The Spa Menu consists of treatments from 30-minutes to 120-minutes, with a variety of techniques, scrubs and oils to choose from. For example the Body Purification Ritual (120-mins) begins with stimulating Balinese massage, continues with a sea salt body scrub, a detoxing seaweed facemask and then into the jacuzzi for a herbal bath finish. Or, great for complexion, the Tropical Coconut treatment exfoliate the body with grated coconut, coconut milk and a 'secret powder' that moistures and exfoliates simultaneously — combined with a Balinese massage.
+62 812-3544-7189
svahaspa.com