This August will mark the opening of the highly-anticipated new area at Waterbom Bali, Oasis Gardens, welcoming four new thrilling slides, a new restaurant and an inviting lagoon pool.
Since it opened in 1993, this tropical waterpark has retained its reputation as a family-favourite destination in Bali, and what better way to celebrate their 30th anniversary than by adding a stunning, 1.3 hectares of fun to the park. Oasis Gardens has been meticulously designed, not only to introduce new and unique visitor experiences but also to create a space that is lush and verdant, with environmentally-friendly values at its core.
At the centre of the Oasis is a 20-metre, giant winding slide tower with a cantilevered viewing platform housing four new slides. Alongside its family-friendly reputation, Waterbom Bali is definitely a place for thrill-seekers: the new slides lean more to the extreme, with 'Tailspin', 'The Drop' and a renewed favourite, 'Boomerang', set to test the brave and bold! For those who prefer to take it slow, the Oasis' new lagoon pool and sunken pool bar will be the perfect spot, surrounded by vibrant botanical gardens that are signature to the Waterbom experience. Not to mention a relaxing outdoor spa and massage area for those who want to take it really easy.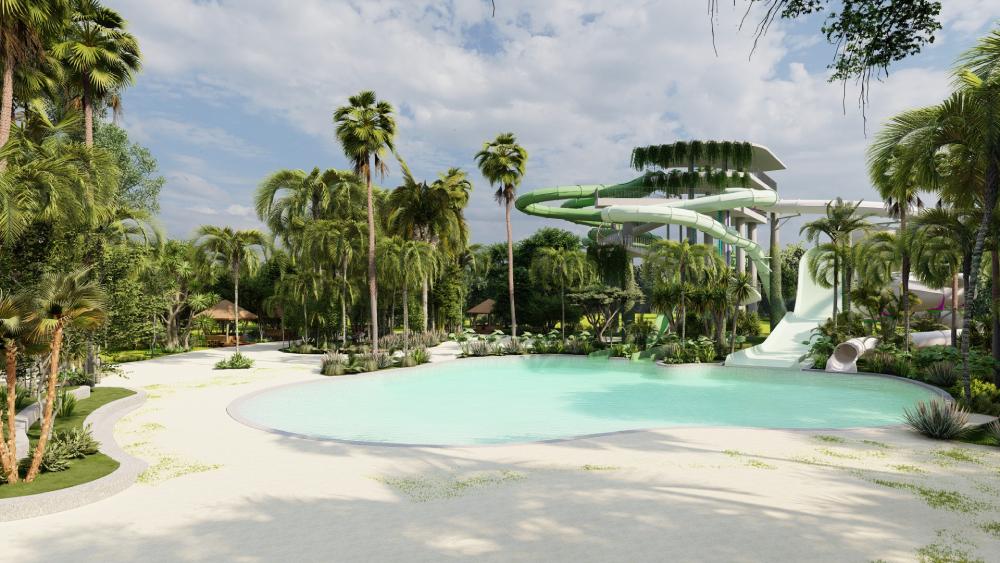 The new Oasis Cafe adds to the park's great dining selection, featuring an open-air, 50-seat venue serving Pan-Asian, Indonesian and Western food, made fresh daily from local ingredients in the open kitchen.
Experiences aside, Waterbom Bali's ongoing mission for sustainability is at the heart of this new area. They have worked closely with consultants, Eco Mantra Bali to integrate 'Environmentally Sustainable Design': positioning slides, pipes and towers to minimise water loss, adding rainwater harvesting systems, and installing optimally-placed solar panels on roof areas for maximum sunlight are but some examples. These all contribute to reducing the park's footprint and help Waterbom reach their net-zero goals. Not a single tree was cut down to create Oasis Gardens, following the values of Founder Santo Gulino when Waterbom was originally built.
"As a business leader it is important to be passionate and believe in these values which will create a ripple effect amongst our employees, inspiring and encouraging them to act the same and be mindful about the environment," says Sayan Gulino, CEO at Waterbom. It is this constant striving for better that has helped the park achieve global recognition, including being named #1 in Asia and #5 in the world for Tripadvisor's 'Traveller's Choice Awards 2023', in the Amusement Parks & Waterparks category. 
Visitors can experience 'Oasis Gardens' and all of its new experiences, alongside the park's already superb original offerings starting August.
Waterbom Bali
Jl. Kartika Plaza, Kuta
+62 361 755676 | @waterbombali
waterbom-bali.com