Really uplifting the quality of restaurants and cafés at the Bali Airport is HMSHost, an Autogrill Company, that manages renowned international brands, as well as also their own curated dining venues. The company operates in more than 120 airports around the world, making them a world leader in travel dining. Their goal here in Bali is to provide fresh, delicious and convenient dining options across an array of cuisines, helping to make long waiting times at the airport more enjoyable for guests and take the pains out of travel.
For those leaving the island via Ngurah Rai International Airport Bali worry not, your food and beverage needs are well looked after. Here we share 5 Best Places to Eat at the Bali Airport.
---
1. FRESH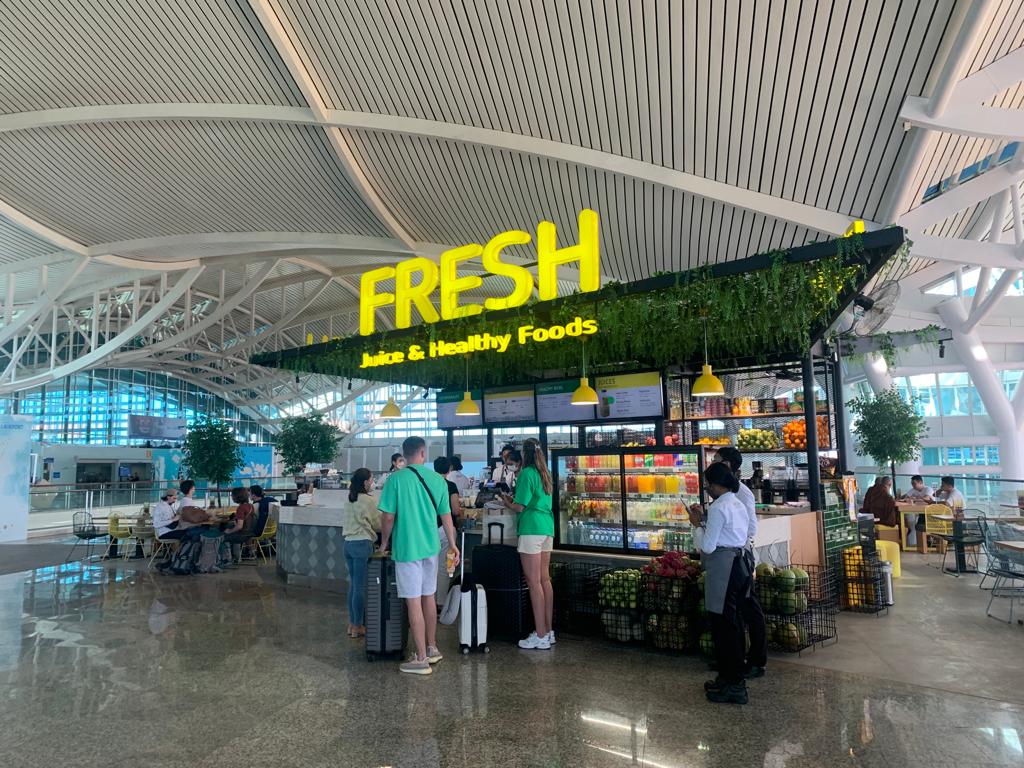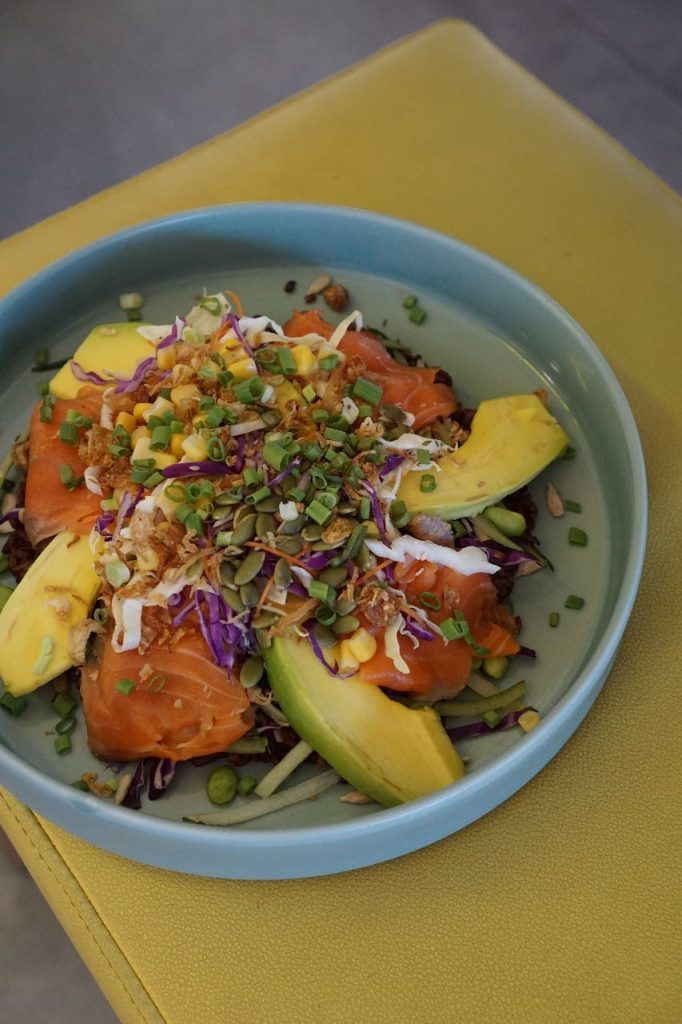 It's all in the name! Whether you're on a special diet, counting calories or are looking for something healthy before your flight, then the meals at FRESH provide just what you're looking for.
FRESH is located before the check-in gate at the Bali Airport's International Departures, making it accessible to the public as well. This makes it great for pre-flight goodbye bites with friends or family.
This is where you can get all your nutrition needs, particularly important before travelling. Load up on a Peanut Butter Chocolate Protein Smoothie Bowl; or make something just to your liking with their Create Your Own Wraps and Sandwiches, with more than 25 choices of protein, toppings, salad, and sauce options. Ready-to-drink cold-pressed juices, and a variation of infused water or infused coconut water to keep your body fuelled and hydrated for your flight. 
Location: In front of Departure Gate A & B – International Departure Landside (before check-in)
---
2. High Tide Bar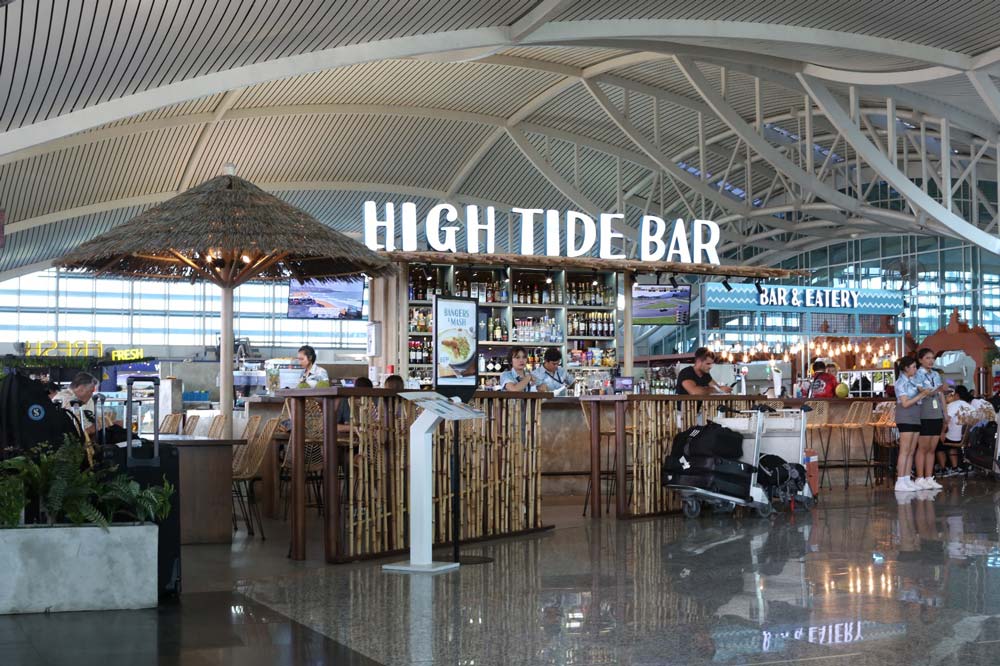 Still in denial that your holiday is over? Need that last tropical drink before you really head out? Then the High Tide Bar is the place for you. Inviting travellers into their relaxing, beach-inspired venue, this Bali Airport 'oasis' serves up an array of great libations so that you can pretend you're still sipping on cocktails on Seminyak Beach.
Here, Yoga and his bartending team tempt every guest with a wide selection of wines, beers, classic cocktails and liquor. So, whether you're after a cold draught beer or a cheeky Espresso Martini, this Bali Airport beach club has you covered.
The food suits this theme too, with hearty comfort foods served up on the eclectic menu: Ground Wagyu Pizza, Bangers and Mash, Mezze Platters for sharing, and a favourite here is the Burger. Friendly bar staff and great food have earned this little hotspot a 4.9 rating on Google Reviews, so High Tide Bar is sure to extend your vacation feeling just that little bit longer.
Location: In front of Departure Gate C & D, International Departure Landside (before check-in). 
---
3. Wolfgang Puck Kitchen + Bar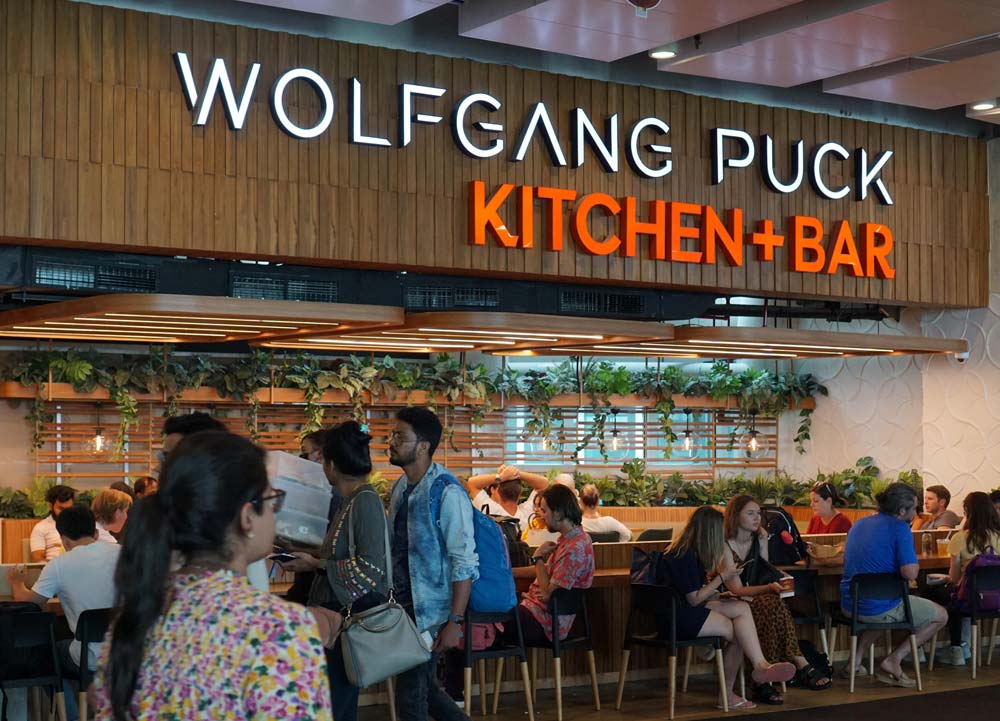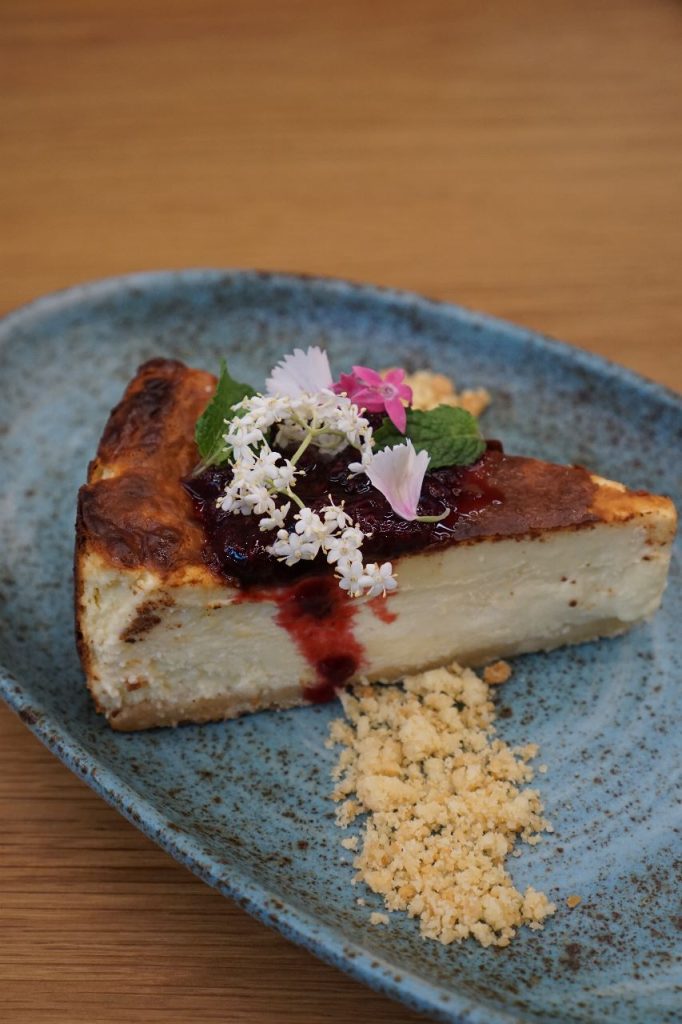 That's right, you can savour the culinary creations of the legendary Chef, Wolfgang Puck, at the Bali Airport! Located after check-in at the International Departures, the casual dining venue, Wolfgang Puck Kitchen + Bar, is actually a good reason to head to the airport early!
This is the first Wolfgang Puck outlet in Indonesia, offering a spacious and stylish restaurant to match the superb menu offerings. You'll find tasty breakfast options such as WP's signature Kobe Beef Burger, Cast Iron Baked Eggs, or an Ancient Grain Bowl. The lunch and dinner options are even more decadent, featuring Chinois Chicken Salad, Shrimp Linguini, Wolfgang Puck Burger or the hand-stretched, freshly-made Pizza. The restaurant caters to a variety of dietary requirements, with vegetarian, vegan and gluten-free options available.
The bar here serves up drinks perfect to pair with your meal, like their Pearfact Martini, Moscow Mule, and WP Aged Barrel Negroni. Find your way to Wolfgang Puck after immigration check-in, nearby Gate 3.
Location: In front of Boarding Gate 2 & 3 – International Departure Airside (after check-in). 
---
4. Little Eats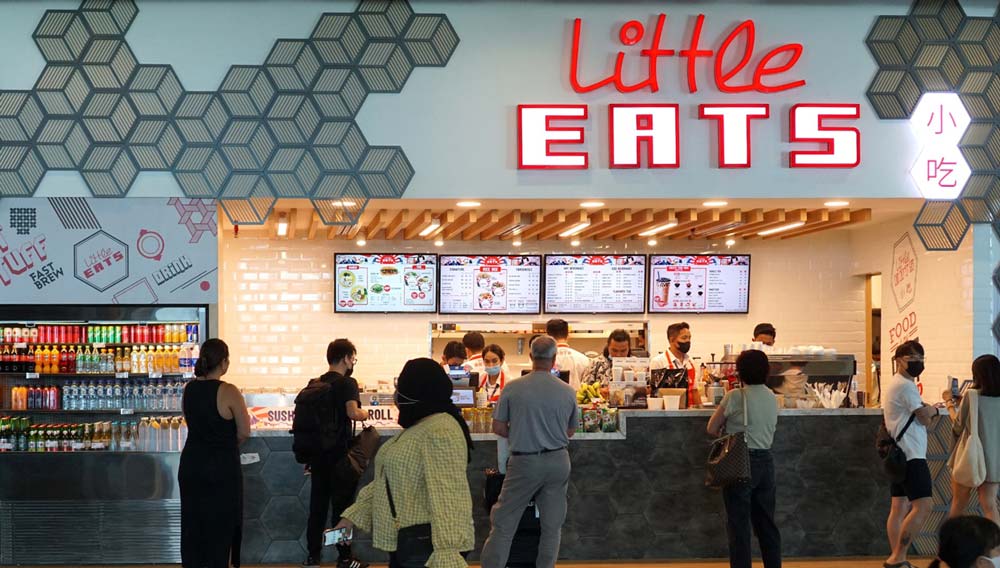 Hungry but in a rush? Head over to Little Eats, designed to be your go-to 'grab & go' at the International Departure. Don't judge this quick-service counter too, well, quickly! Here you'll find an array of fulfilling Asian street food choices, including sushi, rice bowls, and Vietnamese Bahn Mi sandwiches; as well as ready-to-go nutritious salads, juices and drinks.
Location: In front of Boarding Gate 2 & 3 at International Departure Airside (after check-in).
---
5. Pizza Hut (Domestic Departures of Bali Airport)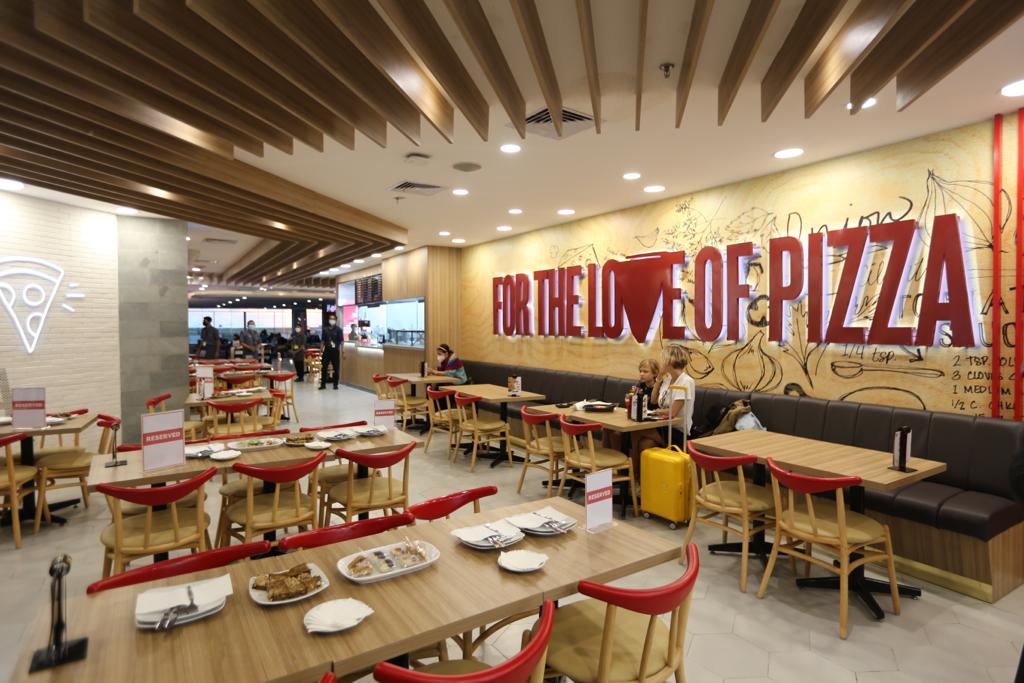 This next restaurant needs no introduction.  Located in the Domestic Departures at the Bali Airport, Pizza Hut provides all its family favourites for those heading to destinations within Indonesia.
A wide range of the brand's well-known delights is to be found on the menu, from their pasta, fresh salads, New Orleans Chicken Wings and of course pizzas — including the all-time favourite Stuffed Crust pizzas! Equipped with comfortable seating and Kids-Friendly menus, it's a great spot for families as they await their departure.
Location: Domestic Departure Airside (after check-in)
---
Stay updated with all HMSHost's latest:
Instagram: @autogrill.id
I Gusti Ngurah Rai International Airport, Bali – Indonesia
+62 361 8491919