Nestled on the highlands of the Buleleng Regency, Munduk Moding Plantation is an enchanting tropical sanctuary where the skies meet the open sea and the rolling mountains, a tranquil haven tucked amidst a working coffee plantation surrounded by Bali's lush jungles.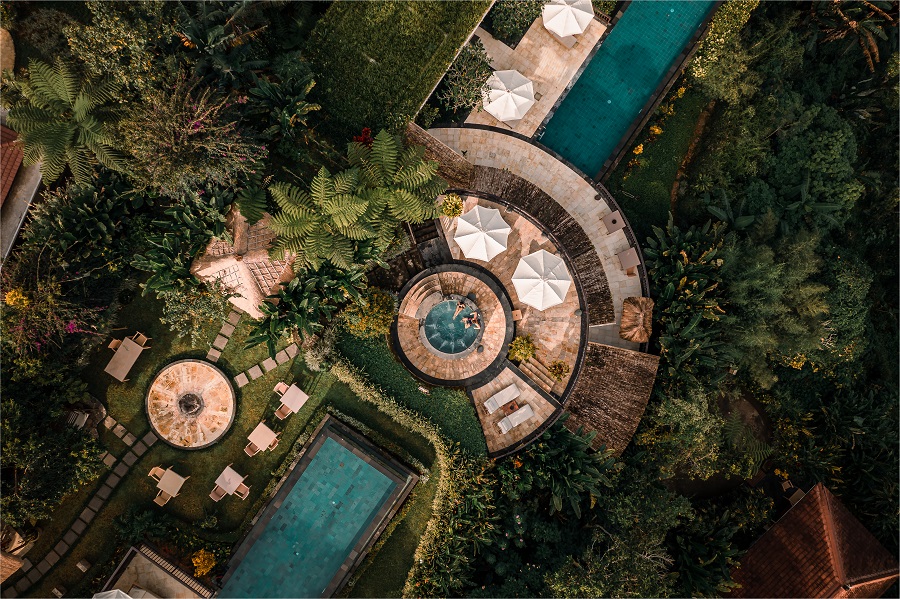 An award-winning five-star resort, Munduk Moding Plantation (MMP) was designed by prolific Bali architects Popo Danes and Era Anastasia. The Eco-Luxury Nature Resort and Spa boasts villas and suites that seamlessly marry fundamental features of Balinese architecture with a modernist tradition, adapted to the environment of its hillside setting.
A unique hideaway for those looking to experience a different kind of luxury, this North Bali accommodation is enclosed by lush tropical rainforest with magical views, lavish comfort and ultimate privacy.
Here, guests can unwind at their award-winning 18-metre and 16-metre infinity pools, offering magnificent panoramic views of the rolling hills, Bali's central mountains and the Java Sea. If you're lucky enough, the clear days grant you views of over 50 kilometres into Java. The 18-metre infinity pool was dubbed one of the world's top ten infinity pools by Asia Spa.
Behind the Concept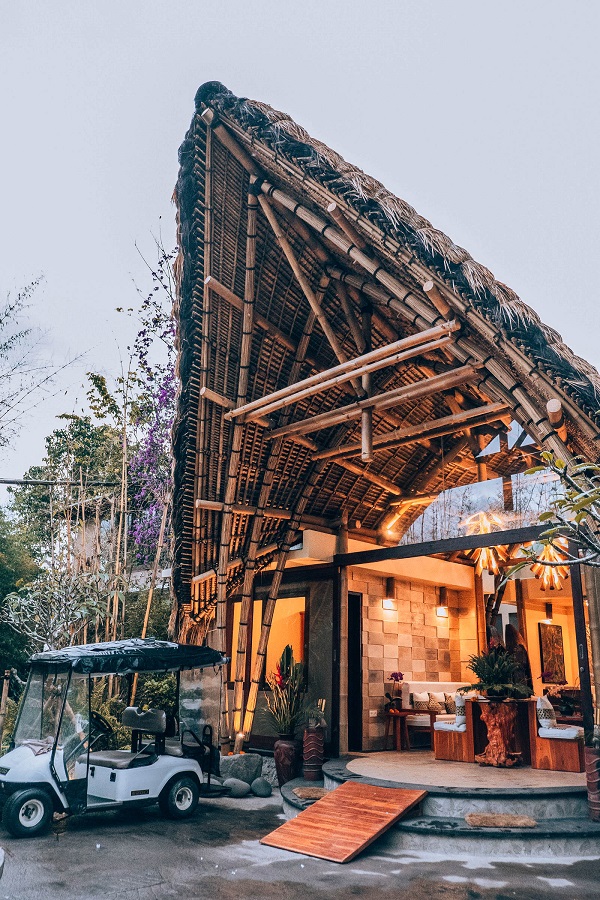 The resort and its coffee plantation are run by an entirely Balinese team, who strive to provide the best service possible. The resort was developed in unison with the local villages in mind, drawing upon international experts to help coach the team and trainers. The team currently comprises some 150 colleagues, making MMP a strong supporter of the local economy and demonstrating to the locals of the area that sustainable tourism is in their interest, creates employment and prosperity, respects the local culture and helps promote environmental responsibility.
To fulfil this mission, MMP was supported by the local villages and the resort's architect, as well as guests throughout the years, who have helped MMP to implement this vision with advice on sustainable agriculture, others produced maps, and honest feedback from guests, which they take into account as much as possible.
Environmental sustainability is a key value in guiding the operations at Munduk Moding Plantation, where the unspoiled natural environment is still largely untouched by mass economic development and tourism and MMP has made it its mission to preserve the beauty of the area. MMP has been Green Globe-certified since August 2014, an international certification programme for hotels aiming to protect natural resources whilst providing top-notch experiences to guests, where they continuously work on the efficiency of the infrastructure and operations.
Accommodations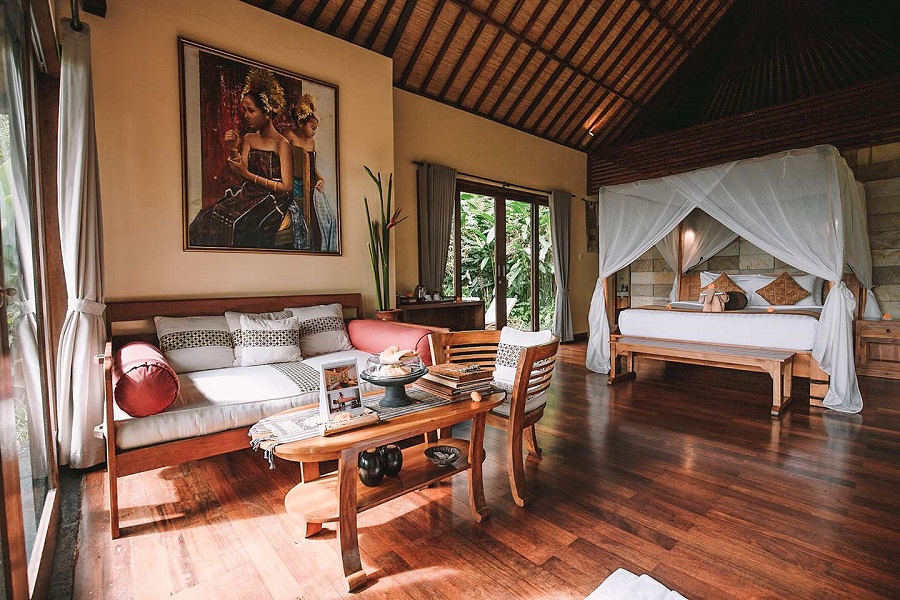 Munduk Moding Plantation offers guests a variety of accommodation options, from suites to villas, depending on their preferences and needs. Located amidst the resort's coffee plantation, the 40 sqm Garden Suites offer a private terrace and an en-suite bathroom designed in a minimalist natural style utilising natural materials found on the resort including a very old coffee tree.
The Istana Negara (Presidential Suite) presents 200 sqm of living space and the best location at the plantation, the crème de la crème at MMP. The suite features a spacious living room with an open fire, a separate dining room, a study and a library, along with an expansive master bedroom and outdoor terraces.
The roomy 55 sqm Villas feature tropical hardwood (merbau) parquet floors in the bedroom and living room areas and Sulawesi cream marble in the bathroom. Soak in the stunning views from its huge glass panel doors, offering mesmerising views of the rolling hills down to the sea/
The 110 sqm One Bedroom Pool Villa with Jacuzzi features a generous living and dining room, a separate bedroom and a heated swimming pool and a Jacuzzi with a palimanan stone terrace located in a separate compound with its own collection of flowers and indigenous plants, and a private butler service. Perfect for couples seeking a romantic, private hideaway.
For families and small groups, the 130 sqm Two Bedroom Pool Villa with Jacuzzi presents the most private and luxurious haven. Tuck in the two spacious bedrooms, complete with a living and dining room heated swimming pool and Jacuzzi with a palimanan stone terrace.
The Three Bedroom Coffee Villa is perfect for groups of up to 8 guests, nestled in a private building enclosed by mature Arabica coffee trees. This villa can be found halfway between the main pool and the vegetable garden.
The largest accommodation is the 260 sqm Five Bedroom Pool Villa with Jacuzzi set at the coffee plantation itself, surrounded by mature Arabica coffee trees and the nearby MiMPi restaurant. This expansive villa can host up to 10 guests with the best vantage point of the entire plantation where the infinity pool is perched above the coastline.
Culinary Offerings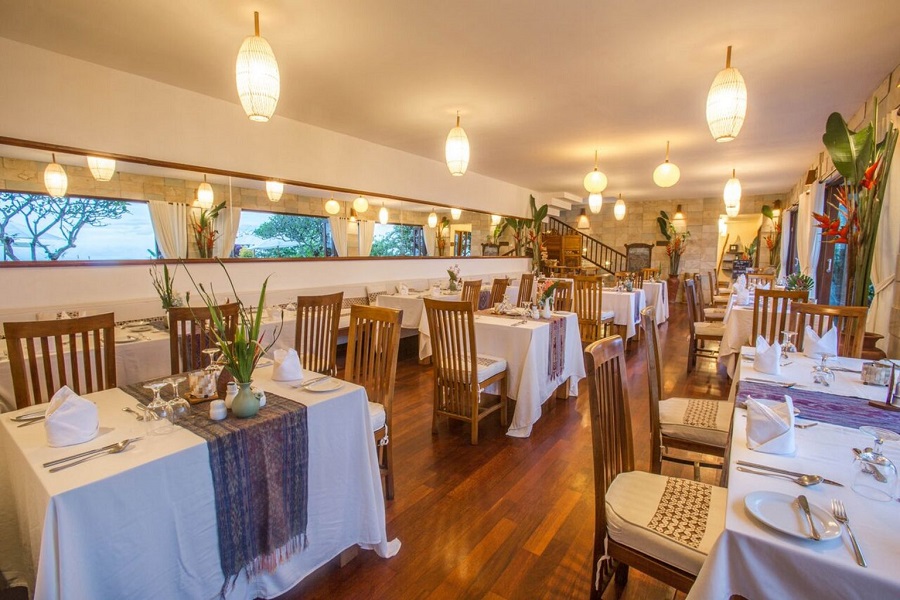 At Munduk Moding Plantation, guests can indulge in culinary delights at MiMPi or Warung Bongkot, spoiling not only your palates but your sight with some of the finest views of the island. The food is based on local and fresh ingredients that draw inspiration from the traditions of the island.
MiMPi restaurant (Indonesian for "dream"), offers fantastic views of the sea and the mountains, where natural materials dominate the interior and tables are placed well apart for more privacy. The terrace presents outdoor dining under the frangipani trees adjacent to the swimming pool. With a seating capacity of 45 guests, the restaurant is open for breakfast, lunch and dinner.
MiMPi showcases Indonesian, Asian and Fusion dishes that incorporate its home-grown vegetables and fruits as much as possible. The Breakfast menu features an eclectic selection of Balinese, Indonesian, American and Continental options, while the lunch menu serves up tantalising dishes and the evenings highlight an organic menu. The restaurant also houses a fine collection of European and New World wines in its cellar.
Moreover, Warung Bongkot is dedicated to celebrating Balinese cuisine, offering an array of Balinese specialties with an emphasis on staple North Bali dishes. This eatery incorporates ingredients from its own vegetable and spice gardens, whereas the North Bali cuisine heavily relies on vegetables that are blanched, preserving their taste, and full of antioxidants and nutrition. In typical Balinese traditions, meals are shared together amongst family and friends, hence, guests are encouraged to order various dishes and try a little bit of everything.
MMP Experience Programme, Activities and Facilities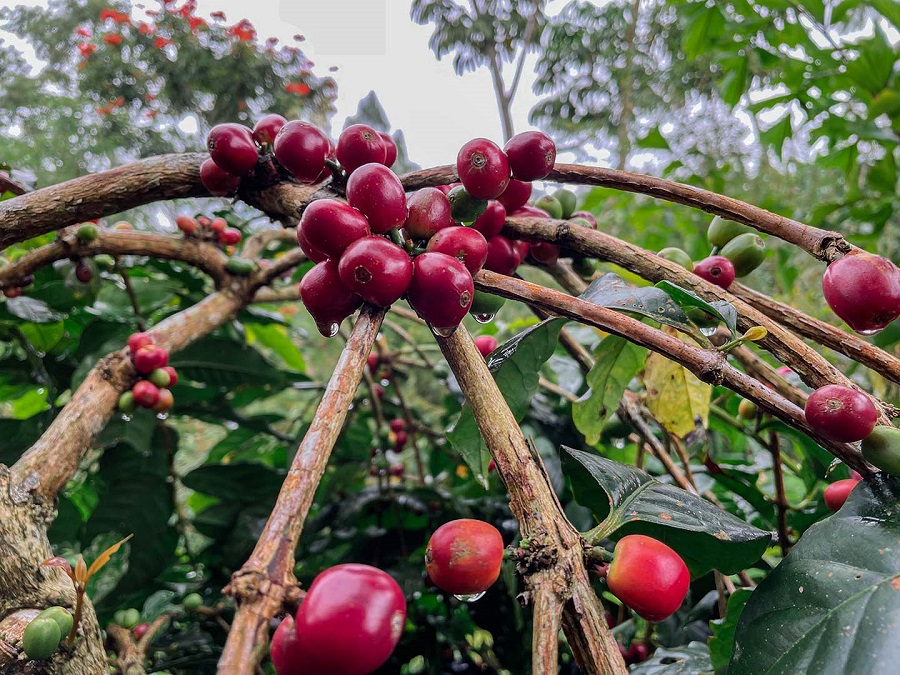 As part of their mission to help guests discover the nature, culture and arts of this magical part of the island, the resort offers overnight guests "The MMP Experiences Programme". The programme features a bespoke series of onsite workshops and activities already included with the room price. Featuring various daily activities, guests can choose whatever appeals to them. Additionally, guests can go on trekking and cycling programmes, horse riding from their stables, tours and day trips to explore North Bali, which comprises waterfalls, extinct volcanoes, historical sites, forgotten villages and UNESCO world heritage sites.
More activities that guests can enjoy include bird watching, offering making, traditional coffee processing show, kite making, how to wear Balinese attire, yoga class, sustainability tour, healthy drink workshop, vegetable garden deep-dive experience, cooking class, Balinese beauty workshop, and introductory to Bahasa Indonesia.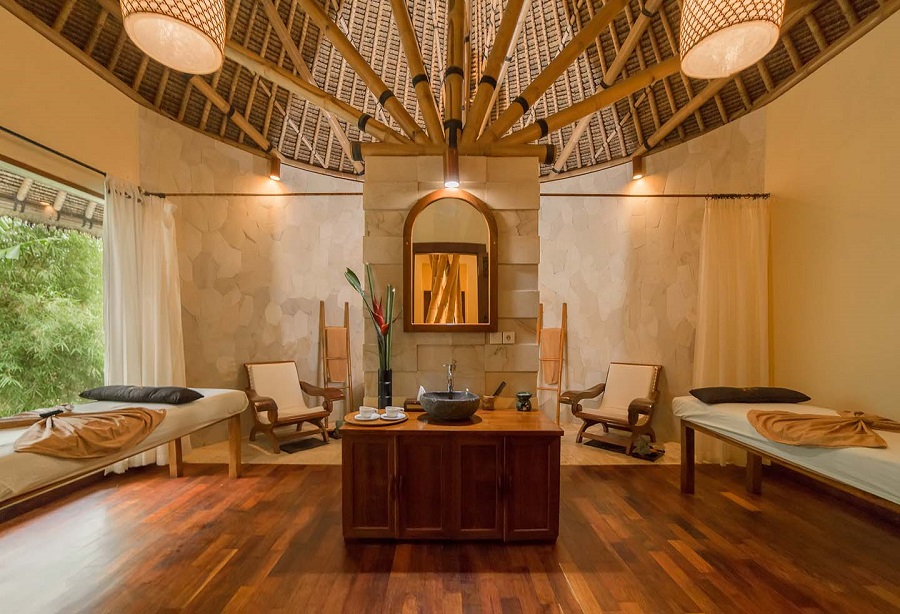 When it comes to wellness, guests can find solace at the Bamboo Spa, where Indonesian herbs and spices are the key ingredients to the treatments offered. The stunning venue features soaring bamboo structures eight metres high and an alang-alang roof to exude a rustic ambience like a remote part of Indonesia, while the interior boasts a modernist style.  The spa offers two spacious treatment rooms, designed with tropical hardwood, random palimanan stone and marble, with large en-suite bathrooms with rock-hewn bathtubs. The third room showcases a cosy sitting area and lazy chairs dedicated to manicures and pedicures. The well-trained therapists are ready to look after you with treatments ranging from traditional massages, aromatherapy, facials and pedicures, along with various Spa packages.
For more information or reservations, please contact +62 811 385 059 or +62 811 381 0123.
Munduk Moding Plantation
Jl.Raya Asah Gobleg, Banjar Dinas Asah, Desa Gobleg, Kec. Banjar, Kab. Buleleng Singaraja
+62 811 385 059 | +62 811 381 0123
sales@mundukmodingplantation.com
mundukmodingplantation.com